Louvre
Art museum and Historic site in Paris, France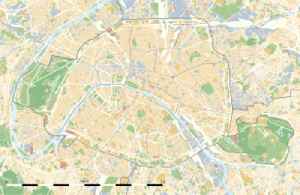 The Louvre, or the Louvre Museum, is the world's largest art museum and a historic monument in Paris, France. A central landmark of the city, it is located on the Right Bank of the Seine in the city's 1st arrondissement. Approximately 38,000 objects from prehistory to the 21st century are exhibited over an area of 72,735 square metres. In 2018, the Louvre was the world's most visited art museum, receiving 10.2 million visitors.


World-renowned architect who revived Louvre has died at age 102
In addition to his architectural accomplishments, I.M. Pei was also awarded a Presidential Medal of Freedom in 1992 by George H.W. Bush
CBS News - Published
I.M. Pei, pioneering architect who designed iconic Louvre pyramid, dies at 102
I.M. Pei, the world-renowned architect famous for designing the glass pyramid entry to the Louvre in Paris, has died. He was 102.
USATODAY.com - Published
Legendary Architect I.M. Pei Dies At 102
(Reuters) - I.M. Pei, whose modern designs and high-profile projects made him one of the best-known and most prolific architects of the 20th century, has died, the New York Times reported on Thursday...
Credit: Wochit News Duration: 00:38Published
Louvre pyramid architect I.M. Pei dead at 102: New York Times
One of the 20th century's best-known architects, I.M. Pei, has died according to the New York Times. Pei was born in China but made his mark around the world with his distinctive modern aesthetic. His..
Credit: Reuters Studio Duration: 01:49Published
Acclaimed Architect I.M. Pei Dies At The Age Of 102
According to a report by CNN Style, I.M. Pei, considered by many to be one of the last great modernist architects, has died at the age of 102. While most of his work was done in the United States, Pei..
Credit: Wochit News Duration: 00:57Published
Couple win Airbnb competition for first overnight stay in the Louvre museum
The winners of a recent Airbnb competition were given the opportunity to be the first people to be hosted overnight by the Louvre museum in Paris.
Credit: euronews (in English) Duration: 00:41Published
At Amboise, Leonardo's last years paint a picture of Franco-Italian harmony
Commemorations for Leonardo da Vinci's 500th anniversary begin this week in Amboise, in the Loire Valley, with France and Italy setting aside recent tensions to honor the memory of the Renaissance..
Credit: Reuters Studio Duration: 01:27Published
All Is Not Lost At Notre Dame Cathedral
It's a real-life miracle inside one of the world's most visited Cathedrals ahead of the holiest Christian weekend.
Credit: Newsy Studio Duration: 01:23Published
What Happened to the Artifacts Inside Notre Dame?
While many artifacts escaped fire damage, officials say some appear to have suffered water damage.
Credit: Newsy Studio Duration: 01:32Published
Notre-Dame's Artworks To Be Transferred To Louvre
The artworks evacuated from Notre-Dame Cathedral during the blaze on Monday will be transferred to the Louvre Museum, the French Culture Minister Franck Riester told reporters. Staff from the fire..
Credit: Wochit News Duration: 00:39Published
Ever dreamed of a night with Mona Lisa? Now you can!
"Night at the Museum" will soon become a reality for two guests who will win "tickets" to spend a night at the Louvre in Paris, courtesy of Airbnb. Saskia O'Donoghue reports.
Credit: Reuters Studio Duration: 01:12Published
French artist reveals Louvre pyramid's secrets with giant collage
On its 30th anniversary, artwork makes Louvre pyramid emerge from the abyss
Credit: euronews (in English) Duration: 01:13Published
Louvre Museum's iconic pyramid celebrates 30th anniversary
The courtyard surrounding the Louvre Museum's pyramid in Paris will disappear this week as part of the celebrations of the iconic monument's 30th anniversary. Rough Cut (no reporter narration).
Credit: Reuters Studio Duration: 01:34Published
Search this site and the web:
You Might Like