Kenny Rogers
American country singer and songwriter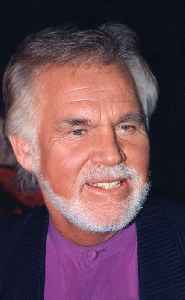 Kenneth Ray Rogers was an American singer, songwriter, actor, record producer, and entrepreneur. He was elected to the Country Music Hall of Fame in 2013. Rogers was particularly popular with country audiences but also charted more than 120 hit singles across various music genres, and topped the country and pop album charts for more than 200 individual weeks in the United States alone. He sold over 100 million records worldwide during his lifetime, making him one of the best-selling music artists of all time. His fame and career spanned multiple genres: jazz, folk, pop, rock, and country. He remade his career, and was one of the most successful cross-over artists of all time.


You Might Like
North Carolina man overcomes speech loss to sing for wife on anniversary
Joe and Sharon Korst of Raleigh, North Carolina have always celebrated their anniversary with a Kenny Rogers tune called "Beautiful, All That You Could Be." This year, Joe suffered a series of strokes..
CBS News - Published
Today in History for August 21st
Highlights of this day in history: Soviet coup against Mikhail Gorbachev fails; Exiled revolutionary Leon Trotsky murdered in Mexico; Nat Turner leads a slave rebellion; U.S. flag gets 50th star; Count..
USATODAY.com - Published
'There will never be another gambler like Kenny Rogers': Stars pay tribute in all-star CMT special
The late Kenny Rogers was honored with a "CMT Giants" tribute special that doubled as a fundraising effort for MusicCares' COVID-19 relief fund.
USATODAY.com - Published
Rita Wilson sings for NASCAR after COVID-19 recovery, will host Kenny Rogers tribute
Rita Wilson, who says she has recovered from the novel coronavirus, has been virtually busy, performing for NASCAR and hosting a Kenny Rogers tribute.
USATODAY.com - Published
Remembering Kenny Rogers faking out Michael Jordan during celebrity pickup basketball game in 1988
Kenny Rogers once pump-faked NBA legend Michael Jordan during a 1988 pickup basketball charity game. Rogers passed away Friday night at the age of 81.
USATODAY.com - Published
Country star Kenny Rogers dies at 81
Grammy-winning actor-singer Kenny Rogers, the smooth balladeer who spanned jazz, folk, country and pop with such hits as "Lucille," "Lady" and "Islands in the Stream" and embraced his persona as "The..
USATODAY.com - Published
'This one hurts': Piers Morgan, Patton Oswalt, Greg Olear mourn country icon Kenny Rogers
Across social media, friends and fans mourned country icon Kenny Rogers who died at 81 on Friday night.
USATODAY.com - Published
Kenny Rogers, Grammy-winning singer and acting star, dies at 81
Actor-singer Kenny Rogers, the smooth, Grammy-winning balladeer who spanned various music genres, died of natural causes Friday night. He was 81.
USATODAY.com - Published