Turin
Comune in Piedmont, Italy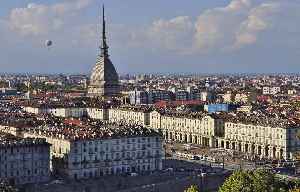 Turin is a city and an important business and cultural centre in northern Italy. It is the capital city of Piedmont and of the Metropolitan City of Turin, and was the first Italian capital from 1861 to 1865. The city is located mainly on the western bank of the Po River, in front of Susa Valley, and is surrounded by the western Alpine arch and Superga Hill. The population of the city proper is 875,698 while the population of the urban area is estimated by Eurostat to be 1.7 million inhabitants. The Turin metropolitan area is estimated by the OECD to have a population of 2.2 million.


Turin fair kicks out neo-fascist publisher after protests
Turin's international book fair refused on Thursday to let a publishing house run by an avowed fascist exhibit at the event following a protest by the Auschwitz-Birkenau Holocaust museum and Italian..
Reuters - Published
AP Source: ATP Finals moving to Turin from 2021-25
The ATP Finals is moving to the Italian city of Turin in 2021
USATODAY.com - Published
Higuain lashes out in Juve training session
Gonzalo Higuain kicks out a team trainer and an advertising hoarding during a Juventus training session on the eve of their Champions League opener against Atletico Madrid.
Credit: Reuters - Sports Duration: 01:13Published
Italian Senate debates 5-Star motion to block Lyon-Turin high-speed rail link
Italian Senate debates 5-Star motion to block Lyon-Turin high-speed rail link
Credit: euronews (in English) Duration: 03:47Published
High speed rail project gains support of Italian Prime Minister
Italian Prime Minister, Giuseppe Conte, has confirmed his support for the high-speed rail project between Turin and Lyon - known as TAV. But the project has been a great source of friction between the..
Credit: euronews (in English) Duration: 02:06Published
Torino's European push halted by 1-1 draw against Cagliari
Torino's chances of sneaking into the Champions League were hampered by a 1-1 draw against Cagliari on Sunday, in a match which saw three players sent off
USATODAY.com - Published
Torino moves into contention for Europa League places
Torino moves into contention for the Europa League places with a 3-0 win over last-place Chievo Verona
USATODAY.com - Published
Atalanta's European hopes hit by 2-0 loss at Torino
Atalanta lost ground in the race for a Champions League spot after a 2-0 defeat at Torino in Serie A on Saturday
USATODAY.com - Published
Search this site and the web:
You Might Like