Dog
Domestic animal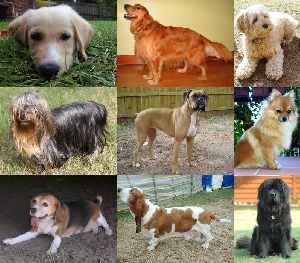 The domestic dog is a member of the genus Canis (canines), which forms part of the wolf-like canids, and is the most widely abundant terrestrial carnivore. The dog and the extant gray wolf are sister taxa as modern wolves are not closely related to the wolves that were first domesticated, which implies that the direct ancestor of the dog is extinct. The dog was the first species to be domesticated and has been selectively bred over millennia for various behaviors, sensory capabilities, and physical attributes.


Dog rescued while swimming 135 miles off Thailand
A dog found swimming more than 135 miles from shore by workers on an oil rig crew in the Gulf of Thailand has been returned safely to land. (April 16)
USATODAY.com - Published
Dog rescued after swimming up to oil rig 135 miles off shore
Workers on the oil platform suspect the dog, which they've named "Survivor," fell of a fishing boat in the Gulf of Thailand
CBS News - Published
Dog rescued over 100 miles away from shore
A dog named Boonrod was picked up by oil rig workers some 100 miles off Thailand's coast, before being greeted back on dry land. Rough cut (no reporter narration).
Credit: Reuters Studio Duration: 00:38Published
Search this site and the web:
You Might Like