Grand Canyon National Park
National park of the United States in Arizona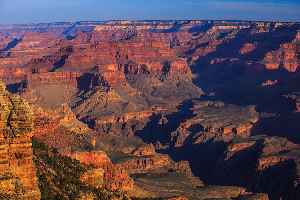 Grand Canyon National Park, located in northwestern Arizona, is the 15th site in the United States to have been named a national park. The park's central feature is the Grand Canyon, a gorge of the Colorado River, which is often considered one of the Wonders of the World. The park, which covers 1,217,262 acres of unincorporated area in Coconino and Mohave counties, received more than six million recreational visitors in 2017, which is the second highest count of all American national parks after Great Smoky Mountains National Park. The Grand Canyon was designated a World Heritage Site by UNESCO in 1979. The park celebrated its 100th anniversary on February 26, 2019.


Heat At Grand Canyon Could Melt Shoes

In a tweet Monday, the Grand Canyon NPS showed how excessive heat can cause the glue holding hiking boots to melt, making the shoe fall apart. This warning comes on top of additional concerns about..
Credit: Wochit News Duration: 00:39
Published
You Might Like



Woman falls to death at Grand Canyon after hiking off trail, taking photos

Rangers found Maria A. Salgado Lopez's body approximately 100 feet below the rim on Friday.




USATODAY.com - Published




Yellowstone, Grand Canyon join national parks set for limited reopenings

Two of the most popular national parks in the American West - Yellowstone and Grand Canyon - will welcome back visitors on a limited basis over the next several days after lengthy closures due to the..




Reuters - Published





Grand Canyon National Park closes after first resident tests positive for coronavirus

The announcement on Wednesday follows Grand Canyon South Rim's first identified new coronavirus case on Monday in a Delaware North employee.




USATODAY.com - Published





Arizona congressman calls for closing Grand Canyon immediately to help social distancing

Arizona Rep. Raúl Grijalva urged the Trump administration to close Grand Canyon National Park in light of coronavirus restrictions on crowds.




USATODAY.com - Published





Texas hiker missing nearly 2 weeks in Grand Canyon found alive

Martin E. O'Connor, 58, disappeared on Dec. 22 and was last seen at the Yavapai Lodge on the South Rim of Grand Canyon. He was found alive Thursday.




USATODAY.com - Published




Steve Hartman and his father visit the Grand Canyon

In 2004, Steve Hartman took his dad on the trip of a lifetime to the Grand Canyon. That's where he found his dad seemed more interested in talking to strangers and looking for loose change than..




CBS News - Published





Nature: Grand Canyon in winter

"Sunday Morning" visits a snow-swept Grand Canyon National Park. Videographer: Phil Giriodi.




CBS News - Published





Celebrate Grand Canyon National Park centennial by blocking new uranium mining

There is no reason to prop up the uranium industry. It doesn't need or deserve government handouts, and it carries health and environmental risks.




USATODAY.com - Published





'Star-filled nights': Grand Canyon named Dark Sky Place of the Year

A six-year effort to make Grand Canyon National Park a better place to observe the night sky included replacing more than 3,500 light fixtures.




USATODAY.com - Published





Get free admission to National Parks this Saturday

National Park Service entrance is free for all on Sept. 28 during a fee-free day at parks including Yosemite, Yellowstone, Zion and the Grand Canyon.




USATODAY.com - Published





Free admission to National Parks this Sunday to celebrate 103 years of National Park Service

National Park Service entrance is free for all on Aug. 25 during fee-free day at parks including Yosemite, Yellowstone, Zion and the Grand Canyon.




USATODAY.com - Published




U.S. has lost 24 million acres of natural land in 16 years: independent report

The United States has lost the equivalent of nine Grand Canyon national parks, or 24 million acres (9712455.41 hectares) of natural area, between 2001 and 2017 due to agriculture, energy development,..




Reuters - Published





Kid-friendly Grand Canyon: Here are the 6 best activities for families at the South Rim

Ride a bike or a mule, stay up late and look for shooting stars, take a kid-friendly hike down the South Kaibab Trail or become a Junior Ranger.




USATODAY.com - Published





Michael Jackson Allegations: Biographer Claims to Have Found Evidence to Exonerate Late Star

by Adam Yardley - Certain allegations against late 'King of Pop' Michael Jackson, who passed away in 2009, have continued to reverberate. Thanks to a recent HBO documentary, Leaving..




One News Page Staff - Published