Newt Gingrich
50th Speaker of the United States House of Representatives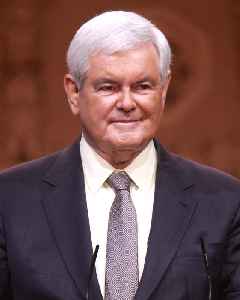 Newton Leroy "Newt" Gingrich is an American politician, author, and historian who served as the 50th Speaker of the United States House of Representatives from 1995 to 1999. A member of the Republican Party, he was the U.S. Representative for Georgia's 6th congressional district serving north Atlanta and nearby areas from 1979 until his resignation in 1999. In 2012, Gingrich was a candidate for the presidential nomination of his party.


You Might Like
Biden, Trump and the Gingrich effect: Democrats must toughen up to win the 2020 election
Democrats must go on offense to fight disinformation and voter repression, and be much more clear about the dangers of a two-term Trump presidency.
USATODAY.com - Published
Gingrich says Trump impeachment "inconceivable": "He will not be convicted"
Former House Speaker Newt Gingrich oversaw Republican efforts to impeach President Bill Clinton in 1998. He ran for president in 2012 and is also the author of 36 books, including 15 New York Times..
CBS News - Published
Bill Clinton on fighting impeachment
In this web exclusive, former President Bill Clinton tells Mo Rocca that despite what he calls the voters' referendum against Republicans in the 1998 midterms, the GOP and House Speaker Newt Gingrich..
CBS News - Published
Newt Gingrich: I wouldn't allow reporters in the White House
The former speaker of the House called the press "the enemies of the president"
CBS News - Published
Newt Gingrich on impeachment, the threat from China, and his new book
As trade tensions continue with China, former House Speaker Newt Gingrich warns Beijing may be the biggest threat the U.S. is facing. He joined CBSN to discuss his new book "Trump vs. China: Facing..
CBS News - Published
Gingrich: It's "inconceivable" Senate would convict Trump
Former House Speaker who led the Republicans' impeachment effort against President Clinton calls the current impeachment inquiry a "kangaroo trial"
CBS News - Published
Newt Gingrich reportedly trying to sell Trump on a cheap moon plan
Politico defense editor Bryan Bender joins CBSN's "Red and Blue" to discuss a plan Newt Gingrich, an Air Force lieutenant general, and Michael Jackson's former publicist want President Trump to..
CBS News - Published
8/20/19: Red and Blue
Pres. Trump on boosting the U.S. economy; Gingrich's push to Trump on cheap moon plan.
CBS News - Published
Newt Gingrich says slavery needs to be put 'in context', calls 1619 project a 'lie'
"There were several hundred thousand white Americans who died in the Civil War in order to free the slaves," Gingrich argued.
USATODAY.com - Published