Federal Trade Commission
Government agency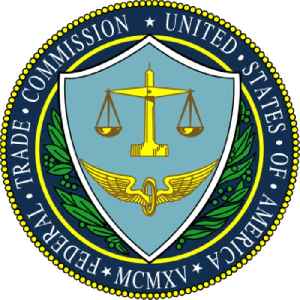 The Federal Trade Commission (FTC) is an independent agency of the United States government, established in 1914 by the Federal Trade Commission Act. Its principal mission is the promotion of consumer protection and the elimination and prevention of anticompetitive business practices, such as coercive monopoly. It is headquartered in the Federal Trade Commission Building in Washington, D.C.


Facebook CEO Mark Zuckerberg could be held accountable in FTC settlement, report says
The FTC is considering whether to hold CEO Mark Zuckerberg accountable for privacy lapses in how Facebook handles people's data.
USATODAY.com - Published
On 'Made in America,' Trump's F.T.C. Appointees May Be Out of Step With Him
Democrats on the Federal Trade Commission want to penalize companies that falsely market products as American made, but the president's appointees reject that approach.
NYTimes.com - Published
The not-so transparent world of Google Assistant
Google's voice assistant is increasingly recommending trusted help including electricians and plumbers, but legal experts say there may be a key disclaimer missing. Jane Lanhee Lee reports
Credit: Reuters Studio Duration: 01:58Published
Facebook Faces Criminal Investigation Over Data Privacy
Federal prosecutors have subpoenaed documents from at least two smart phone companies in a criminal investigation into Facebook.
Credit: Newsy Studio Duration: 01:11Published
Marriott, Equifax CEOs to Testify on Data Breaches Thursday
A Senate panel is set to hear testimony Thursday on recent private sector data breaches.
Credit: Newsy Studio Duration: 01:24Published
The FTC Is Challenging Fake Amazon Reviews
The US Federal Trade Commission has announced the first case where it challenged a company using fake paid reviews on a retailer's site. The FTC targeted Cure Encapsulations, Inc. and its owner for..
Credit: Wochit News Duration: 00:47Published
Lawmakers Get The Ball Rolling On National Privacy Law
The Senate Commerce Committee heard from big tech representatives on a potential federal privacy law during a hearing Wednesday.
Credit: Newsy Studio Duration: 01:06Published
FTC Rules Against Fake Amazon Reviews in Landmark Case
In the first case of its kind, the Federal Trade Commission took action against a diet pill seller for making false claims and paying to juice their standing on Amazon with fake positive reviews...
Credit: Wochit News Duration: 00:46Published
Search this site and the web:
You Might Like