Jason Momoa
American actor and model born in Hawaii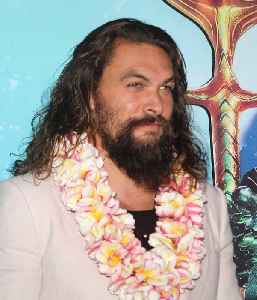 Joseph Jason Namakaeha Momoa is an American actor. He played Aquaman in the DC Extended Universe, beginning with the 2016 superhero film Batman v Superman: Dawn of Justice, and in the 2017 ensemble Justice League and his 2018 solo film Aquaman. In Baywatch Hawaii, he portrayed Lifeguard Jason Ioane. On television, he played Ronon Dex on the military science fiction television series Stargate Atlantis, Khal Drogo in the HBO fantasy television series Game of Thrones, and Declan Harp in the CBC series Frontier.


Jason Momoa apologizes to Chris Pratt after calling him out for using plastic water bottle
Jason Momoa wasn't here for Chris Pratt's photo of the actor posing with a single use plastic water bottle for an advertisement with Amazon.
USATODAY.com - Published
Jason Momoa's scary-good Elvis chats with Ellen DeGeneres' Cardi E on Halloween show
The costume Jason Momoa wore on the Halloween episode of "The Ellen DeGeneres Show" may move people to say, 'Thank you, thank you very much."
USATODAY.com - Published
Amber Heard protests Instagram's nipple censorship with a shirtless Jason Momoa
Amber Heard is making a splash on Instagram by using "Aquaman" co-star Jason Momoa to hit back at the platform's nipple censorship.
USATODAY.com - Published
Jason Momoa recalls his race to airport after almost sleeping through his daughter's birth
Jason Momoa confessed to Esquire how he almost slept through his daughter's birth. Check out the exciting story of his race to the airport.
USATODAY.com - Published
Zoe Kravitz as Catwoman: Jason Momoa 'stoked' for role; Anne Hathaway, Michelle Pfeiffer react
Jason Momoa and former Catwomen Michelle Pfeiffer and Anne Hathaway shared congratulatory messages with Zoe Kravitz for her role role as Catwoman.
USATODAY.com - Published
Why are Jason Momoa and other Native Hawaiians protesting a telescope on Mauna Kea? What's at stake?
Protests against the Thirty Meter Telescope at Mauna Kea on Hawaii's Big Island have elevated issues of Native Hawaiian rights and conservation.
USATODAY.com - Published
Momoa at Mauna Kea, Confederate context, Guthrie garbage tribute: News from around our 50 states
Recall effort underway against Alaska governor, mysterious Epic Universe theme park coming to Florida, and more
USATODAY.com - Published
First 'The Rock', now Jason Momoa visits Hawaiian protesters blocking massive telescope
Dwayne "The Rock" Johnson and Jason Momoa visited Native Hawaiian protesters blocking the construction of a giant telescope on Mauna Kea.  
USATODAY.com - Published
Lenny Kravitz: My ex-wife Lisa Bonet's new husband Jason Momoa is 'like a brother to me'
Lenny Kravitz opened up about having a close relationship with ex-wife Lisa Bonet and her new husband, Jason Momoa.
USATODAY.com - Published
Jason Momoa's fans clap back at body shamers: 'Go home, Internet'
A shirtless photograph of "Aquaman" star Jason Momoa has prompted body-shaming from trolls. But fans have come to the hero's defense.
USATODAY.com - Published
Apple Reveals Credit Card and TV Streaming Service
by Simon Baxendale - While Apple has partially led the way up till now in terms of modern technology, there has been one major market they haven't tapped into – video streaming. However,..
One News Page Staff - Published
You Might Like