Singapore
Country in Southeast Asia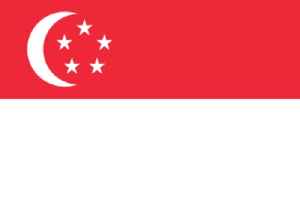 Singapore, officially the Republic of Singapore, is a sovereign island city-state in maritime Southeast Asia. It lies about one degree of latitude north of the equator, off the southern tip of the Malay Peninsula, bordering the Straits of Malacca to the west, the Riau Islands to the south, and the South China Sea to the east. The country's territory is composed of one main island, 63 satellite islands and islets, and one outlying islet, the combined area of which has increased by 25% since the country's independence as a result of extensive land reclamation projects. It has the second greatest population density in the world. The country is home to almost 5.7 million residents, 61% (3.4 million) of whom are Singaporean citizens. There are four official languages of Singapore: English, Malay, Chinese, and Tamil; with English being the lingua franca. This reflects in its rich cultural diversity and extensive ethnic cuisine and major festivals. Multiracialism is enshrined in the constitution, and continues to shape national policies in education, housing, and politics.


Why Singapore's COVID death rate is world's lowest

Singapore has the lowest coronavirus case fatality count globally, with just 27 deaths among the more than 57,000 people who have been infected with COVID-19 in the Southeast Asian island. So why is..
Credit: Reuters Studio Duration: 02:09
Published
Pest or pet? Ant farms fascinate Singaporeans

Most people just want to get rid of them, but ants have become the primary business for an entrepreneur who is selling them as pets in Singapore.
Credit: Reuters Studio Duration: 01:26
Published
Apple Opening 'Floating' Store In Singapore

Apple Opening 'Floating' Store In Singapore
Credit: Wochit News Duration: 00:27
Published
Singapore's concert for the dead goes online

The studio lights dim, the band begins to strum, and it's showtime for a Singapore getai concert - a popular form of entertainment in southeast Asia that features songs, skits and over-the-top costumes..
Credit: Reuters Studio Duration: 01:59
Published
Singapore fights dengue with more mosquitoes

With the click of a button and a whirr of a fan, a hatch opens and 150 lab-reared male mosquitoes are sent flying, off in search of a female companion with whom they can mate. But these are a specially..
Credit: Reuters Studio Duration: 02:34
Published
Foreign currency worth Rs 1.36 crore seized at Chennai International Airport

2 people were arrested after three courier parcels destined for Singapore were intercepted at Courier terminal of Chennai International Airport on August 27. On examination 50,000, 4000, Rs 30 lakhs..
Credit: ANI Duration: 01:19
Published
UN warns of N. Korea's miniature nuclear devices

According to a confidential UN report, North Korea is pressing on with its nuclear weapons program and several countries believe it has "probably developed miniaturized nuclear devices to fit into the..
Credit: Reuters - Politics Duration: 02:01
Published
Mortal remains of Amar Singh taken to crematorium in Delhi

The mortal remains of Rajya Sabha MP and former Samajwadi Party leader Amar Singh being taken to a crematorium in Delhi. His mortal remains were taken from his Chhatarpur residence to a crematorium on..
Credit: ANI Duration: 01:06
Published
Rajnath Singh pays last respects to Amar Singh in Delhi

Union Defence Minister Rajnath Singh paid last respects to Rajya Sabha MP and former Samajwadi Party leader Amar Singh at the his residence in Delhi's Chhatarpur on August 03. Rajnath Singh also met..
Credit: ANI Duration: 01:16
Published
Last respects paid to Amar Singh at his Delhi residence

The mortal remains of Rajya Sabha MP Amar Singh have been kept at his residence in the national capital. SP leader Shivpal Singh Yadav Rajya Sabha MP Subhash Chandra paid their last respect to..
Credit: ANI Duration: 01:09
Published
Amar Singh passes away in Singapore; tributes pour in from political world

Career politician and Member of Parliament, Amar Singh, passed away on August 1, 2020. He had been hospitalised in Singapore. Singh was an active commentator of domestic issues till the very end, even..
Credit: HT Digital Content Duration: 01:35
Published
Amar Singh dies at 64

Rajya Sabha Member of Parliament and former Samajwadi Party leader Amar Singh passed away at the age of 64 on August 01. He was undergoing treatment at hospital in Singapore for several months. Amar..
Credit: ANI Duration: 01:18
Published
You Might Like



Shane Todd's brothers discuss Singapore inquest

Upon their return from Singapore, Chet, John and Dylan Todd talk with "48 Hours" correspondent Peter Van Sant about their impressions of the court proceedings into their brother's death.




CBS News - Published





Shane Todd's brothers react to news of his death

In an emotional interview with "48 Hours" correspondent Peter Van Sant, Chet, John and Dylan Todd recall the moment they learned their older brother, Shane, died in Singapore.




CBS News - Published





iPad exclusive: A riverboat tour through Singapore

This week, "48 Hours" travels to Singapore to investigate the death of American engineer Shane Todd. Michael Goodwin, Todd's friend and neighbor in Singapore, shows us the sights and sounds of the..




CBS News - Published





TikTok and privacy: What's the problem? Perhaps the video-sharing app gathers too much data

TikTok says it keeps users data in the United States and Singapore and won't hand it over to the Chinese government.




USATODAY.com - Published





Indonesia reports 1,031 new coronavirus infections; Southeast Asia's highest case total

Indonesia reported 1,031 new coronavirus infections on Wednesday taking the total to 41,431 and overtaking Singapore with the highest number of COVID-19 cases in Southeast Asia.




Reuters - Published





Singapore to remove most coronavirus restrictions from Friday

Singapore will allow small gatherings and the reopening of restaurants and shops from June 19, its health ministry said on Monday, in a major easing of the city-state's coronavirus restrictions.




Reuters - Published




Malaysia PM paves way for year-end snap poll: report

Malaysian Prime Minister Muhyiddin Yassin is preparing for snap election by the end of the year, Singapore's Straits Times newspaper said, as he seeks a firm mandate amid uncertainty over how much..




Reuters - Published





Exclusive: Half of Singapore's new COVID-19 cases are symptomless, taskforce head says

At least half of Singapore's newly discovered coronavirus cases show no symptoms, the co-head of the government's virus taskforce told Reuters on Monday, reinforcing the city-state's decision to ease..




Reuters - Published




Singapore plans wearable virus-tracing device for all

Singapore plans to give a wearable device that will identify people who had interacted with carriers of coronavirus to each of its 5.7 million residents, in what could become one of the most..




Reuters - Published




Singapore reports 261 new coronavirus cases, smallest rise in two months

Singapore's health ministry on Friday confirmed another 261 coronavirus cases, the city-state's smallest increase in nearly two months, taking its tally to 37,183.




Reuters - Published




Schools reopen as Singapore eases lockdown restrictions

With temperatures checked, masks fitted, and hand sanitizers at the ready, many Singapore children returned to school on Tuesday after a novel coronavirus lockdown of nearly two months.




Reuters - Published





Singapore rushes to build housing for 60,000 migrant workers after virus outbreak

The Singapore government is racing to create additional housing for about 60,000 migrant workers by the end of this year, as it seeks to reduce the density in dormitories which have seen mass outbreaks..




Reuters - Published




Singapore's health ministry confirms 408 new coronavirus cases, one death

Singapore confirmed 408 new coronavirus cases on Monday, its health ministry said, bringing the city-state's tally to 35,292.




Reuters - Published




Steamy Singapore says face shields no substitute for mandatory masks

Tropical city-state Singapore said on Monday it was curbing the use of face shields as a substitute for masks, as its residents look for ways to protect themselves from the coronavirus and avoid..




Reuters - Published





Singapore-China to open essential travel corridor in early June

Singapore and China plan to reopen essential travel for business and official purposes between the two countries early next month, they said in a joint statement on Friday.




Reuters - Published





Singapore says Malaysia wants further deferral of joint rail project

Singapore said on Friday it was reviewing a request by neighbouring Malaysia to further suspend a high speed rail project set to link the city-state to Malaysia's capital Kuala Lumpur.




Reuters - Published





Singaporean gets four months jail for COVID-19 Facebook post

Singapore jailed a taxi driver for four months on Wednesday over a Facebook post in which he falsely claimed food outlets would close and urged people to stock up due to impending COVID-19..




Reuters - Published





Death of 'Mr Big' stirs memories of Singapore's gangland past

Early one October morning in 1969, Singapore police officers found the body of a man dumped in a storm drain. He had been stabbed to death, police said, in what became one of the country's most..




Reuters - Published





Singapore's APL England loses cargo in heavy Australian seas

A Singapore-flagged cargo ship lost at least 40 containers in deep waters off the coast of Sydney when they fell overboard in heavy seas, maritime officials said on Monday.




Reuters - Published





Singaporean cooks up Eid feast for migrant workers in lockdown

As Muslims around the world celebrate Eid al-Fitr to mark the end of the fasting month, thousands of migrant workers in Singapore have had to spend the holiday in quarantine because of outbreaks of the..




Reuters - Published





How migrant worker outbreaks supercharged coronavirus spread in Singapore

Once held up as a role model for its battle against the coronavirus, Singapore has struggled to contain an infection spread centred around foreign worker dormitories, construction sites and factories.




Reuters - Published





Spandau Ballet star helps Singapore quizzer win fight for radio prize

A Singaporean quiz participant has prevailed in a battle with a radio station that denied him a cash prize over his pronunciation of Spandau Ballet singer Tony Hadley's name, after winning the unlikely..




Reuters - Published





Coronavirus cases in Singapore surpass 30,000: Reuters tally

Coronavirus cases in Singapore topped 30,000 on Friday as the city-state continues to report hundreds of new infections in cramped migrant worker dormitories each day.




Reuters - Published





Singapore to allow travellers to transit through airport from June 2

Singapore, a regional travel and tourism hub, will gradually allow travellers to transit through its Changi Airport from June 2, the city-state's aviation regulator said on Wednesday.




Reuters - Published





Man sentenced to death in Singapore on Zoom call

A judge in Singapore has sentenced a man to death via a Zoom video-call for his role in a drug deal, one of just two known cases where a capital punishment verdict has been delivered remotely.




Reuters - Published




Singapore sorry for sending positive coronavirus test results in error

Singapore has apologised to 357 COVID-19 patients who received an erroneous text message saying they had again tested positive for the novel coronavirus.




Reuters - Published





Singapore reports 682 more coronavirus cases, taking total to 28,038

Singapore registered 682 more infections of the new coronavirus, its health ministry said on Sunday, taking the city-state's total to 28,038 cases.




Reuters - Published




Singapore reports 465 new coronavirus cases, reports one additional death

Singapore registered 465 new coronavirus infections, its health ministry said on Saturday, taking the city-state's total to 27,356 cases.




Reuters - Published




Swabbers Wanted: Singapore recruits virus testers as cases climb

Singapore is offering generous salaries for people to perform nasal swabs at places like quarantined migrant dormitories as the city-state ramps up its testing regime to bring down one of the highest..




Reuters - Published





Separated by coronavirus, Malaysian mothers in Singapore freeze breast milk for babies at home

Before the outbreak of coronavirus this year, Malaysian accountant Jazerel See used to travel regularly between her country's southern state of Johor and neighbouring Singapore where she worked, going..




Reuters - Published





Robot is cracking down on people's social distancing at a park

Singapore has employed a four-legged robot named SPOT to patrol a popular park and remind people to maintain social distancing.




USATODAY.com - Published





Singapore plans coronavirus tests for all in migrant dormitories

Singapore plans to test all 323,000 migrant workers living in cramped dormitories that have become a hotbed for coronavirus in the tiny city-state, it said on Tuesday, eyeing an easing of curbs next..




Reuters - Published





Groomed but still grounded: Hairdressers reopen during Singapore lockdown

Long queues formed outside hairdressers in Singapore on Tuesday as the government eased some restrictions of a nationwide lockdown, although any styles beyond a trim would have to wait.




Reuters - Published