Casey Kasem
American disc jockey, music historian, radio personality, voice actor, and actor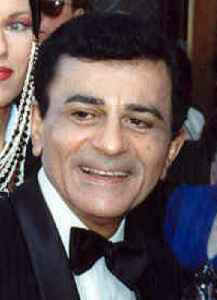 Kemal Amin "Casey" Kasem was an American DJ, music historian, radio personality, and actor. He was the host of several music radio countdown programs, notably American Top 40 from 1970 until his retirement in 2009. He also provided the voice of Norville "Shaggy" Rogers in the Scooby-Doo franchise from 1969 to 1997, and again from 2002 until 2009.


You Might Like
Casey Kasem's close friends remember the talented radio icon
Friends, Gonzalo Venecia, Chuck and Eileen Olsen, and Les Martens remember the man behind the famous voice who kept "reaching for the stars."
CBS News - Published
Two sides of Casey Kasem's family blame each other for the radio legend's death
Casey Kasem's children from his first marriage and their uncle, Casey's brother, have filed a wrongful death suit against Kasem's wife, Jean Kasem; a countersuit then filed by Jean was dismissed...
CBS News - Published
Casey Kasem's biggest fans were his family
Radio icon Casey Kasem's daughters Julie and Kerri Kasem and wife Jean Kasem know Casey as more than a celebrity.
CBS News - Published
Casey Kasem's final days in Washington State
Ken Dickinson of the Kitsap County Sheriff's Office and Shasta Barthelheim, a longtime friend of Jean Kasem's, discuss Casey Kasem's condition during his stay in Silverdale, Wash, in May 2014.
CBS News - Published
The Mysterious Death of Casey Kasem
Four years after his death, a family feud erupts over radio legend Casey Kasem, exactly how he died and who was responsible -- an estate that could be worth $100 million is at stake. "48 Hours" Peter..
CBS News - Published
Casey Kasem's wife, children accuse each other of "killing" radio icon
The beloved radio icon's widow and children from his first marriage are suing each other for wrongful death with accusations on each side that the other hastened Kasem's demise
CBS News - Published