Idaho
State in the United States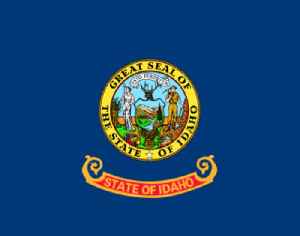 Idaho is a state in the Pacific Northwest region of the United States. It borders the state of Montana to the east and northeast, Wyoming to the east, Nevada and Utah to the south, and Washington and Oregon to the west. To the north, it shares a small portion of the Canadian border with the province of British Columbia. With a population of approximately 1.7 million and an area of 83,569 square miles (216,440 km2), Idaho is the 14th largest, the 12th least populous and the 7th least densely populated of the 50 U.S. states. The state's capital and largest city is Boise.


Besides Lacking Beds, Eleven US States Face Critical Shortage Of ICU Medical Professionals

As COVID-19 infections surge, health care professionals across the US are struggling to keep up with the demand for personal protective equipment. But according to UPI, a new report reveals that in 11..
Credit: Wochit News Duration: 00:34
Published
The Ice Cream Flavors Each U.S. State Craves Right Now

Sunday is National Ice Cream Day! According to the Huff Post, to celebrate the occasion, Google shared a list of the most uniquely searched ice cream flavors, in every American state within the last..
Credit: Wochit News Duration: 00:37
Published
Should Bars Reopen?

The U.S. national tally of COVID-19 cases stands at more than 2.4 million with nearly 125, 000 deaths. According to Gizmodo, a spike in cases happened when a number of states decided to reopen. Now..
Credit: Wochit News Duration: 00:32
Published
You Might Like



'This is Nampa ... not Tampa': Idaho police got a call about an alligator and couldn't believe it. Then they got there.

Cpl. Tonna Marek, a 20-year veteran of the Nampa Police Department in Idaho, had never seen an alligator. That all changed this week.




USATODAY.com - Published




Chad Daybell, husband of Lori Vallow, will face trial after missing kids found dead on his property, Idaho judge rules

Tuesday's hearing began with a friend of Lori Vallow testifying about the September 2019 weekend when JJ, Vallow's son, was last seen.




USATODAY.com - Published





Grim details revealed at Chad Daybell hearing

Detectives are revealing disturbing details about the condition of the bodies of Idaho siblings JJ Vallow and Tylee Ryan at the preliminary hearing of their mother's husband, Chad Daybell. He's facing..




CBS News - Published





Detective reveals how Idaho kids' bodies were found at stepdad's home

The testimony came during a preliminary hearing where a judge will decide whether there is enough evidence to hold Chad Daybell for trial.




CBS News - Published





Chad Daybell, Lori Vallow's husband, in Idaho court again 2 months after missing kids' bodies found

Lori Vallow's children Joshua "JJ" Vallow and Tylee Ryan were found dead on Chad Daybell's property nearly two months ago.




USATODAY.com - Published




Samantha Hickey, Nurse With a Gift for Diagnosis, Dies at 45

Ms. Hickey trained dozens of junior colleagues and exercised rare skills as a diagnostician over more than 20 years as a nurse in southwestern Idaho. She died of Covid-19.




NYTimes.com - Published





The state most resistant to wearing masks for coronavirus protection? Arizona, study says

Arizona, Nevada, Florida and Idaho were among the top five. Over 150,000 geotagged Twitter posts produced a map of hotspots for anti-mask sentiment.




USATODAY.com - Published




At least 8 people, including 3 children, killed after planes collide over Idaho lake

The Kootenai County Sheriff's Office said three children were among the passengers in one of the planes that crashed into Lake Coeur d'Alene.




USATODAY.com - Published




AP Top Stories July 6 A

Here's the latest for Monday, July 6th: Florida counts 200,000 coronavirus cases; Planes collide over lake in Idaho; Body of missing Ft. Hood soldier identified; Brush fire north of Los Angeles.  




USATODAY.com - Published




At least 2 killed in plane collision at Idaho lake

At least two people died in a plane crash Sunday over Lake Coeur d'Alene, Idaho and as many as six other people may be missing, the Kootenai County Sheriff's Office said. Witnesses said they saw two..




USATODAY.com - Published





New cellphone driving laws go into effect Wednesday in Idaho, Indiana and South Dakota. How effective are similar bans in other states?

Idaho, Indiana and South Dakota will join 22 other states that already require phones be in hands-free mode while driving, according to national data.




USATODAY.com - Published




Lori Vallow, mom of missing Idaho kids who were found dead, faces new charges

The new charges come after court documents were unsealed taht allege Lori Vallow believed her children were "zombies." Vallow is due in court Tuesday.




USATODAY.com - Published




Recall alert: Nearly 60k pounds of chicken nuggets recalled for possible rubber contamination

Pilgrim's Pride is recalling 4-pound bags of "Pilgrim's Fully Cooked Chicken Breast Nuggets" shipped to stores in Arizona, Idaho, Oregon and Texas.




USATODAY.com - Published





Coronavirus stay-at-home orders have reduced roadkill rates in California, Idaho and Maine, study finds

In the era of the coronavirus, the number of animals killed on roads by cars declined in California, Idaho and Maine from early March to mid-April.




USATODAY.com - Published




Remains in Idaho Identified as Those of Missing Children

Chad Daybell, who is married to the children's mother, was arrested on Tuesday after investigators found human remains on his property.




NYTimes.com - Published





Missing Idaho children, a 'precious' boy and 'feisty' sister, are dead, police say

A horrific discovery brought a tragic end to the case of two missing Idaho children as authorities said JJ Vallow and Tylee Ryan were found dead.




USATODAY.com - Published




Missing Idaho kids: Vigil planned, family 'filled with unfathomable sadness' in Daybell-Vallow case

A vigil honoring the lives of two Idaho children missing since September, Joshua "JJ" Vallow and Tylee Ryan, is planned for Friday.




USATODAY.com - Published




Charges say man in missing kids case hid remains

Prosecutors charged an Idaho man Wednesday with destroying or concealing two sets of human remains after police said they uncovered bodies at his home while searching for evidence in the case of his..




USATODAY.com - Published





Husband in missing Idaho kids case hid remains of children, prosecutor says

Chad Daybell, Lori Vallow's new husband, was arrested Tuesday in Idaho when police found human remains at his house. Here's what we know.




USATODAY.com - Published





Chad Daybell arrested, human remains found: What we know about twisting case of Lori Vallow's missing children

Chad Daybell, Lori Vallow's new husband, was arrested Tuesday in Idaho when police found human remains at his house. Here's what we know.  




USATODAY.com - Published





Stepfather of Missing Children Is Arrested After Human Remains Are Found

Chad Daybell, 51, an Idaho man whose former wife died under questionable circumstances, was charged with concealing evidence, the authorities said.




NYTimes.com - Published





Man linked to missing kids arrested, remains found

Authorities say they uncovered human remains at an Idaho man's home as they investigated the disappearance of his new wife's two children. (June 9)  




USATODAY.com - Published





Supreme Court Won't Block Surgery for Transgender Inmate

The prisoner, Adree Edmo, said Idaho's failure to provide the procedure violated the Eighth Amendment's ban on cruel and unusual punishment.




NYTimes.com - Published





U.S. Supreme Court rebuffs bid to halt Idaho transgender inmate's surgery

The U.S. Supreme Court on Thursday allowed a transgender prison inmate in Idaho to go ahead with sex reassignment surgery, rejecting the state's bid to put it on hold.




Reuters - Published





Idaho eases restrictions for business, tourism

Gov. Brad Little says Idaho will move to the second stage of his four-stage plan to return to regular activity and recover from the economic damage caused by the coronavirus pandemic. (May 14)  




USATODAY.com - Published





Lori Vallow, her missing Idaho kids: What's going on with the bizarre case amid coronavirus?

The bizarre case of Lori Vallow's missing Idaho kids is yet to be solved, more than seven months after Joshua "JJ" Vallow and Tylee Ryan went missing.




USATODAY.com - Published




Idaho residents protest stay-at-home order

More than 1,000 protesters gathered at the Idaho Statehouse Friday in defiance of Gov. Brad Little's extension of a statewide stay-at-home order. Little extended the order to the end of April in an..




USATODAY.com - Published





A 'Liberty' Rebellion in Idaho Threatens to Undermine Coronavirus Orders

Even some public officials have challenged social-distancing requirements, calling them assaults on the Constitution. One group wants to gather up to 1,000 people for Easter.




NYTimes.com - Published





'The floor was moving': 6.5 earthquake strikes in Idaho, largest in the state since 1983

The temblor was centered 73 miles northeast of Meridian, a city on the outskirts of Boise, according to the U.S. Geological Survey.




USATODAY.com - Published




'Not just a big city issue': Coronavirus cases soar in rural America popular with tourists

Rural counties in Colorado, Utah and Idaho are experiencing some of the highest rates of coronavirus cases per capita in the nation.




USATODAY.com - Published




Joe Biden wins statewide vote in Washington state

Biden's victory means he won five of the six states that voted last Tuesday: Washington, Michigan, Missouri, Mississippi and Idaho. Sanders won North Dakota's caucuses.




USATODAY.com - Published





Judge reduces bail for Lori Vallow, mom of two missing Idaho children, to $1 million

Lori Vallow appeared in an Idaho courtroom Friday after she was returned from Hawaii this week. Her two children have been missing for months.




USATODAY.com - Published




With Lori Vallow due in court, FBI says Yellowstone National Park tourists' photos may help find missing Idaho kids

Lori Vallow is scheduled to appear in Madison County, Idaho, court on Friday to face felony child desertion and other charges




USATODAY.com - Published




Lori Vallow, mom of missing kids, extradited from Hawaii to Idaho to face felony charges

Lori Vallow, the 46-year-old mother of missing Joshua "JJ" Vallow and Tylee Ryan, was arrested Feb. 20 and faces felony child desertion charges.  




USATODAY.com - Published




Mother of missing Idaho kids to appear in court, new subpoenas filed: What we know now

Lori Vallow is to appear in court Wednesday. She is charged with two felony counts of child desertion and her kids haven't been seen in months.




USATODAY.com - Published




New court records, surveillance video pinpoint last days missing Idaho kids were seen

Records in the case of Lori Vallow's two missing Idaho children show that one was last seen in September in Yellowstone National Park.




USATODAY.com - Published