Barbara Lagoa
American judge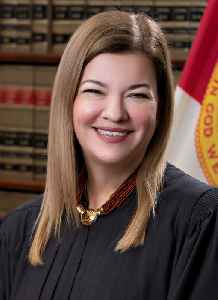 Barbara Lagoa is an American attorney and jurist serving as a United States Circuit Judge of the United States Court of Appeals for the Eleventh Circuit. Prior to becoming a federal judge, she was the first Hispanic woman to be appointed as a Justice of the Supreme Court of Florida.


Lagoa in 2019 chided judges against making law

Barbara Lagoa, a Cuban American who was the first Latina judge on Florida's Supreme Court, in 2019 said "it is for the legislature, and not the courts, to make the law."
Credit: Reuters Studio Duration: 01:07
Published
Murkowski, Collins break ranks on swift SC vote

[NFA] Republican Senators Lisa Murkowski of Alaska and Susan Collins of Maine broke ranks with President Donald Trump on his plan to swiftly hold a Senate vote on a potential successor to late Supreme..
Credit: Reuters - Politics Duration: 02:28
Published
You Might Like