Ferrari
Italian sports car manufacturer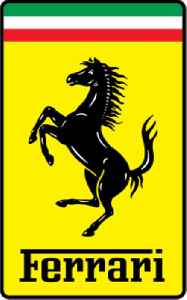 Ferrari is an Italian luxury sports car manufacturer based in Maranello, Italy. Founded by Enzo Ferrari in 1939 out of Alfa Romeo's race division as Auto Avio Costruzioni, the company built its first car in 1940. However, the company's inception as an auto manufacturer is usually recognized in 1947, when the first Ferrari-badged car was completed.


Ferrari takes aim at Aston Martin with new Roma

Ferrari unveils its new Roma model, the latest four-seat GT car from theItalian manufacturer. It's powered by a 3.9-litre twin-turbocharged V8 enginewhich takes it to a top speed of 199mph.
Credit: PA - Press Association STUDIO Duration: 01:16
Published
Vettel expects tight margins at Austria double-header

Sebastian Vettel believes the back-to-back races in Austria at the start of the Formula One season will be decided on slim margins and his Ferrari team will need to fine-tune their racing strategy to..
Credit: Reuters - Sports Duration: 04:46
Published
You Might Like
Diddy's Son King Combs Injured in Wild Ferrari vs. Tesla Crash
Diddy's son, King Combs, got smoked in his Ferrari by a Tesla, and though both drivers were okay, the guy in the Tesla got taken away in cuffs. King was involved in a car accident a little after..
TMZ.com - Published
'Everyday Supercar': A New Corvette Puts a Target on Ferrari's Back
The $60,000 Stingray pushes its engine to the middle and expectations through the roof.
NYTimes.com - Published
MOVIE REVIEW: Ford v Ferrari (Le Mans '66)
by Graham Pierrepoint - FORD V FERRARI (LE MANS '66) IMDb Dir: James Mangold Starring Matt Damon, Christian Bale, Jon Bernthal, Caitriona Balfe, Noah Jupe, Tracy Letts, Ray McKinnon, Josh..
One News Page Staff - Published
"Sunday Morning" Full Episode 11/10
This week "Sunday Morning," hosted by Jane Pauley, features Susan Spencer's cover story on addressing grief. Plus: Mark Phillips visits the set of "The Crown," the Netflix series returning with a new..
CBS News - Published
Damon and Bale in "Ford v. Ferrari"
In the 1960s, Ford Motor Company embarked on building a supercar that could beat the Italian automaker Ferrari at one of the world's most prestigious car races, the 24 Hours of Le Mans. That effort..
CBS News - Published
Esports Hall of Famer reflects on growth of pro gaming
Dennis "Thresh" Fong became the world's first professional gamer when he won a Ferrari in a "Quake" tournament. Now, more than 20 years later, he joined CBSN's coverage of the CBSN Originals doc..
CBS News - Published
Errol Spence Jr., Boxing Champion, Is Hurt in Dallas Car Crash
Spence, a welterweight champion, was expected to survive after a crash involving a Ferrari, the authorities said.
NYTimes.com - Published
Boxer Errol Spence injured in Dallas Ferrari crash
Authorities say welterweight boxing champion Errol Spence crashed a speeding Ferrari in Dallas and is badly injured but expected to survive. (Oct. 10)  
USATODAY.com - Published
Championship boxer ejected from Ferrari in Dallas crash
Errol Spence Jr. was expected to survive after an early morning car crash
CBS News - Published
Father-son duo arrested for making fake Ferraris and 'Shamborghinis' in Brazil
Police said the phony Ferraris and Lamborghinis were being offered on social media for $45,000 to $60,000.
USATODAY.com - Published
Ferrari rolls out a powerful plug-in hybrid
Ferrari is headed toward an electrified future with its plug-in hybrid, the 2020 Ferrari SF90 Stradale. Unveiled last week, it's a xxx-horsepower car, according to Ferrari.
USATODAY.com - Published