Bill Gates
American business magnate and philanthropist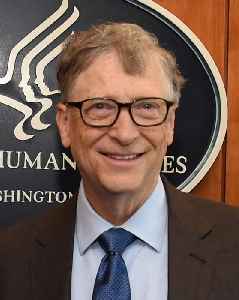 William Henry Gates III is an American business magnate, investor, author, philanthropist, and humanitarian. He is best known as the principal founder of Microsoft Corporation. During his career at Microsoft, Gates held the positions of chairman, CEO and chief software architect, while also being the largest individual shareholder until May 2014.


Bill and Melinda Gates reveal what surprised them in annual letter
Since the Gates Foundation was formed in 2000 by Microsoft co-founder Bill Gates and his wife, Melinda, it has paid out more than $45 billion in grants, supporting work in more than 130 countries...
CBS News - Published
Bill Gates: Congress pushing back against Trump over foreign aid is 'a great thing'
With Democrats taking the House back from GOP leaders, Bill Gates said Congress should get "credit" for standing up to the Trump administration.
USATODAY.com - Published
Bill And Melinda Gates Applaud The Work Of At Home DNA Kits
In their yearly letter, Bill and Melinda Gates highlighted personal DNA tests like 23andMe. their surprising utility in two fairly divergent areas: crime and maternal health. In their yearly letter,..
Credit: Wochit News Duration: 00:45Published
Bill Gates On Taxing The Rich
Billionaire philanthropist Bill Gates is calling out politicians stating there's a "misfocus" in the way America's wealthiest residents are taxed. Gates claims if those in charge focus on raising the..
Credit: Wochit News Duration: 00:46Published
Bill Gates & Warren Buffett Claim Money Has Nothing To Do With Success
According to a report by Business Insider, two of the richest people in the world, worth a combined 170 billion dollars, have offered the other 99 percent of the world some heart-warming advice from..
Credit: Wochit News Duration: 00:47Published
Search this site and the web:
You Might Like