Bill Gates
American business magnate and philanthropist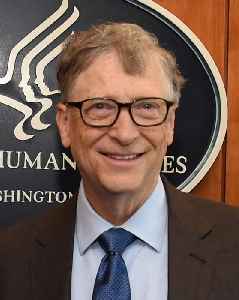 William Henry Gates III is an American business magnate, investor, author, philanthropist, and humanitarian. He is best known as the principal founder of Microsoft Corporation. During his career at Microsoft, Gates held the positions of chairman, CEO and chief software architect, while also being the largest individual shareholder until May 2014.


Elizabeth Warren willing to show Bill Gates how much she'd tax him: 'I promise it's not $100 billion'
Bill Gates joked on Wednesday that "when you say I should pay $100 billion, OK, then I'm starting to do a little math about what I have left over."
USATODAY.com - Published
Elizabeth Warren Offers to Explain Her Wealth Tax to Bill Gates
The Democratic presidential candidate addressed Mr. Gates on Twitter after he questioned whether "she'd even be willing" to sit down with someone "who has large amounts of money."
NYTimes.com - Published
Ashton Kutcher Not Setting Up Trust Fund For Kids
Actor Ashton Kutcher said in a recent podcast he's not leaving a trust fund for his kids, reported Mitch Tuchman for MarketWatch. Kutcher isn't the only high-profile person to take this approach —..
Credit: Wochit News Duration: 00:32Published
Elizabeth Warren Rolls Out 'Calculator For Billionaires'
Sen. Elizabeth Warren rolled out a "calculator for the billionaires" on Thursday in a not-so-subtle swipe at super-rich critics Bill Gates and Leon Cooperman, both of whom recently attacked her wealth..
Credit: Wochit News Duration: 00:39Published
Bill Gates Calls Multiple Meetings With Epstein A 'Mistake In Judgment'
Bill Gates apologized on Wednesday for his association with financier and sex offender Jeffrey Epstein. It was his first public statement since news surfaced that he had met with Epstein more often..
Credit: Wochit News Duration: 00:42Published
Melinda Gates Allocates $1 Billion To Help Women
In a national effort to help women, Melinda Gates has pledged to spend $1 billion dollars over the next decade to promote gender equality in America. In an essay for Time magazine published Wednesday..
Credit: Wochit News Duration: 00:35Published
Elizabeth Warren to Bill Gates: I'll explain my wealth tax to you
Gates, worth an estimated $109 billion, wondered if he'd pay $100 billion under her plan to target country's largest fortunes
CBS News - Published
Today in History for October 28th
The Statue of Liberty is dedicated in New York; Benito Mussolini takes control of the Italian government; The Cuban Missile Crisis ends; Microsoft co-founder Bill Gates and actress Julia Roberts are..
USATODAY.com - Published
Amazon CEO Jeff Bezos drops to world's second richest person, Bill Gates reclaims spot
Amazon's stock price drop has cost CEO Jeff Bezos his spot atop the list of the world's richest people. Microsoft co-founder Bill Gates reclaimed it.
USATODAY.com - Published
Forbes 400: Jeff Bezos, Bill Gates and Warren Buffett remain the richest people in the US
The CEO of Amazon, Jeff Bezos, remains the richest person in America despite parting with $46 billion over the past year, according to Forbes.
USATODAY.com - Published
This health investor shadowed Jeff Bezos, worked for Bill Gates: Here's what he learned
"I don't always have the right answers, but I do have a lot of scars and I'm happy to share those," said Peter Neupert.
USATODAY.com - Published
Bill Gates' biggest mistake at Microsoft? Letting Android win mobile
The mobile platform has always been a thorn in Microsoft's side.
USATODAY.com - Published
You Might Like