National Security Agency
U.S. signals intelligence organization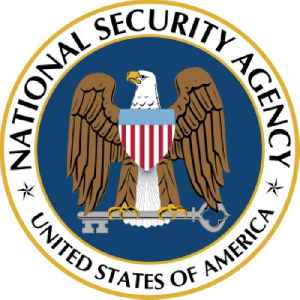 The National Security Agency (NSA) is a national-level intelligence agency of the United States Department of Defense, under the authority of the Director of National Intelligence. The NSA is responsible for global monitoring, collection, and processing of information and data for foreign and domestic intelligence and counterintelligence purposes, specializing in a discipline known as signals intelligence (SIGINT). The NSA is also tasked with the protection of U.S. communications networks and information systems. The NSA relies on a variety of measures to accomplish its mission, the majority of which are clandestine.


'UP govt created a false case': Dr. Kafeel Khan after release from jail

Dr. Kafeel Khan lashed out at the Uttar Pradesh government after he was released from the Mathura jail following the Allahabad High Court order. Kafeel Khan, who has been in jail since his arrest in..
Credit: HT Digital Content Duration: 01:52
Published
Trump Says Edward Snowden Has Been 'Treated Unfairly'

Edward Snowden leaked classified intelligence on the National Security Agency's secret surveillance on Americans' private communications. Snowden eventually settled in Russia and has refused to return..
Credit: Wochit News Duration: 00:38
Published
You Might Like



Court Approves Warrantless Surveillance Rules While Scolding F.B.I.

The release of a newly declassified ruling follows a separate decision by an appeals court that a defunct National Security Agency program was illegal.




NYTimes.com - Published





Republican national security officials back Biden

Those endorsing Biden include former Defense Secretary Chuck Hagel, former CIA and National Security Agency Director Michael Hayden and former Director of National Intelligence John Negroponte.




CBS News - Published





Rep. Peter King: Sochi Olympics security "so far, so good"

New York Republican congressman discusses the Sochi Olympics, NSA leaker Edward Snowden, and immigration reform.




CBS News - Published





Snowden claims NSA engaged in industrial espionage

In an interview with German television, Edward Snowden claims the NSA also spied on companies. Norah O'Donnell reports.




CBS News - Published





NSA surveillance: Gov't panel calls for stop to phone data collection on Americans

A government advisory panel wants President Obama to stop the collection of Americans' phone data. It calls the practice "illegal" and "ineffective." The Privacy and Civil Rights Oversight Board..




CBS News - Published





NSA changes: CIA insider talks importance of reforms

CIA Deputy Director and CBS News contributor Michael Morell was part of a panel that recommended changes of the National Security Agency to President Obama. Morell joins the "CBS This Morning" co-hosts..




CBS News - Published





Obama calls for more judicial oversight on NSA data collection

President Obama ordered limited changes to surveillance conducted by the National Security Agency. He called for more judicial oversight and said he wants the government to stop storing vast amounts of..




CBS News - Published





NSA data collection alternatives rife with drawbacks

Following public outcry, President Obama announced that the government should no longer store massive amounts of Americans' phone records. An independent review panel has made several recommendations,..




CBS News - Published





NSA using spy software to bug 100,000 computers around the world

The New York Times reports that in a program called "Quantuum," the NSA planted software in nearly 100,000 computers worldwide. The targets include China's army, the Russian military and drug cartels...




CBS News - Published





Oracle CEO Larry Ellison: NSA surveillance is "essential"

Larry Ellison is America's third richest man. His company, Oracle, makes a widely-used database that handles everything from online banking to airline reservations. Charlie Rose spoke to Ellison at his..




CBS News - Published





December 22: Morell, Brennan, Cordes, Garrett

The latest on NSA surveillance reform and a look back at 2013, with former deputy and acting CIA director Michael Morell, CBS News' Margaret Brennan, Nancy Cordes, David Martin, and Major Garrett,..




CBS News - Published





Former top CIA official describes NSA reform ideas

Former deputy CIA director Michael Morell, a member of President Obama's NSA surveillance review panel, explains why he signed onto the group's dramatic reform proposals.




CBS News - Published





12/20: Will Obama cut Snowden slack following leaks?; Woman seeks rental family on Craigslist

President Obama addressed questions about NSA leaker Edward Snowden, and whether there's a possibility of a negotiation for a plea agreement or amnesty; and, Steve Hartman meets Jackie Turner, a woman..




CBS News - Published





2013: Washington's worst year in decades?

CBS News' Major Garrett, Nancy Cordes, David Martin, and Margaret Brennan offer their expert take on the big stories of 2013, from NSA surveillance to congressional dysfunction and the rocky..




CBS News - Published





12/16: NSA phone data collection likely unconstitutional, judge rules; Inside China's cockroach farming boom

A federal judge in Washington said the author of the Constitution "would be aghast" at the NSA's collection of phone records of millions of Americans; and, cockroach farming is big business in China,..




CBS News - Published





Federal court rules against surveillance program

CBS News Senior Correspondent John Miller discusses why the NSA's collection of phone records likely violates the constitution's ban on unreasonable searches according to a federal judge.




CBS News - Published





Did Russia or China take Snowden's cache of U.S. intelligence?

The NSA's Rick Ledgett said he'd be "shocked" if foreign intelligence agencies hadn't already gained access to Snowden's leaked material.




CBS News - Published





Snowden theft was seen by colleagues

The NSA's Rick Ledgett said system administrators detected that Snowden was downloading confidential documents.




CBS News - Published





Snowden's role in sparking a national debate

The NSA's Rick Ledgett said the NSA needs to be more "transparent," but he believes people will die as a result of Snowden's leaks.




CBS News - Published





What's being done to prevent another Snowden?

The NSA's Rick Ledgett said the NSA has 43 different programs designed to "fill in the gaps" of the agency's vulnerabilities.




CBS News - Published





Words for Edward Snowden from NSA investigator

On assignment for 60 Minutes, CBS' John Miller asked the NSA's Rick Ledgett what he would say to Edward Snowden if given the chance.




CBS News - Published





"Bad guys" are talking about Snowden

According to the NSA's Rick Ledgett, suspected terrorists are discussing how to learn from intelligence documents leaked by Snowden.




CBS News - Published





Miller on "60 Minutes" NSA report: "This was hard for them"

Just the tip of the iceberg? U.S. intelligence insiders say the Edward Snowden affair will continue to create problems for years to come. CBS News senior correspondent John Miller was granted..




CBS News - Published





Inside the NSA, The Copts

The NSA allows 60 Minutes cameras inside the agency's secure areas for the first time to explain what it does and what it says it doesn't do: spy on Americans; then, Who is Edward Snowden? John Miller..




CBS News - Published




The Snowden Affair

Part Two: Who is Edward Snowden? John Miller reports on what the NSA has learned about the contractor responsible for stealing 1.7 million classified documents. Plus, see for the first time the black..




CBS News - Published




60 Minutes Overtime, 12.15.13

A conversation with John Miller and 60 Minutes producers about their experience reporting in top-secret areas of the NSA; then, John Miller asked the NSA's Rick Ledgett what he would say to Edward..




CBS News - Published





How did 60 Minutes get cameras into a spy agency?

A conversation with John Miller and 60 Minutes producers about their experience reporting in top-secret areas of the NSA




CBS News - Published





Panetta: Obama "may have to accept some changes" to Obamacare

Former Defense Secretary Leon Panetta offers his thoughts on Iranian nuclear negotiations, Obamacare, NSA surveillance, and more.




CBS News - Published





Tech giants say government surveillance going too far

Facebook, Google, Yahoo and others said in an open letter to the president and Congress that the National Security Agency's surveillance program "undermines the freedoms we all cherish." Bob Orr..




CBS News - Published





Security leaks lead to finger pointing

The leaks of top secret material by the NSA contractor Edward Snowden have been making waves around the world. Simon Bates reports why British politicians are pointing fingers at the newspaper at the..




CBS News - Published





Trump will not invoke control of National Guard amid protests, NSA adviser says

The Trump administration will not invoke federal authority over the National Guard for now, National Security Adviser Robert O'Brien said on Sunday as protests flared in multiple U.S. cities..




Reuters - Published




NSA warns of ongoing Russian hacking campaign against U.S. systems

The U.S. National Security Agency on Thursday warned government partners and private companies about a Russian hacking operation that uses a special intrusion technique to target operating systems..




Reuters - Published





N.S.A. Phone Program Cost $100 Million, but Produced Only Two Unique Leads

A disputed program that allowed the National Security Agency to gain access to logs of Americans' domestic calls and texts yielded only one significant investigation, according to a newly..




NYTimes.com - Published





Reality Winner, Imprisoned for Leaking Russian Hacking Report, Seeks Clemency

The Air Force veteran is serving more than five years in prison for sending a classified report to a news website while she was working as a National Security Agency contractor.




NYTimes.com - Published





Struggle Between N.S.A. and Congress Over Ukraine Records Breaks Into Open

Representative Adam Schiff, the House Intelligence Committee chairman, said the agency was withholding documents from his panel, including some that might be useful in the impeachment trial.




NYTimes.com - Published





N.S.A. Takes Step Toward Protecting World's Computers, Not Just Hacking Them

The intelligence agency alerted Microsoft to a vulnerability in Windows. Typically, it would keep quiet and exploit the flaw.




NYTimes.com - Published





Warrant not always needed for 'inadvertent' NSA surveillance of Americans: U.S. court

The U.S. government may collect information about U.S. citizens without obtaining a warrant if the information is gathered inadvertently while legally carrying out surveillance of non-nationals abroad,..




Reuters - Published





Security clearance loophole allowed ex-NSA hackers to work for UAE

How do you keep a coveted top-secret U.S. government security clearance while working for a foreign spy service? That question vexed U.S. intelligence operatives recruited to work as contractors for a..




Reuters - Published





Fmr. CIA Director says new head of NSA, Gen. McMaster has a "stellar reputation"

Fmr. CIA Director John Brennan says he believes new National Security Advisor Gen. McMaster understands "bumper sticker terms" such as "radical Islam" do more harm than good. He urges the president to..




CBS News - Published





Michael Hayden asks how the post-truth information age affects national security

Former CIA and National Security Agency Director Michael Hayden joins "Face the Nation" moderator Margaret Brennan to discuss his new book "The Assault on Intelligence: American National Security in an..




CBS News - Published





NSA adviser Timothy Morrison testified on the Donald Trump impeachment inquiry. Here are 4 takeaways

The National Security Council official testified corroborated Ambassador William Taylor's description of quid pro quo in his Oct. 23 testimony.




USATODAY.com - Published





Where U.S. cyber warriors are working to protect against election threats

CBS goes inside new NSA facility in Maryland where U.S. personnel work to head off election threats 24 hours a day, seven days a week, 365 days a year




CBS News - Published





Edward Snowden says the government isn't hiding aliens – but that doesn't mean they don't exist

Former NSA employee Edward Snowden wrote about the topic in his memoir 'Permanent Findings' and confirmed it on the podcast 'Joe Rogan Experience.'




USATODAY.com - Published




U.S. wants to seize all money Edward Snowden makes from new book

The United States filed a lawsuit on Tuesday against Edward Snowden, the former National Security Agency contractor who leaked secret documents about U.S. telephone and internet surveillance in 2013,..




Reuters - Published




U.S. sues Edward Snowden over new book, cites non-disclosure agreements

The United States filed a lawsuit on Tuesday against former NSA contractor Edward Snowden, who in 2013 leaked secret documents about U.S. telephone and Internet surveillance, saying his new book..




Reuters - Published




'I'm not asking for a pardon.' Edward Snowden says he'd come home for a fair trial

Renegade former NSA contractor Edward Snowden tells it like he thinks it is in his book "Permanent Record" released Tuesday in more than 20 countries.




USATODAY.com - Published





Edward Snowden says he wants a fair trial if he returns to U.S.

Former NSA contractor Edward Snowden says he wants a fair trial if he returns to the U.S. He's been living in exile in Moscow since 2013 after leaking top secret government documents. Snowden opens up..




CBS News - Published