Santa Claus
Legendary character, said to deliver gifts to children on Christmas Eve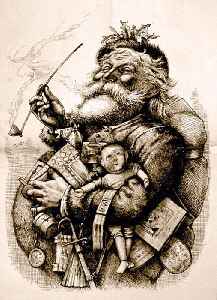 Santa Claus, also known as Father Christmas, Saint Nicholas, Saint Nick, Kris Kringle, or simply Santa, is a legendary character originating in Western Christian culture who is said to bring gifts to the homes of well-behaved children on the night of Christmas Eve or during the early morning hours of Christmas Day. The modern character of Santa Claus was based on traditions surrounding the historical Saint Nicholas, the British figure of Father Christmas, and the Dutch figure of Sinterklaas. Some maintain Santa Claus also absorbed elements of the Germanic deity Wodan, who was associated with the pagan midwinter event of Yule and led the Wild Hunt, a ghostly procession through the sky.


Santa unveils Selfridges' 2020 Christmas Shop

Santa Claus has unveiled Selfridges' Christmas Shop in its flagship store inLondon - and it's greener than ever. Half of this year's products havesustainable attributes.
Credit: PA - Press Association STUDIO Duration: 01:46
Published
You Might Like



Macy's cancels in-person Santa visits for holiday season

After almost 160 years, Macy's Santa Claus won't be coming to town due to coronavirus risks.




CBS News - Published





Rudolph seeking a new home at auction

The Rudolph and Santa Claus figures used in the perennial stop-motion animation Christmas special "Rudolph the Red Nosed Reindeer" are going up for auction on Nov. 13. (Oct. 15)




USATODAY.com - Published




When this Santa in Indiana got coronavirus, parents held their breath — for 115 days

Ron Osborn -- Santa to many of the children in Martinsville, Indiana -- battled COVID-19 for 115 days, which could be a record.  




USATODAY.com - Published





There's nothing more fun than meeting Santa

Meeting Santa is super special for (most of) these kids.




USATODAY.com - Published




6-year-old catches Santa delivering toys on security camera in home surveillance sting

Santa Claus was no match for one 6-year-old California girl who learned home surveillance tricks from her private investigator grandpa.




USATODAY.com - Published





Santa grants soldier's daughter's Christmas wish

Ella's one wish for Santa is for him to bring home her deployed dad for Christmas.




USATODAY.com - Published




Santa water-skis on Potomac River in annual event

On Christmas Eve, Santa and his helpers water-skied along the Potomac River shore as they have every year since 1986. (Dec. 24)




USATODAY.com - Published




NORAD tracks Santa Claus on trip around the world

For the 64th time, a wildly popular program run by the U.S. and Canadian militaries is providing real-time updates on Santa's progress. And this year, NORAD is offering even more high-tech ways for..




USATODAY.com - Published





Cardinals' Larry Fitzgerald plays Santa, passes down his mother's tradition of charity at Christmas

Arizona Cardinals star Larry Fitzgerald partners with Dick's Sporting Goods to give shopping sprees to Boys & Girls Club kids in the Phoenix area.




USATODAY.com - Published





Where is Santa Claus right now? High-tech trackers can help you follow his magical journey

NORAD and Google will be among the organizations tracking Santa's journey on Christmas Eve 2019. Here's how you can follow along.




USATODAY.com - Published




Christmas Eve weather, tracking Santa and what's open: 5 things you need to know Tuesday

The weather this Christmas Eve? It's not so frightful. Also, how to track Santa on Google and we'll tell you which stores are open and closed.




USATODAY.com - Published





U.S. military tracking Santa - and any 'Christmas gift' from North Korea

While the North American Aerospace Defense Command stays alert for any signs of a North Korea missile launch – what officials in Pyongyang have described as a "Christmas gift" – it is also tracking..




Reuters - Published





Trying to Reach the North Pole? Check Your Wi-Fi

It used to be that a handwritten letter was the only way to get in touch with Santa. Now he's reachable by email, text and even video chat. But who, exactly, is on the other end of the line?




NYTimes.com - Published





Little boy can't go to Santa, so Santa comes to him

Cassiel's mom knew how difficult it would be to bring him to Santa, so she found a way to bring Santa to him.  




USATODAY.com - Published





A mom at a Texas domestic violence shelter found her son's letter to Santa. He asked for 'a very very very good dad'

In an image that has gone viral, SafeHaven of Tarrant County, Texas, shared a letter to Santa by a 7-year-old who has been at the shelter for weeks.




USATODAY.com - Published




Is Santa real? Here's advice on how to handle a difficult question when kids ask

Is there right way to talk to your kids about Santa Claus? And is telling your children about Santa good for their development? Experts have advice.  




USATODAY.com - Published





President Trump made an executive order for most federal employees to get Dec. 24 off

President Trump is playing Santa this year by giving Christmas Eve off to federal employees, excluding public safety employees.




USATODAY.com - Published





How a Jewish Santa helps 'repair the world' at Christmas

For 45 years, Art Hoffman has made Christmas happier for children, undeterred by logic that says, "Not your religion, not your holiday."




USATODAY.com - Published





Dancing Santa doll taunts a couple of dogs who have no holiday spirit

Like many dogs Butch and Frank aren't fans of singing and dancing holiday decor.




USATODAY.com - Published





'Let It Snow' sweater, depicting Santa with lines of cocaine, is one of year's products gone wrong

A Santa sweater sold at Walmart's Canada website is one of 2019's "products gone wrong," that also includes items deemed tone deaf or inappropriate.




USATODAY.com - Published





Fun and festive Santas from around the world

Santa Claus, also known as Saint Nicholas, St. Nick, Kris Kringle and Pelznickel makes appearances before for the Holiday season.




USATODAY.com - Published





Santa Claus calms anxious boy with autism

The boy had been trying to see Santa since he was 2, but anxiety always took over – until this year, when Santa recognized his struggle




CBS News - Published




Man dresses up as Santa to deliver presents to kids in need – continuing dad's 42-year tradition

For 42 years, Mike Howard dressed up as "Mountain Santa," delivering thousands of toys to kids in Harlan County, Kentucky. Two years ago, he died, but his legacy didn't because his son, Jordan, has..




CBS News - Published





Santa helps soldier surprise kids with holiday homecoming

This 4-year-old in New Hampshire wanted one thing for Christmas: to see her dad, who was deployed overseas. She told Santa what her wish was – then, the unexpected happened.




CBS News - Published





Where does Santa Claus live? Postal Service has released his exact address. Yes, it's in the North Pole

Operation Santa, the 107-year-old USPS program that fulfills wish lists for needy kids, has released an exact street address for Santa this year.




USATODAY.com - Published




You'll have to spend $2,500 to visit this store Santa

Harrods in London says its store Santa is only available to big spenders "in recognition of their loyal" patronage




CBS News - Published





Santa Clauses gather at Santa World Congress

Santa Clauses from around the globe gathered in Denmark for the annual Santa Claus World Congress. The event goes from July 22-July 25.




USATODAY.com - Published