Santa Claus
Folkloric figure, said to deliver gifts to children on Christmas Eve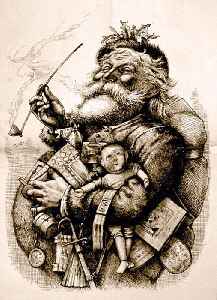 Santa Claus, also known as Father Christmas, Saint Nicholas, Saint Nick, Kris Kringle, or simply Santa, is a legendary figure originating in Western Christian culture who is said to bring gifts to the homes of well-behaved children on the night of Christmas Eve or during the early morning hours of Christmas Day. The modern Santa Claus grew out of traditions surrounding the historical Saint Nicholas, the British figure of Father Christmas, and the Dutch figure of Sinterklaas. Some maintain Santa Claus also absorbed elements of the Germanic god Wodan, who was associated with the pagan midwinter event of Yule and led the Wild Hunt, a ghostly procession through the sky.


Fun and festive Santas from around the world
Santa Claus, also known as Saint Nicholas, St. Nick, Kris Kringle and Pelznickel makes appearances before for the Holiday season.
USATODAY.com - Published
Santa Claus calms anxious boy with autism
The boy had been trying to see Santa since he was 2, but anxiety always took over – until this year, when Santa recognized his struggle
CBS News - Published
Germany's biggest gathering of Santa Clauses
Some 70 Santa Clauses and their helpers Krampus, Perchten and angels gathered in the southern Bavarian town of Murnau in order to parade through town in full regalia to get everybody in the mood for..
Credit: euronews (in English) Duration: 00:50Published
Man dresses up as Santa to deliver presents to kids in need – continuing dad's 42-year tradition
For 42 years, Mike Howard dressed up as "Mountain Santa," delivering thousands of toys to kids in Harlan County, Kentucky. Two years ago, he died, but his legacy didn't because his son, Jordan, has..
CBS News - Published
Santa helps soldier surprise kids with holiday homecoming
This 4-year-old in New Hampshire wanted one thing for Christmas: to see her dad, who was deployed overseas. She told Santa what her wish was – then, the unexpected happened.
CBS News - Published
Where does Santa Claus live? Postal Service has released his exact address. Yes, it's in the North Pole
Operation Santa, the 107-year-old USPS program that fulfills wish lists for needy kids, has released an exact street address for Santa this year.
USATODAY.com - Published
You'll have to spend $2,500 to visit this store Santa
Harrods in London says its store Santa is only available to big spenders "in recognition of their loyal" patronage
CBS News - Published
Santa Clauses gather at Santa World Congress
Santa Clauses from around the globe gathered in Denmark for the annual Santa Claus World Congress. The event goes from July 22-July 25.
USATODAY.com - Published
You Might Like