Volkswagen Group
Automotive manufacturing conglomerate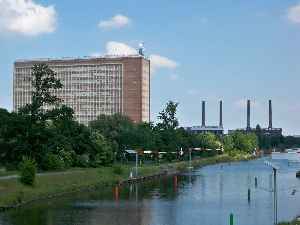 Volkswagen AG, known internationally as the Volkswagen Group, is a German multinational automotive manufacturing company headquartered in Wolfsburg, Lower Saxony, Germany and indirectly majority owned by Austrian Porsche and Piëch families. It designs, manufactures and distributes passenger and commercial vehicles, motorcycles, engines, and turbomachinery and offers related services including financing, leasing and fleet management. In 2016, it was the world's largest automaker by sales, overtaking Toyota and keeping this title in 2017 and 2018, selling 10.8 million vehicles. It has maintained the largest market share in Europe for over two decades. It ranked seventh in the 2018 Fortune Global 500 list of the world's largest companies. Volkswagen Group sells passenger cars under the Audi, Bentley, Bugatti, Lamborghini, Porsche, SEAT, Škoda and the flagship Volkswagen marques; motorcycles under the Ducati brand; and TRATON under the marques MAN, Scania, and Volkswagen Commercial Vehicles. It is divided into two primary divisions, the Automotive Division and the Financial Services Division, and as of 2008 had approximately 342 subsidiary companies. Volkswagen also has two major joint-ventures in China. The company has operations in approximately 150 countries and operates 100 production facilities across 27 countries.


Volkswagen recalls 679,000 U.S. vehicles that could roll away
Volkswagen AG said Friday it is recalling 679,000 U.S. vehicles sold since 2011 that could roll away because of an electrical issue.
Reuters - Published
U.S. judge urges VW, SEC to resolve civil Dieselgate suit
A federal judge in California on Friday urged the U.S. Securities and Exchange Commission and Volkswagen AG to resolve a civil suit stemming from its Dieselgate emissions scandal.
Reuters - Published
This is the new Volkswagen ID.3
The ID.3 is the first car in Volkswagen's new all-electric 'ID.' line-up. At launch, it'll be available with three battery size options, the largest of which has a range of 342 miles.
Credit: PA - Press Association STUDIO Duration: 01:10Published
Four automakers, California strike compromise on vehicle emissions
Ford Motor Co, BMW AG, Volkswagen AG and Honda Motor Co said on Thursday they have reached a voluntary agreement with the state of California to adopt compromise vehicle emissions rules.
Reuters - Published
Volkswagen CEO meets top U.S. trade official as Mexico tariffs loom: sources
Volkswagen AG Chief Executive Herbert Diess met on Monday with the top U.S. trade official, a week before new tariffs are set to hit imported Mexican vehicles, two people briefed on the matter said.
Reuters - Published
VW Tennessee plant employees to vote on whether to join union
Volkswagen AG and the United Auto Workers union confirmed on Wednesday that workers at the German automaker's Chattanooga, Tennessee assembly will vote June 12, 13 and 14 on whether to unionize.
Reuters - Published
U.S. senators urge Volkswagen to end delay in Tennessee union vote
Three Democratic U.S. senators on Tuesday questioned a decision by Volkswagen AG's U.S. unit to delay a union election for workers at its Tennessee assembly plant.
Reuters - Published
SEC sues Volkswagen, Winterkorn, citing 'Dieselgate' fraud on investors
The U.S. Securities and Exchange Commission sued Volkswagen AG and its former chief executive Martin Winterkorn over the German automaker's diesel emissions scandal, accusing the company of..
Reuters - Published
SEC charges Volkswagen, former CEO with lying to investors
The U.S. Securities and Exchange Commission charged Volkswagen Group and former CEO Martin Winterkorn with deceiving investors.
USATODAY.com - Published
You Might Like