The Holocaust
Genocide of the European Jews by Nazi Germany and other groups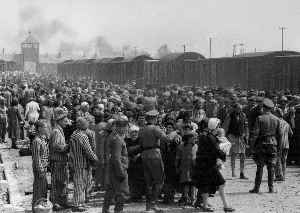 The Holocaust, also known as the Shoah, was the World War II genocide of the European Jews. Between 1941 and 1945, across German-occupied Europe, Nazi Germany and its collaborators systematically murdered some six million Jews, around two-thirds of Europe's Jewish population. The murders were carried out in pogroms and mass shootings; by a policy of extermination through labour in concentration camps; and in gas chambers and gas vans in German extermination camps, chiefly Auschwitz, Bełżec, Chełmno, Majdanek, Sobibór, and Treblinka in occupied Poland.


The Holocaust: States require education about it as anti-Semitism, hate crimes surge
Ignorance about the Holocaust is growing, particularly among young people. A survey showed two-thirds of millennials were not familiar with Auschwitz.
USATODAY.com - Published
Search this site and the web:
You Might Like