The Holocaust
Genocide of the European Jews by Nazi Germany and other groups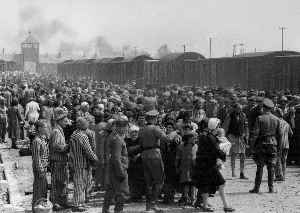 The Holocaust, also known as the Shoah, was a genocide during World War II in which Nazi Germany, aided by local collaborators, systematically murdered some six million European Jews—around two-thirds of the Jewish population of Europe—between 1941 and 1945. Jews were targeted for extermination as part of a larger event during the Holocaust era, in which Germany and its collaborators persecuted and murdered other groups, including Slavs, the Roma, the "incurably sick", political and religious dissenters such as communists and Jehovah's Witnesses, and gay men. Taking into account all the victims of Nazi persecution, the death toll rises to 17 million.


Gene Simmons visits White House and Pentagon, tells story of mother surviving Holocaust
Today, Gene Simmons, of the rock band KISS, made a surprise visit to the White House and Pentagon, where he visited veterans.
USATODAY.com - Published
Israeli charged with assault for spitting on Polish ambassador
Israeli prosecutors filed charges on Thursday against a man accused of spitting on Poland's ambassador, an incident that drew strong condemnation from Warsaw and underscored tensions between the..
Reuters - Published
Rabbis Slam New Abortion Law As Forced-Birth Mentality, Nazi Philosophy
Alabama's newly-passed abortion ban includes text comparing abortion to a host of unrelated issues... ...Like the Holocaust, Stalin's gulags, China's "Great Leap Forward," and Khmer Rouge's Cambodian..
Credit: Wochit News Duration: 01:09Published
New version of Anne Frank's diary could be original
A new translation and "stand-alone edition" of the diaries of Jewish teenager Anne Frank will be published in Germany, Austria and Switzerland on May 11, 75 years after the Holocaust diarist wrote her..
Credit: Reuters Studio Duration: 01:13Published
Israel comes to a standstill in memory of the Holocaust
Israelis paused to the sound of a lamenting single-tone siren across the country, marking Israel's Holocaust Remembrance Day in commemoration of the six million Jews killed by the Nazis during the..
Credit: euronews (in English) Duration: 00:50Published
Journal of teenage Holocaust victim retold for social media age | #TheCube
#TheCube | As Israel commemorates the Holocaust on May 1 and 2, the diary of a Jewish teenage Holocaust victim is being recounted using Instagram for a social media generation.
Credit: euronews (in English) Duration: 01:50Published
She Fled the Rwandan Genocide and Survived to Tell Her Story
Clemantine Wamariya wants to be known as more than a war victim. With her memoir, she hopes to inspire readers to look deep beyond labels.
Credit: Newsy Studio Duration: 04:05Published
Children of Rwanda's genocide have now grown up
Twenty-five years after 800,000 people were murdered in the Rwandan genocide, child survivors and orphans are now adults. Some were helped away from certain poverty when they moved to a 'youth..
Credit: Reuters Studio Duration: 02:06Published
Harvard Lampoon Apologizes for Sexualized Image of Anne Frank
The student-run satirical magazine set off an uproar at Harvard by publishing an image showing the Holocaust victim's face on the body of a bikini-clad woman.
NYTimes.com - Published
Rashida Tlaib's Holocaust comments are wrong, but so are her critics: Today's talker
It is not acceptable for elected leaders to weaponize comments about Jews or the Holocaust for political gain. We must end the blame game.
USATODAY.com - Published
GOP slams Rep. Rashida Tlaib for Holocaust remarks
Tlaib said she gets "a calming feeling" when she thinks of "the tragedy of the Holocaust," the suffering of her Palestinian ancestors and the new state of Israel
CBS News - Published
Also reported by •USATODAY.com
Rashida Tlaib defends Holocaust comments on Seth Meyers' show in face of 'racist idiots'
The Detroit congressman defended her comments on the Holocaust and Palestine and suggested that Republican critics are "racist idiots."
USATODAY.com - Published
Holocaust survivor, soldier have emotional meeting
A Holocaust survivor welcomes to her suburban Detroit home a former soldier whose U.S. Army unit liberated the concentration camp where she was being held. (May 13)
USATODAY.com - Published
A 'Calming Feeling,' a Furor and a New Front in the War Over Anti-Semitism
Representative Rashida Tlaib's set off another firestorm with her awkward comment that she had a "calming feeling" knowing that her ancestors had lost their land in the creation of Israel after..
NYTimes.com - Published
You Might Like