Rhetoric
Art of discourse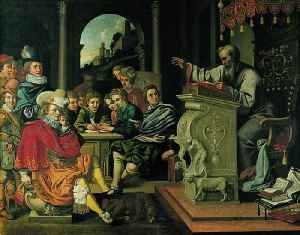 Rhetoric is the art of persuasion. Along with grammar and logic, it is one of the three ancient arts of discourse. Rhetoric aims to study the capacities of writers or speakers needed to inform, persuade, or motivate particular audiences in specific situations. Aristotle defines rhetoric as "the faculty of observing in any given case the available means of persuasion" and since mastery of the art was necessary for victory in a case at law or for passage of proposals in the assembly or for fame as a speaker in civic ceremonies, calls it "a combination of the science of logic and of the ethical branch of politics". Rhetoric typically provides heuristics for understanding, discovering, and developing arguments for particular situations, such as Aristotle's three persuasive audience appeals: logos, pathos, and ethos. The five canons of rhetoric or phases of developing a persuasive speech were first codified in classical Rome: invention, arrangement, style, memory, and delivery.


Chelsea Clinton berated by students blaming her 'rhetoric' for causing New Zealand shootings
Video of Chelsea Clinton being confronted by several students who blamed her "rhetoric" for helping cause the New Zealand mosque attacks went viral on Saturday.
USATODAY.com - Published
Search this site and the web:
You Might Like