Dallas Mavericks
American professional basketball team based in Dallas, Texas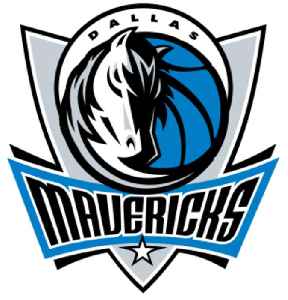 The Dallas Mavericks are an American professional basketball team based in Dallas, Texas. The Mavericks compete in the National Basketball Association (NBA) as a member club of the league's Western Conference Southwest Division. The team plays its home games at the American Airlines Center, which it shares with the National Hockey League's Dallas Stars.


The Latest: Mavs' Luka Doncic picks an international 'Fab 5'
Dallas' Luka Doncic's International Fab 5: Giannis, Porzingis, Jokic, Dragic and himself
USATODAY.com - Published
Wade helps Heat top Mavs 112-101 in likely final Dallas game
Dwyane Wade scores 22 points in what figures to be final game on court where he won his first championship, helping Heat beat Mavericks 112-101
USATODAY.com - Published
Anthony Davis Dominates On Court Amidst Trade Rumors
On Friday, Anthony Davis, the most talked about player in NBA trade rumors these days, threw up 48 points and 17 rebounds to lead the New Orleans Pelicans past the Dallas Mavericks 114-112. According..
Credit: Wochit News Duration: 00:42Published
James Harden extends 30-point streak with last-minute 3 in Rockets' win over Mavericks
On a night when he struggled shooting, James Harden hit a 3 with 53 seconds left to reach 31 points, his 30th consecutive game with at least 30.
USATODAY.com - Published
Harden runs 30-point streak to 30, Rockets beat Mavs 120-104
James Harden scored 31 points for his 30th straight 30-point game despite dealing with a shoulder injury to lead the Houston Rockets to a 120-104 win over the Dallas Mavericks on Monday night
USATODAY.com - Published
Antetokounmpo, Bucks win 6th straight, 122-107 over Mavs
Giannis Antetokounmpo has 29 points, 17 rebounds as Bucks roll to sixth straight victory, topping Mavericks 122-107
USATODAY.com - Published
Mavericks waive Zach Randolph, acquired in trade with Kings
Mavericks waive Zach Randolph two days after acquiring forward while sending Harrison Barnes to Sacramento in trade for salary-cap relief
USATODAY.com - Published
You Might Like