Greenwich Mean Time
Time zone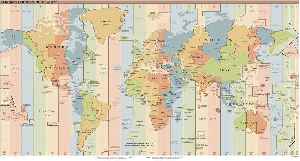 Greenwich Mean Time (GMT) is the mean solar time at the Royal Observatory in Greenwich, London, reckoned from midnight. At different times in the past, it has been calculated in different ways, including being calculated from noon; as a consequence, it cannot be used to specify a precise time unless a context is given.


Trump to make statement on Iran at 11 a.m./1600 GMT: White House official
U.S. President Donald Trump planned to make a statement on the situation in Iran at 11 a.m. ET/1600 GMT, a White House official told Reuters.
Reuters - Published
More briefings set for U.S. Congress on Iraq-Iran: House aides
Trump administration officials will provide a classified briefing on developments in Iraq and Iran on Tuesday at 4 p.m. EST (2100 GMT) for congressional leaders and Republican and Democratic leaders of..
Reuters - Published
Story on Ghosn's exit from Japan is withdrawn
This story, first published at 1243 GMT, has been withdrawn pending more reporting.
Reuters - Published
Norway PM Solberg to change cabinet line-up
Norwegian Prime Minister Erna Solberg will announce changes to the composition of her center-right coalition cabinet at 1045 GMT, her office said in a statement on Wednesday.
Reuters - Published
Brexit debriefing meeting delayed to 1500 GMT: EU diplomats
A debriefing for EU states on the latest on Brexit has been delayed to 1500 GMT on Wednesday from 1200 GMT, two diplomats with the bloc said as last-ditch talks between Brussels and London on sealing a..
Reuters - Published
Trump to meet with Chinese Vice Premier Liu He at 2:45 p.m. EDT/1845 GMT Friday
President Donald Trump will meet with Chinese Vice Premier Liu He at 2:45 p.m. EDT/1845 GMT on Friday as the world's two biggest economies try to reach a trade agreement, the White House said.
Reuters - Published
Italy's PD, 5-Star to resume government talks at 1600 GMT: PD Senate chief
Italy's opposition Democratic Party (PD) and the ruling 5-Star Movement will meet at 1600 GMT to resume talks on the formation of a possible new government, PD Senate chief Andrea Marcucci said on..
Reuters - Published
Italy's 5-Star, PD leaders to meet on government crisis at 1600 GMT
The leaders of the 5-Star Movement and the Democratic Party (PD) will meet shortly to seek a way out of Italy's government crisis, a 5-Star spokesman said on Monday.
Reuters - Published
You Might Like