Greenwich Mean Time
Time zone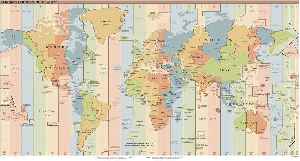 Greenwich Mean Time (GMT) is the mean solar time at the Royal Observatory in Greenwich, London, reckoned from midnight. At different times in the past, it has been calculated in different ways, including being calculated from noon; as a consequence, it cannot be used to specify a precise time unless a context is given.


Brexit debriefing meeting delayed to 1500 GMT: EU diplomats
A debriefing for EU states on the latest on Brexit has been delayed to 1500 GMT on Wednesday from 1200 GMT, two diplomats with the bloc said as last-ditch talks between Brussels and London on sealing a..
Reuters - Published
Trump to meet with Chinese Vice Premier Liu He at 2:45 p.m. EDT/1845 GMT Friday
President Donald Trump will meet with Chinese Vice Premier Liu He at 2:45 p.m. EDT/1845 GMT on Friday as the world's two biggest economies try to reach a trade agreement, the White House said.
Reuters - Published
Boeing CEO tells U.S. lawmakers: 'We've made mistakes'
Boeing CEO Dennis Muilenburg was pressed by U.S. lawmakers at a hearing on Tuesday over what the company knew about its MCAS stall-prevention system linked to two deadly crashes, and says he apologized..
Credit: Reuters Studio Duration: 01:53Published
London Eye goes into reverse to mark end of BST
The London Eye has rotated backwards for the first time in its history to mark the end of daylight saving time, which sees Britain's clocks move back an hour on Sunday October 27. This see clocks..
Credit: PA - Press Association STUDIO Duration: 00:46Published
Video captures Hard Rock Hotel's collapse, ensuing chaos
Amateur video captured the Hard Rock Hotel's outer wall come crashing down as horrified passengers on a New Orleans trolley watched on Saturday. Rough Cut (no reporter narration).
Credit: Reuters Studio Duration: 01:02Published
New Orleans hotel collapses, one dead, at least 18 injured
One person was killed and at least 18 were injured after the Hard Rock Hotel in New Orleans collapsed on Saturday (October 12), authorities said. Rough cut (no reporter narration)
Credit: Reuters Studio Duration: 01:06Published
Italy's PD, 5-Star to resume government talks at 1600 GMT: PD Senate chief
Italy's opposition Democratic Party (PD) and the ruling 5-Star Movement will meet at 1600 GMT to resume talks on the formation of a possible new government, PD Senate chief Andrea Marcucci said on..
Reuters - Published
Italy's 5-Star, PD leaders to meet on government crisis at 1600 GMT
The leaders of the 5-Star Movement and the Democratic Party (PD) will meet shortly to seek a way out of Italy's government crisis, a 5-Star spokesman said on Monday.
Reuters - Published
Search this site and the web:
You Might Like