Turkmenistan
Republic in Central Asia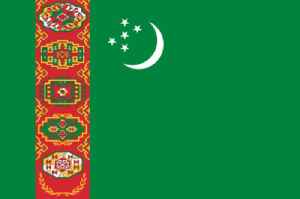 Turkmenistan
( or ;
Turkmen: Türkmenistan/Түркменистан
, pronounced 
[tʏɾkmɛnɪˈθtɑn]
, also known as
Turkmenia
, is a sovereign country in Central Asia, bordered by Kazakhstan to the northwest, Uzbekistan to the north and east, Afghanistan to the southeast, Iran to the south and southwest and the Caspian Sea to the west. Ashgabat is the capital and largest city of the country. The population of the country is 6 million, the lowest of the Central Asian republics. Turkmenistan is one of the most sparsely populated nations in Asia. Citizens of Turkmenistan are known as
Turkmenistanis
.
You Might Like
These countries have no reports of coronavirus cases. But can they be trusted?
North Korea, Lesotho and Turkmenistan are some of the handful of countries have no reported coronavirus cases.
USATODAY.com - Published
'We're not hiding anything,' says coronavirus-free Turkmenistan
Turkmenistan, one of the few nations in the world that has reported no cases of the new coronavirus, insisted on Wednesday its official data was true and it was not hiding anything.
Reuters - Published
Central Asia tightens restrictions as coronavirus spreads
Authorities in Kazakhstan, Uzbekistan and Turkmenistan have announced fresh restrictions aimed at preventing the spread of the coronavirus as the number of cases in Central Asia snowballed.
Reuters - Published
U.S. raises travel alert levels for Azerbaijan, Turkmenistan over coronavirus
The U.S. State Department on Friday raised its alert level for travel to Azerbaijan, warning Americans to reconsider travel there due to a coronavirus outbreak and response measures implemented by the..
Reuters - Published
Turkmen constitutional reform hints at succession plan
The Turkmenistan government published a series of draft constitutional amendments on Monday that would reserve seats for former presidents in the newly-established upper chamber of parliament.
Reuters - Published
Turkmen president promotes son to role of industry minister
Turkmen President Kurbanguly Berdymukhamedov named his son Serdar as minister of industry and construction on Saturday, the gas-rich Central Asian nation's state news agency reported.
Reuters - Published
Turkmenistan's leader appears at Hell's Gate to dispel rumors of own death
After a weeks-long disappearance that sparked rumors of his death, the president of Turkmenistan, Kurbanguly Berdymukhamedov, appeared on state television on Sunday driving a rally car to a flaming gas..
Reuters - Published
Behind The Façade, Despair In Turkmenistan
Outsiders Rarely Glimpse Former Soviet Republic's Culture Of Fear And Corruption
CBS News - Published
Turkmen leader promotes son to provincial governor
Turkmen President Kurbanguly Berdymukhamedov has named his son Serdar a provincial governor, state television said, bolstering an already stellar career that has prompted speculation Serdar is being..
Reuters - Published