Mount Rushmore
Mountain in South Dakota featuring a sculpture of four US presidents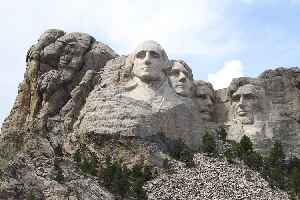 Mount Rushmore National Memorial is centered on a colossal sculpture carved into the granite face of Mount Rushmore in the Black Hills in Keystone, South Dakota. Sculptor Gutzon Borglum created the sculpture's design and oversaw the project's execution from 1927 to 1941 with the help of his son Lincoln Borglum. The sculpture features the 60-foot (18 m) heads of Presidents George Washington (1732–1799), Thomas Jefferson (1743–1826), Theodore Roosevelt (1858–1919), and Abraham Lincoln (1809–1865), as recommended by Borglum. The four presidents were chosen to represent the nation's birth, growth, development, and preservation, respectively. The memorial park covers 1,278 acres and the actual mountain has an elevation of 5,725 feet (1,745 m) above sea level.


Face It: Trump Really Wants His Face On Mt. Rushmore

South Dakota Gov. Kristi Noem was faced with a tricky etiquette question last year regarding the White House. According to CNN, Trump aides reached out to her about the process of adding an additional..
Credit: Wochit News Duration: 00:39
Published
You Might Like



Trump says adding his face to Mount Rushmore would be a 'good idea.' It would likely be impossible

"The rock that surrounds the sculpted faces is not suitable for additional carving, an official with the National Park Service said in June.




USATODAY.com - Published





Trump To S. Dakota Governor: Put Me On Mount Rushmore

President Trump reportedly lobbied the Governor of South Dakota to have his mug added to Mount Rushmore, which might explain his 4th of July rally at the site. Gov. Kristi Noem gifted DT a mini replica..




TMZ.com - Published





How Kristi Noem, Mt. Rushmore and Trump Fueled Speculation About Pence's Job

After Ms. Noem, the South Dakota governor, flew to Washington on Air Force One, rumors about her ambitions ensued. She made a second trip to smooth things over with Mike Pence.




NYTimes.com - Published





Gettysburg? The Liberty Bell? Trump Weighs R.N.C. Speech Options

The president and his aides are holding out hope for ambitious convention programming, and have considered a return to Mount Rushmore or a speech by Melania Trump from Seneca Falls, N.Y.




NYTimes.com - Published





Mount Rushmore: Isn't it time to talk about its Native American history?​​​​​​​

As the U.S. and NFL reckon with their relationship to Native Americans, Mount Rushmore remains almost completely devoid of important history.




USATODAY.com - Published





My great-grandfather carved Mount Rushmore on sacred land. Now is the time to remove it.

Rushmore symbolizes the white male leaders who have utterly, aggressively failed enormous swaths of people who lived on this continent before them.




USATODAY.com - Published





At Mt. Rushmore, Trump Updates 'American Carnage' Message for the Election

His ominous remarks were a concession to his political standing: trailing in the polls, lacking a booming economy or a positive message to campaign on, and leaning on culture wars to buoy his..




NYTimes.com - Published





Trump opens Fourth of July weekend with fireworks

The opening of the Fourth of July weekend at the iconic Mount Rushmore ended with fireworks on Friday, after US President Donald Trump gave a speech lashing out at "left-wing mobs." (July 4)  




USATODAY.com - Published





Audience sits close at Trump's Mt Rushmore event

Audience sits close at Trump's Mt Rushmore event  




USATODAY.com - Published





Protesters arrested near Mount Rushmore ahead of tonight's Trump event

Protesters demonstrated against President Trump's arrival in the Black Hills ahead of the return of the Mount Rushmore fireworks display.




USATODAY.com - Published





AP Top Stories July 3 P

Here are the top stories for Friday, July 3: Trump heads to Mt. Rushmore for fireworks display; Chicago urges social distancing for July 4th; More than 160 dead in Myanmar landslide; Washington..




USATODAY.com - Published





Trump heads to Mount Rushmore, July Fourth weekend, MLB Spring Training: 5 things to know Friday

No social distancing at Trump-attended Mount Rushmore event, MLB resumes spring training and more things to start your Friday morning.




USATODAY.com - Published





'We won't be social distancing' at Mount Rushmore celebration with Trump, says SD Gov. Noem

"We told those folks that have concerns that they can stay home," Gov. Kristi Noem told Fox News. "But we won't be social distancing."




USATODAY.com - Published





South Dakota tribal leader joins call to remove Mount Rushmore ahead of Trump visit

"We are now being forced to witness the lashing of our land with pomp, arrogance and fire hoping our sacred lands survive," Frazier said.  




USATODAY.com - Published





Mount Rushmore should be 'removed,' tribal president says ahead of Trump visit: What's behind the site's controversial history

President Donald Trump planned visit to Mount Rushmore next week has sparked conversation around removing the memorial at the controversial site.




USATODAY.com - Published




Trump plans to attend Mount Rushmore fireworks July 3

Trump told Gov. Kristi Noem in January that he would try to attend the fireworks, which will be held this year for the first time since 2009.




USATODAY.com - Published





The Haves of Iowa and the Have-Nots Across the Border

South Dakota has four dead presidents carved in stone on Mount Rushmore. But good luck getting real, live presidential hopefuls to come visit.




NYTimes.com - Published





Passage: "Sunday Morning" remembers

"Sunday Morning" looks back at three notable figures who passed this week, including William Ruckelshaus (remembered from the Watergate era "Saturday Night Massacre"), acerbic theatre and film critic..




CBS News - Published





Nebraska woman arrested after scaling Mount Rushmore with bare feet and no rope

A Nebraska woman has been fined $1,000 for climbing the Mount Rushmore National Memorial in South Dakota.




USATODAY.com - Published




Stanley Cup Final: Who's on the Mount Rushmore as the all-time best for the Boston Bruins and St. Louis Blues?

Bobby Orr vs. Brett Hull. Al MacInnis vs. Ray Bourque. Who lands on the all-time Mount Rushmores for the Boston Bruins and Blues? We break it down.




USATODAY.com - Published