Far East
Geographical term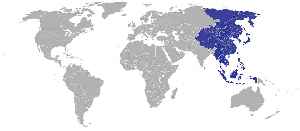 The Far East is a geographical term in English that usually refers to East Asia, the Russian Far East, and Southeast Asia. South Asia is sometimes also included for economic and cultural reasons. The term "Far East" came into use in European geopolitical discourse in the 12th century, denoting the Far East as the "farthest" of the three "easts", beyond the Near East and the Middle East. Likewise, in Qing Dynasty of the 19th and early 20th centuries the term "Tàixī (泰西)" – i.e. anything further west than the Arab world – was used to refer to the Western countries.


Russia opens investigation into space center fraud after Putin rebuke
Russian investigators said on Thursday they had opened two criminal cases into the management of a company involved in building the Vostochny Cosmodrome, a space center in the country's Far East.
Reuters - Published
Student kills one, wounds three before killing himself at Russian college
A 19-year-old male student shot and killed a fellow student and wounded three others at a vocational college in Russia's Far East on Thursday before committing suicide, Russian investigators said in a..
Reuters - Published
Russia begins release of remaining captive whales
An operation to release the remaining group of 50 beluga whales whose detention in Russia's Far East has caused an international outcry began on Tuesday.
Credit: Reuters Studio Duration: 00:47Published
Russian conscript who shot eight soldiers has been detained: Ifax
A Russian conscript was detained on Friday after he shot dead eight soldiers and wounded two more at a military base in Russia's Far East, the Interfax news agency cited the defense ministry as saying.
Reuters - Published
The Far East delicacy that could be loved out of existence
Abalone, a shellfish that's relatively rare on menus in the U.S., is the epitome of fine dining in the Far East. But getting it could be criminal. Ramy Inocencio has the story from Hong Kong.
CBS News - Published
Wildfires, flooding wreaking havoc in Russia. Climate change is making it worse
Russia's meteorological service says it sees global climate change as a factor behind the wildfires blazing throughout Siberia and the Far East.
USATODAY.com - Published
It's not just California. Wildfires, heavy smoke are spreading in Russia
Hundreds of Russian towns and cities are shrouded in heavy smoke from wildfires in Siberia and the Far East, and the blazes appear to be spreading.
USATODAY.com - Published
Russia starts freeing captive whales after outcry: state TV
Russia has started releasing a group of captive killer whales whose detention in Russia's Far East has caused an international outcry, state TV said on Thursday.
Reuters - Published
Bear bites back after camera records back scratch
An Asian Black Bear has been filmed having a good back scratch at the Land of the Leopard national park in Russia's Far East. Soon after the bear finds and chomps down on the camera. (June 18)  
USATODAY.com - Published
You Might Like