Iowa
State in the Midwestern region of the United States of America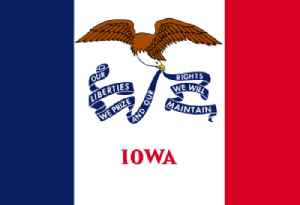 Iowa is a state in the Midwestern United States, bordered by the Mississippi River to the east and the Missouri River and Big Sioux River to the west. It is bordered by six states: Wisconsin to the northeast, Illinois to the east and southeast, Missouri to the south, Nebraska to the west, South Dakota to the northwest, and Minnesota to the north.


CDC sees virus cases rising, vaccine by year end

The United States is likely to have enough safe and effective COVID-19 vaccines available to inoculate the most vulnerable Americans by the end of 2020, Health and Human Services Secretary Alex Azar..
Credit: Reuters - Politics Duration: 02:21
Published
Race for the White House: Trump seeks to shore up support in Republican Iowa


Credit: FRANCE 24 English Duration: 00:57
Published
Trump says son Barron 'free' from Covid-19

US President Donald Trump says son Barron is "free" from coronavirus afterFirst Lady Melania revealed he tested positive to the disease earlier thismonth. After she and Mr Trump also tested positive..
Credit: PA - Press Association STUDIO Duration: 01:06
Published
With more early voting, Trump races against time

Three more U.S. states opened polls for early voting on Wednesday, and President Donald Trump headed to a rally in Iowa, to make up for time lost on the campaign trail due to his bout with the..
Credit: Reuters Studio Duration: 02:20
Published
Melania Trump says son Barron also had COVID-19

[NFA] President Donald Trump's 14-year-old son, Barron, tested positive for COVID-19 but exhibited no symptoms, the first lady said, while opening up about her own condition. Gavino Garay reports.
Credit: Reuters - Politics Duration: 01:13
Published
U.S. COVID-19 deaths near 190,000

Cases are surging in Iowa and South Dakota, and the top U.S. infectious disease expert warned "we need to be doing much better." This report produced by Zachary Goelman.
Credit: Reuters - Politics Duration: 01:34
Published
U.S. coronavirus cases top 6 million

U.S. cases of the novel coronavirus surpassed 6 million on Sunday as many states in the Midwest reported increasing infections, according to a Reuters tally. This report produced by Yahaira Jacquez.
Credit: Reuters - Politics Duration: 01:43
Published
You Might Like



Biden, in Sign of Confidence, Will Visit Iowa in 2020 Election's Final Days

Appearing newly emboldened, the Democratic nominee also said he thought he would win Michigan, Wisconsin and Minnesota, three critical battleground states.




NYTimes.com - Published





Iowa never locked down. Its economy is struggling anyway.

President Trump has blamed Democratic officials' rules for impeding the recovery. But even where restrictions are few, business is far from normal.




NYTimes.com - Published





Biden Has Narrow Lead in Iowa, and Senate Race Is Tight, Poll Shows

The latest New York Times/Siena College poll shows President Trump struggling in a state he won comfortably in 2016 and Senator Joni Ernst facing a tough re-election challenge.




NYTimes.com - Published





Live Updates: U.S. reports more than 60,000 new COVID-19 cases

In at least four Midwestern states — South Dakota, Iowa, Idaho and Wisconsin — an alarming 20% of recent tests are positive.




CBS News - Published





DNC chair says early-vote numbers point to enthusiasm for Democrats

Perez said Joe Biden is now competing with President Trump in states like Arizona, Texas, Ohio and Iowa.




CBS News - Published





Ernst Struggles in Iowa as Republicans Battle to Hold Senate Amid Trump's Woes

Senator Joni Ernst, the first woman to represent Iowa in Congress, is facing the same headwinds plaguing President Trump, who is lagging in the state in part because of deep disadvantage among women.




NYTimes.com - Published





President Trump campaigns in Iowa, after first lady reveals their son Barron had COVID too

First lady Melania Trump revealed that their son Barron contracted COVID-19 around the same time she and President Trump were diagnosed. She says he has since tested negative. Meanwhile, President..




CBS News - Published





Trump touts COVID-19 recovery, holds large rally in Iowa despite White House guidelines

President Trump held a rally with around 5,000 supporters in Iowa on Wednesday night, even though White House coronavirus task force guidelines state that gatherings in the area should be limited to 25..




CBS News - Published





AP Top Stories October 15 A

Here's the latest for Thursday October 15th: Senate Judiciary Committee to consider Barrett nomination; Trump holds rally in Iowa; Coronavirus cases and deaths surge in Wisconsin; Wildfire forces..




USATODAY.com - Published





'You're a big state to me': Trump pitches rural voters at Iowa campaign rally

Trump appeared at his third rally in as many days as he tries to shore up support with less than three weeks until Election Day.




USATODAY.com - Published





Watch live: Trump rallies in Iowa

President Trump is trying to turn out his base. He's not trying to change his tone to attract moderates.




CBS News - Published





Trump heads to Iowa, Amy Coney Barrett confirmation hearings, Billboard Music Awards: 5 things to know Wednesday

President Trump heads to Iowa, Amy Coney Barrett confirmation hearings resume for a third day and more things to start your Wednesday morning.




USATODAY.com - Published





Coronavirus updates: Hawaii eases travel restrictions; Facebook to encourage flu shots; 38M global cases; 215K US deaths

About 10K people expected at Donald Trump rally in Iowa. Hawaii eases travel restrictions starting Thursday. 215K US deaths. Latest COVID news.




USATODAY.com - Published




'Would you please like me?' Trump appeals to suburban women during Pennsylvania rally

Just more than a week after leaving the hospital, Trump added rallies in Iowa, Georgia, North Carolina and Florida to his campaign schedule this week.




USATODAY.com - Published





CBS News poll: Biden leads Trump in Michigan and Nevada, race tied in Iowa

The latest CBS News Battleground Tracker Poll shows Democratic nominee Joe Biden leading President Trump by 6 points in Michigan and Nevada, while the race is tied in Iowa. CBS News Director of..




CBS News - Published




Trump heads to Sanford, Florida for first rally since COVID-19 diagnosis; Biden calls trip 'reckless'

Trump's Florida rally, which will be followed this week by events in Pennsylvania and Iowa, takes place amid continuing questions about his health.




USATODAY.com - Published





Trump to rejoin campaign trail less than 2 weeks after contracting COVID-19

President Trump is planning campaign events in Florida, Pennsylvania, and Iowa this week. But the White House has not said when his last negative test for the coronavirus was confirmed. CBS News White..




CBS News - Published





Trump and Biden tied in Iowa as Biden leads in Michigan and Nevada

With just three weeks before Election Day, the latest CBS News Battleground Tracker poll digs into three key states: Michigan, Nevada and Iowa. CBS News director of elections and survey Anthony..




CBS News - Published





How a bucket of baseballs brought three generations together

Iowa isn't the only state with a field of dreams.




CBS News - Published





Polls show Biden edging out Trump in Iowa and Wisconsin and holding firm leads in Pennsylvania and Florida.

Polls released on Wednesday showed Joe Biden edging out President Trump in Iowa and holding firm leads in Pennsylvania, Florida and Wisconsin.




NYTimes.com - Published





2024 primary is already in sight for Mike Pence

The vice president made his fifth trip to Iowa on Thursday.




CBS News - Published





College wrestler in Iowa saves co-worker's life at Walmart

Freshman Diego Aguilera, a wrestler for Buena Vista University in Iowa, was starting a new job at Walmart when a co-worker had a heart attack.




USATODAY.com - Published





Pence heads to Iowa, as Biden and Trump catch their breath and host fund-raisers.




NYTimes.com - Published





Joni Ernst and Theresa Greenfield debated in Iowa, where their tight race could help decide control of the Senate.

In a debate in Iowa, the Republican Senator Joni Ernst and her Democratic challenger, Theresa Greenfield, clashed on health care, abortion and policing.




NYTimes.com - Published





A woman is impaled by a corn rake, but do her fatal injuries add up to murder?

A farmer's wife is found in a shed on their Iowa farm with a corn rake lodged in her back. The rake has just four tines – so why does she have six puncture wounds?




CBS News - Published





Evidence in the Amy Mullis corn rake murder case

A look inside the case against Todd Mullis, a Iowa farmer accused of killing his wife with a farm tool.




CBS News - Published





A farmer's wife is found impaled on a corn rake. Was it an accident or murder?

Amy Mullis was discovered in a shed on her Iowa farm with a corn rake sticking out of her back. The heavy-duty tool had four sharp tines, but when doctors examined Amy's body, they found six puncture..




CBS News - Published





Iowa farmer calls 911 after his wife is found impaled by a common farm tool

On a chilly November morning, a call came in to the Delaware County, Iowa, 911 call center from a frantic Todd Mullis, saying his wife, Amy, was found unresponsive with a corn rake sticking out of her..




CBS News - Published





The Race for Iowa, Georgia and Texas

A Times poll shows Biden and Trump neck and neck in three states: This is your morning tip sheet.




NYTimes.com - Published





Trump Faces Challenges Even in Red States, Poll Shows, as Women Favor Biden

Close races in Georgia, Iowa and Texas show President Trump's vulnerability and suggest that Joseph Biden has assembled a formidable coalition, according to a New York Times/Siena College poll.




NYTimes.com - Published





'Justice for Mike': Iowa authorities arrest 4 in murder of Michael Williams, whose body was found burning in a ditch

Four people have been charged in connection with the murder of Iowa man Michael Ronnell Williams, whose body was found burning in a ditch last week.




USATODAY.com - Published




Iowa high school looks to leave its conference after player receives racist jeers on road

Task force says Charles City High School (Iowa) should try to leave its conference after baseball player receives racist jeers during road game.




USATODAY.com - Published





Louisiana upsets No. 25 Iowa State to earn first win on road vs. ranked opponent

Fueled by two special teams touchdowns and an improved second-half defense, Louisiana upset No. 25 Iowa State 31-14, Saturday in Ames, Iowa.




USATODAY.com - Published





Des Moines Schools Defy Governor's Reopening Order Amid Coronavirus

In one of the nation's sharpest clashes over school reopening, officials in Des Moines say Iowa's Republican governor is pushing them to risk public safety.




NYTimes.com - Published





Former college basketball player jailed in China has been released: 'I couldn't believe it'

Jeff Harper, a former Iowa Wesleyan basketball player jailed in China since January, is a free man. He's back living in the United States.




USATODAY.com - Published





Iowa school district clashes with state government on in-person classes

An Iowa school district is keeping classrooms closed despite the governor's orders to stay open. It points to a sharp divide across the country about how best to keep students safe. David Begnaud..




CBS News - Published





Sen. Joni Ernst disagrees with Trump's praise of Kim Jong Un

This week on "The Takeout," CBS News' Major Garrett interviews Iowa Republican Sen. Joni Ernst. Ernst talked about how she disagrees with the president's praise of North Korean dictator Kim Jong Un.




CBS News - Published





GOP state pols call on Big Ten commissioner to allow football season

Republicans from Iowa, Michigan, Minnesota, Ohio, Pennsylvania and Wisconsin are calling on commissioner Kevin Warren to reconsider his decision to postpone the season.




CBS News - Published





Iowa food banks aid people in need in pandemic

As demand continues to surge at food banks, the federal government is preparing to spend another $1.5 billion on a program that has provided a key source of fresh food to charities this summer as they..




USATODAY.com - Published





A New Front in America's Pandemic: College Towns

The coronavirus is spiking around campuses from Texas to Iowa to North Carolina as students return.




NYTimes.com - Published





Coronavirus live updates: Model predicts 410K US deaths by January; Labor Day weekend brings risk; South Dakota stages state fair

Labor Day weekend presents risks, experts say. New Zealand extends restrictions. More than 100 Iowa schools report cases. Latest COVID-19 news.




USATODAY.com - Published




Iowa farmers hit by perfect storm of bad weather and trade battles

Farmers in Iowa are on the front lines of U.S. policy battles, from trade to climate change. On top of that, there's frustration because this fall's harvest has been delayed by rains. CBS News..




CBS News - Published





Iowa GOP defends holding caucuses in 2020 as some state Republican parties cancel primaries

In less than 12 weeks, the presidential primary season officially begins. While it's expected to be a fierce contest on the Democratic side, some states are canceling their Republican primaries with an..




CBS News - Published





Bernie Sanders faces criticism from Hillary Clinton and Joe Biden

Senator Bernie Sanders is facing criticism from former opponent Hillary Clinton and current opponent Joe Biden ahead of the Iowa caucuses. CBS News political correspondent Ed O'Keefe joined "CBSN AM"..




CBS News - Published





Iowa Democrats investigate caucus issues as Buttigieg holds slight lead

While there is no official winner of the Iowa caucuses yet, with 71% of precincts reporting, Pete Buttigieg holds a slight lead over Senator Bernie Sanders. Meanwhile, the Democratic Party is..




CBS News - Published





Joni Ernst, in Close Senate Race, Repeats a Debunked Coronavirus Theory

The Iowa senator's comments echoed a false claim, spread by President Trump over the weekend, that deaths from Covid-19 have been inflated.




NYTimes.com - Published




As virus cases spike in Iowa, Joni Ernst spreads a debunked theory of inflated death figures.




NYTimes.com - Published





Coronavirus live updates: Fauci implores Americans to help contain COVID spikes over Labor Day; football is game-on in the hotspot of Iowa

Iowa State to welcome 25K fans at home opener. Georgia extends restrictions. Fauci cautions on Labor Day superspreaders. Latest COVID news.




USATODAY.com - Published





8/13: Red and Blue

U.S. reportedly lagging behind on COVID19 testing; Iowa's crucial role in the 2020 election




CBS News - Published