Minneapolis Police Department
Minnesota, United States law enforcement agency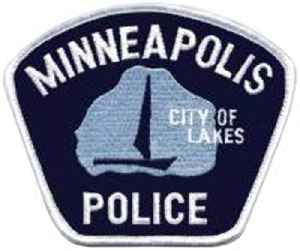 The Minneapolis Police Department (MPD) is the primary law enforcement agency in Minneapolis, Minnesota, United States. It is also the largest police department in Minnesota. Formed in 1867, it is the second-oldest police department in Minnesota, after the Saint Paul Police Department that formed in 1854. A short-lived Board of Police Commissioners existed from 1887 to 1890.


Officer charged over Floyd's death posts bail

One of the four former white Minneapolis police officers who were charged over the death of George Floyd, 46, a black man whose death in custody set off protests for police reform and racial justice,..
Credit: Reuters Studio Duration: 01:39
Published
Protesters torch Minneapolis police station after black man's death

Demonstrators have set fire to a US police station after video emerged online showing a police officer kneeling on the throat of black man who later died. A Minneapolis Police Department spokesman said..
Credit: PA - Press Association STUDIO Duration: 00:37
Published
DOJ says probe into Floyd death a 'top priority'

No formal charges have been filed in the George Floyd case following two days of violent protests in Minneapolis, but the U.S. attorney said the investigation was a "top priority." Freddie Joyner has..
Credit: Reuters - Politics Duration: 02:13
Published
Protestors Clash With California Highway Patrol

Protesters in Los Angeles briefly overtook the 101 Freeway, shattering the windows of at least two law enforcement vehicles. Protestors swarmed a California Highway Patrol vehicle on the freeway...
Credit: Wochit News Duration: 00:32
Published
You Might Like
Minneapolis police chief breaks off talks with officer union
The Minneapolis Police Department will withdraw from contract negotiations with the police union, one step in a planned reform of the department in the wake of George Floyd's death, the department's..
Reuters - Published
Police Release Personnel Files of Officers Charged in George Floyd's Death
Many of the pages, released by the Minneapolis Police Department, were heavily redacted, but they revealed details of the officers' lives before joining the department and during their time on the..
NYTimes.com - Published
Minnesota files civil rights charge in Floyd death
The state of Minnesota has filed a human rights complaint against the Minneapolis Police Department in the death of George Floyd. Gov. Tim Walz and the Minnesota Department of Human Rights announced..
USATODAY.com - Published
Also reported by •Reuters
Minneapolis Police spray protesters, journalist during George Floyd demonstration
Minneapolis Police sprayed demonstrators and USA TODAY Network journalist Tyler Davis with chemical irritant during George Floyd protests.  
USATODAY.com - Published
Minneapolis Police, Long Accused of Racism, Face Wrath of Wounded City
Protesters called for justice after George Floyd died in the custody of a Police Department that had received many excessive force complaints, especially by black residents.
NYTimes.com - Published
F.B.I. to Investigate Arrest of Black Man Who Died After Being Pinned by Officer
The man, who was not identified, died "a short time" after the arrest, the Minneapolis Police said in a statement. Mayor Jacob Frey said the officer "failed in the most basic, human sense."
NYTimes.com - Published
FBI investigates the death of man who was restrained by Minneapolis Police
The FBI is investigating the death of a man after he was restrained by police in Minneapolis.  
USATODAY.com - Published