Utah
A state of the United States of America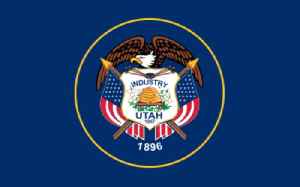 Utah is a state in the western United States. It became the 45th state admitted to the U.S. on January 4, 1896. Utah is the 13th-largest by area, 31st-most-populous, and 10th-least-densely populated of the 50 United States. Utah has a population of more than 3 million according to the Census estimate for July 1, 2016. Urban development is mostly concentrated in two areas: the Wasatch Front in the north-central part of the state, which contains approximately 2.5 million people; and Washington County in Southern Utah, with over 160,000 residents. Utah is bordered by Colorado to the east, Wyoming to the northeast, Idaho to the north, Arizona to the south, and Nevada to the west. It also touches a corner of New Mexico in the southeast.


Gobert, Mitchell lead Utah in 116-95 rout of Washington
Rudy Gobert had 14 points and 14 rebounds, Donovan Mitchell scored 19 and the Utah Jazz won their fourth straight by beating the Washington Wizards 116-95
USATODAY.com - Published
'His dream was to become a park ranger': Iowa student found dead at national park in Utah
A 33-year-old University of Iowa student was found dead Friday after a days-long search of Canyonlands National Park in Utah.
USATODAY.com - Published
Trump vetoes measure against border 'emergency'
President Donald Trump on Friday vetoed a congressional measure to end his emergency declaration to get funds to build a wall at the U.S. border with Mexico. Vanessa Johnston reports.
Credit: Reuters Studio Duration: 01:50Published
Assessing Russell Westbrook's Verbal Altercation With a Utah Fan
In Oklahoma City's 98-89 win over the Utah Jazz on Monday night, Thunder guard Russell Westbrook got into a heated verbal exchange with a Utah fan. SI Now's Madelyn Burke and Amy Campbell weigh in on..
Credit: Sports Illustrated Duration: 02:10Published
Russell Westbrook Threatens Fan
(CNN)After making a threat against a fan, NBA star Russell Westbrook expressed no remorse for his words, saying he will "not continue to take disrespect" from fans. During Monday's game against the..
Credit: Wochit News Duration: 00:43Published
Obama Discusses How He Learned To Stay Calm As President
Barack Obama was occasionally referred to by reporters during his presidency as "no drama Obama." Business Insider reports Obama appeared at a tech conference in Salt Lake City, Utah this week hosted..
Credit: Wochit News Duration: 00:50Published
Dog Bit Off 4-Year-Old Boy's Hand Then Ate It, Police Say
Police say a dog bit off the hand of a 4-year-old Utah boy after he stuck his arm underneath a fence.
Credit: Time Duration: 00:49Published
Former Gay Brigham Young University Student Comes Out In Newspaper
Located in Provo, Utah, Brigham Young University is owned by The Church of Jesus Christ of Latter-day Saints (LDS). Students must have to agree to an honor code that outlaws homosexual behavior...
Credit: Wochit News Duration: 00:53Published
Senate Passes Sweeping Public Lands Bill
On Tuesday the U.S. Senate voted overwhelming in support of a bipartisan public lands package that protects more than 2 million acres of land and permanently reauthorizes the popular Land and Water..
Credit: Wochit News Duration: 00:33Published
Gwyneth Paltrow sued over alleged ski crash
A Utah man is suing Gwyneth Paltrow for $3.1 million after he alleges the Hollywood actress hurt him in a ski crash. Rough Cut (no reporter narration).
Credit: Reuters Studio Duration: 01:23Published
Gwyneth Paltrow Sued For Alleged Hit And Run In Ski Crash
Comicbook.com reports 'Iron Man' star Gwyneth Paltrow has been sued for a hit and run incident in Utah a few years ago. Terry Sanderson, the plaintiff, claims Paltrow bumped into him, causing injuries..
Credit: Wochit News Duration: 00:32Published
Man Arrested For Threatening To Kill Women During Women's March
Police have arrested a man for threatening to kill masses of women on the day of the Women's March. Huffington Post reports police were tracking the cell phone of a man who posted a threat to women on..
Credit: Wochit News Duration: 00:43Published
Oregon locks down Utah in 66-54 win in Pac-12 quarterfinals
Louis King and Payton Pritchard scored 20 points each, and Oregon grinded out a 66-54 win over Utah in the Pac-12 quarterfinals
USATODAY.com - Published
Jazz owner Gail Miller addresses Utah crowd on Russell Westbrook incident: 'This should never happen'
Jazz owner Gail Miller condemned the fan's actions in remarks before Thursday night's game in Utah: "We are not a racist community."
USATODAY.com - Published
Arkansas, Utah lawmakers pass 18-week abortion bans
The 18-week bans would be the strictest in the country if enacted
CBS News - Published
G.O.P.'s Attempt to Avoid Emergency Showdown With Trump Is Scuttled, by Trump
Senator Mike Lee of Utah hoped that a bill to block future emergency declarations would give Republicans cover to allow President Trump's current declaration. Mr. Trump didn't buy it.
NYTimes.com - Published
Shackling pregnant inmates is still a practice in many states
Utah and other states are considering bans on the practice
CBS News - Published
Russell Westbrook has another profane exchange with fan in Utah
Russell Westbrook unleashed an expletive-laced tirade during a heated exchange with a fan near the Thunder bench Monday night in Utah.
USATODAY.com - Published
You Might Like