Utah
State in the United States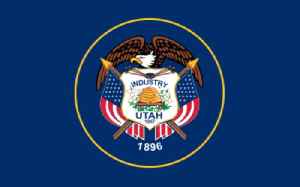 Utah is a state in the western United States. It is bordered by Colorado to the east, Wyoming to the northeast, Idaho to the north, Arizona to the south, and Nevada to the west. It also touches a corner of New Mexico in the southeast. Of the fifty U.S. states, Utah is the 13th-largest by area, and with a population over three million, the 30th-most-populous and 11th-least-densely populated. Urban development is mostly concentrated in two areas: the Wasatch Front in the north-central part of the state, which is home to roughly two-thirds of the population, and Washington County in the south, with more than 170,000 residents. Most of the western half of Utah lies in the Great Basin.


Paris Hilton 'blown away' by support after leading silent protest at 'torturous' boarding school

Paris Hilton is overwhelmed by the support she received after leading a protest outside her old Utah boarding school on Friday.
Credit: Cover Video STUDIO Duration: 00:56
Published
J-K govt sets up research centre in UT to enhance production, quality of 'Shahi Zeera'

Jammu and Kashmir government has set up a research centre for black cumin cultivation in Kashmir's Pampore area. As cultivating black cumin also known as 'Shahi Zeera' is not a duck soup, scientists in..
Credit: ANI Duration: 03:46
Published
GOP 'full steam ahead' on Barrett after Trump test

Republicans Friday said they would push forward with Senate Judiciary Committee hearings on Trump's Supreme Court replacement, even after Trump tested positive for COVID-19 and went into isolation...
Credit: Reuters - Politics Duration: 01:31
Published
Paris Hilton's petition to shut down school is a big hit

Paris Hilton's efforts to shut down a school in Utah where she was allegedly physically and mentally abused have been given a huge boost thanks to a Change.org petition
Credit: Cover Video STUDIO Duration: 00:57
Published
K9 officer charged with aggravated assault

A K9 officer in Salt Lake City, Utah, has been charged with aggravated assault linked to the arrest of a black man.
Credit: Reuters Studio Duration: 00:40
Published
MLS: Salt Lake owner to sell Utah teams after alleged racist comments

MLS commissioner says that Real Salt Lake owner Dell Loy Hansen, who is being investigated over allegations that he had used racist language, is set to sell Utah Soccer Holdings.
Credit: Reuters - Sports Duration: 01:16
Published
Roommate Jailed For Trying To Kill Woman With Bacteria, Insulin

A Utah woman who had been cared for by a live-in roommate for years made her the beneficiary of a $500,000 life insurance policy. Unfortunately, prosecutors say that led Janie Lynn Ridd to try to..
Credit: Wochit News Duration: 00:37
Published
You Might Like



Sister of Utah hiker who went missing for 12 days speaks out on her disappearance

Jamie Courtier-Strong, the sister of Holly Courtier, who went missing in a Utah national park for 12 days, spoke to CBS News' Carter Evans about Holly's ordeal. This comes as a member of Washington..




CBS News - Published





Opponents in the Utah governor's race appear in ads together promoting civility.

The two rival candidates vying to become Utah's next governor are appearing in ads together promoting civility. "We can disagree without hating each other," one says in an ad.




NYTimes.com - Published





Opposing candidates for Utah governor release joint ad

"We can disagree without hating each other," Republican candidate Spencer Cox said.




CBS News - Published





Missing hiker found alive after nearly two weeks in Zion National Park

An experienced hiker from California was stranded in Utah's Zion National Park for nearly two weeks before she was rescued over the weekend. Carter Evans has her story.




CBS News - Published




COVID-19 straining Utah medical system as cases continue to rise

COVID-19 is putting a heavy strain on Utah's hospitals as cases continue to climb statewide. Dr. Anthony Fauci explains why he now supports universal mask wearing after taking a different position at..




CBS News - Published





Hiker Is Rescued in Zion National Park After Nearly Two Weeks Missing

Holly Suzanne Courtier, 38, went missing on Oct. 6 after getting off a shuttle bus at the park in Utah. She was found safely on Sunday, the authorities said.




NYTimes.com - Published





California hiker reunites with family after missing for two weeks in Zion National Park

Holly Suzanne Courtier, a 38-year-old California hiker, has been found after missing for two weeks at Zion National Park in Utah.




USATODAY.com - Published

Also reported by •CBS News


California mom found safe 12 days after vanishing in national park

It's unclear exactly where or how Holly Suzanne Courtier was found, but she had last been seen in Utah's Zion National park on October 6.




CBS News - Published





21 alleged white supremacists charged in federal drug, firearm trafficking cases in Utah

The U.S. Attorney's Office in the District of Utah identified three separate white supremacist gangs as part of the investigation.




USATODAY.com - Published




More than the 'Mighty Five'? Utah Rep. Chris Stewart revives bill to create state's sixth national park.

The 2017 Grand Staircase Escalante Act, which never made it out of committee, would create the Escalante Canyons Park and Reserve in southern Utah.  




USATODAY.com - Published





No phone, abandoned car, pleas for public help: California woman missing at Zion National Park in Utah

A press conference on Tuesday afternoon led to more information released to the public on the disappearance of Holly Courtier in Zion National Park.




USATODAY.com - Published




'The cougar guy': Utah hiker encounters a cougar who followed him for nearly six minutes

Kyle Burgess of Orem, Utah, stopped to record cubs he saw during his evening run. He was soon being followed by a mother cougar for nearly six minutes.




USATODAY.com - Published




Mitt Romney reprimands Trump, Democrats for 'vile' and 'hate-filled' politics

Utah Sen. Mitt Romney, the 2012 Republican nominee for president, directly criticized President Donald Trump and Speaker Nancy Pelosi.




USATODAY.com - Published





Utah hiker captures terrifying experience running into a mountain lion and cubs

Kyle Burgess got more than he bargained for as he hiked on a Utah trail, when he encountered a mountain lion and its cubs on Saturday. A terrifying six minute ordeal followed in which Burgess was..




CBS News - Published





Cougar follows and lunges at Utah hiker in terrifying video

The hiker filmed the terrifying incident with the mountain lion, who was with her cubs.




CBS News - Published





California woman missing for nearly a week in Utah's Zion National Park

Authorities are continuing their search for a California woman who disappeared in Utah's Zion National Park last week. CBS Los Angeles' Kristine Lazar reports.




CBS News - Published





Utah Hiker Stalked by Cougar for 6 Minutes, Miraculously Survives

A man adventuring through a Utah hiking trail stumbled across perhaps the worst thing you could find in the wild -- a big cat predator -- which tracked him for 6 terrifying minutes. Kyle Burgess posted..




TMZ.com - Published





ShowBiz Minute: Van Halen, Hilton, Ulvaeus

Memorials grow in Eddie Van Halen's adopted hometown; Paris Hilton protest calls for closure of Utah school; ABBA's Björn Ulvaeus pens support for Day of the Girl Child. (Oct. 12)  




USATODAY.com - Published





Thousands of mink dead from COVID-19 outbreaks in Utah and Wisconsin

At least 12,000 mink have recently died from coronavirus outbreaks in the two largest fur-producing states.




CBS News - Published





Man admits killing Utah college student, will avoid death penalty

Ayoola Ajayi acknowledged he planned the death of Mackenzie Lueck, whom he met on a dating app and arranged to meet in a park.




CBS News - Published





Mike Pence and Kamala Harris face off in first and only vice presidential debate

Vice President Mike Pence and Senator Kamala Harris squared off in the first and only vice presidential debate Wednesday in Salt Lake City, Utah. The two sparred over a number of issues including the..




CBS News - Published





"Red & Blue": Takeaways from the 2020 vice presidential debate

Vice President Mike Pence and Senator Kamala Harris met in Salt Lake City, Utah, for the vice presidential debate on Wednesday. CBSN political reporter Caitlin Huey-Burns, CBS News political..




CBS News - Published




Man Pleads Guilty to Killing and Burning a Utah College Student

Under a plea deal, Ayoola A. Ajayi, 32, will avoid a possible death sentence and will be sentenced to life in prison without parole later this month, prosecutors said.




NYTimes.com - Published





How to watch the vice presidential debate

The vice presidential debate is scheduled for Wednesday, October 7, in Salt Lake City, Utah.




CBS News - Published





Sen. Ron Johnson becomes latest member of Congress to test positive for COVID-19

Ron Johnson was the third GOP senator to announce a positive COVID-19 test since Friday. Others were Sens. Mike Lee, R-Utah, and Thom Tillis, R-N.C.




USATODAY.com - Published





Democrats say it's 'premature' to move forward with Barrett confirmation hearings after Trump, GOP senator test positive for COVID-19

Sen. Mike Lee, R-Utah, a member of the Senate Judiciary Committee, announced in a statement Friday he received a positive COVID-19 test.




USATODAY.com - Published





Police release body camera video of an officer shooting teen with autism

A Utah family is demanding answers after recently released body camera video shows a Salt Lake City police officer shooting a teenager with autism.  Jamie Yuccas spoke to the 13-year-old's father..




CBS News - Published





Senate GOP deliberates over SCOTUS nomination timeline as Trump prepares to announce pick

After Senator Mitt Romney of Utah announced his support for moving ahead with a Supreme Court nomination, Republican lawmakers are now deliberating over whether to hold a confirmation vote before or..




CBS News - Published





13-Year-Old with Asperger's Shot by SLC Police, Body Cam Shows

An autistic teen was shot by police in Utah, leaving him seriously injured ... and cops are now releasing the body cam footage of the incident. 13-year-old Linden Cameron's mother called the cops..




TMZ.com - Published





'Tactical parade' rides across Utah town waving guns and flags for Constitution Day

A "tactical parade" featuring plenty of guns and "Trump 2020" gear rode through St. George Thursday as part of a Constitution Day event.




USATODAY.com - Published




Legal advice is often unaffordable. Here's how more people can get help: Kourlis and Gorsuch

Arizona and Utah are pioneering ways to expand access to legal services, and we hope other states follow. You shouldn't have to go it alone in court.




USATODAY.com - Published





Utah police officer charged with assault for ordering K9 to bite Black man who was kneeling with his hands up, prosecutors say

Salt Lake City police officer Nickolas Pearce is facing a second-degree felony assault charge after ordering his K9 to bite Jeffery Ryans on April 23.




USATODAY.com - Published




Hundreds of people turned out for an anti-mask protest in Utah. It's being mocked as 'a straight parody' on social media.

The demonstration gained national attention after a news report from Salt Lake City TV station KTVX-TV was shared on Twitter and TikTok this week.




USATODAY.com - Published




Paris Hilton reveals past abuses in new documentary

Paris Hilton says she "finally feels free" after speaking out about abuses she received at a Utah boarding school as a teenager. Hilton opens up about the experience in a new documentary "This is..




USATODAY.com - Published





Utah police must now try de-escalation first after officer shot 13-year-old with autism

Policy that makes de-escalation tactics "mandatory" for Utah police went into effect hours after an officer shot a 13-year-old boy with autism.  




USATODAY.com - Published





Record-setting motorcycle racer dead after 252 mph crash

Ralph Hudson, 69, crashed August 14 while trying to set a speed record on the Bonneville Salt Flats in Utah.




CBS News - Published

Also reported by •TMZ.com


Austin Mayor Steve Adler and Provo Mayor Michelle Kaufusi on "The Takeout" ⁠— 5/15/2020

Austin, Texas Mayor Steve Adler and Provo, Utah Mayor Michelle Kaufusi join Major to talk about how they have dealt with the coronavirus crisis on the homefront and finding the safest way to reopen, on..




CBS News - Published





A mom called 911 to help her 13-year-old with autism. Utah police shot him

A Utah woman called 911 because her son was having a mental health episode. Police shot him, injuring his shoulder, ankles, intestines and bladder.




USATODAY.com - Published




Man creates special racetrack for 4-year-old boy

A Utah man decided to draw out a racetrack for his 4-year-old neighbor after noticing that the boy liked riding his bicycle in his driveway. Steve Hartman reports on this week's "On The Road."




CBS News - Published





Nuggets' Jamal Murray pours in 50 points again to top Jazz and force decisive Game 7

Jamal Murray notched his second 50-point game of the series as Denver held off Utah 119-107 to force the first Game 7 of the 2020 playoffs.




USATODAY.com - Published





'The power of Mother Nature': Flash flooding in Utah city opens at least 3 sinkholes, the largest of which swallowed a vehicle

Utah Gov. Gary Herbert is considering an emergency declaration after flash flooding in St. George that opened at least three sinkholes on Sunday.




USATODAY.com - Published




Machine Gun Kelly Is Awesome at Wakesurfing in Lake Powell

Machine Gun Kelly has mad skills on a wakeboard ... as he proved Friday on a famous Utah lake. MGK and his daughter were vacationing at Lake Powell, and Dad showed off his moves behind a boat that..




TMZ.com - Published