Utah
A state of the United States of America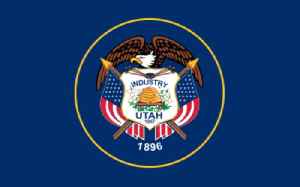 Utah is a state in the western United States. It became the 45th state admitted to the U.S. on January 4, 1896. Utah is the 13th-largest by area, 30th-most-populous, and 11th-least-densely populated of the 50 United States. Utah has a population of more than 3 million according to the Census estimate for July 1, 2016. Urban development is mostly concentrated in two areas: the Wasatch Front in the north-central part of the state, which contains approximately 2.5 million people; and Washington County in Southern Utah, with over 160,000 residents. Utah is bordered by Colorado to the east, Wyoming to the northeast, Idaho to the north, Arizona to the south, and Nevada to the west. It also touches a corner of New Mexico in the southeast.


Utah zoo's polar bear chills out with ice cubes
A polar bear at Utah's Hogle Zoo got a treat on a hot day last week. Nora got a chance to roll around and munch on ice cubes. (May 13)
USATODAY.com - Published
Chinese Railroad Workers Were Almost Written Out of History. Now They're Getting Their Due.
It's been 150 years since two railroads were joined together to form the first Transcontinental Railroad. At a ceremony in Utah, Chinese railroad workers were recognized for the pivotal role they..
NYTimes.com - Published
Utah Senator Calls LGBTQ Rights Bill 'Counterproductive'
Mike Lee, a republican senator from Utah, caused a stir Friday says Huffington Post. He commented on the Equality Act, a landmark anti-discrimination bill. The bill would extend civil rights..
Credit: Wochit News Duration: 00:51Published
Five U.S. States Sue Purdue Pharma Over Opioid Epidemic
(Reuters) - Five U.S. states on Thursday filed lawsuits accusing Purdue Pharma LP of illegally marketing and selling opioids, escalating the wave of litigation over a nationwide abuse epidemic. FILE..
Credit: Wochit News Duration: 00:54Published
The kid-friendly inflatable robot for space and the home
Introducing King Louie, the inflatable robot whose technology could one day be used in space or to help the elderly. Rough cut (no reporter narration).
Credit: Reuters Studio Duration: 01:53Published
Woman who fell 30ft from cliff finds comfort in ice swimming
An illustrator who battled a legacy of fear after a terrifying 30ft fall while rock climbing, which saw her crash into a cliff and break her back, has found an extraordinary antidote to the distress..
Credit: PA - Press Association STUDIO Duration: 01:27Published
Autism Is Sweeping The Country--And No One Knows Why
A new study from the Centers for Disease Control and Prevention reveals autism rates have surged at an alarming rate since 2010. The CDC reports the average rate of autism is 1 in 59 for children in..
Credit: Wochit News Duration: 01:00Published
U.S. Supreme Court Refuses To Block 'Bump Stock' Ban
FILE PHOTO: A bump fire stock, (R), that attaches to a semi-automatic rifle to increase the firing rate is seen at Good Guys Gun Shop in Orem, Utah, U.S., October 4, 2017. Supreme Court on Thursday..
Credit: Wochit News Duration: 00:37Published
GOP Senator Reveals Solution To Climate Change
HuffPost reports Sen. Mike Lee (R-UT) tore into the Green New Deal on Tuesday. He said on the Senate floor that the way to combat climate change is simple. Namely, Americans should "fall in love" and..
Credit: Wochit News Duration: 00:46Published
Utah Senator's Solution To Climate Change Instead Of Green New Deal? 'Get Married, Have Some Kids'
Utah Senator Mike Lee offered an alternative proposal to the Green New Deal while speaking on the Senate floor on Tuesday: Get married and have kids.
Credit: Newsweek Duration: 00:25Published
Search this site and the web:
You Might Like