United States Marine Corps
Amphibious warfare branch of the United States Armed Forces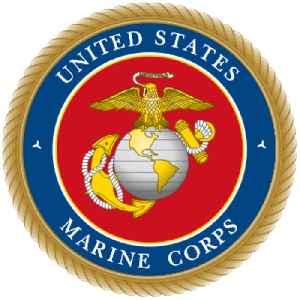 The United States Marine Corps (USMC), also referred to as the United States Marines or U.S. Marines, is a branch of the United States Armed Forces responsible for conducting expeditionary and amphibious operations with the United States Navy as well as the Army and Air Force. The U.S. Marine Corps is one of the four armed service branches in the U.S. Department of Defense (DoD) and one of the seven uniformed services of the United States.


U.S. arrests former Marine connected to North Korea embassy raid in Spain
U.S. authorities on Thursday arrested a former U.S. Marine who is a member of a group that allegedly raided the North Korean embassy in Madrid in February and stole electronics, according to two..
Reuters - Published
Veteran finishes marathon for fallen Marines
The Boston Marathon is a 26.2-mile race. But for a Marine, the last 100 yards were the toughest. Don Dahler explains why he refused to give up.
CBS News - Published
Telling Fact From Fiction in Political Promises
"If elected president, I promise I'll..."
Credit: Newsy Studio Duration: 03:19Published
Arizona Helicopter Crash Kills Two U.S Marines
According to reports from Reuters, two U.S. Marine pilots have died in a helicopter crash in Arizona. The helicopter crashed near Yuma, Arizona during a routine training mission. The Marines were..
Credit: Wochit News Duration: 00:33Published
Navy SEAL May Move To 'Less Restrictive' Confinement
The Chief Special Warfare Operator was charged for violations of the Uniform Code of Military Justice.
Credit: Newsy Studio Duration: 01:21Published
Facebook Announces New Tools to Combat 'Revenge Porn'
In a press release, Facebook said it's introducing technology to help prevent sharing of intimate images without consent.
Credit: Newsy Studio Duration: 01:08Published
Two Marines Being Investigated After Video Goes Viral Of Them Posing In Apparent Blackface
The U.S. Marine Corps has launched an investigation after a Snapchat video surfaced of two men in uniform in what appears to be blackface.
Credit: Newsweek Duration: 00:59Published
She wanted to come out as a transgender teen. First, she weathered Trump's military ban
She wanted to continue her family legacy by serving in the Marines. Then Trump banned transgender people from joining the military.
USATODAY.com - Published
Remains of 3 Marines killed by bomb returned to US
Remains of 3 Marines killed by bomb returned to US
USATODAY.com - Published
Search this site and the web:
You Might Like