House of Lords
Upper house in the Parliament of the United Kingdom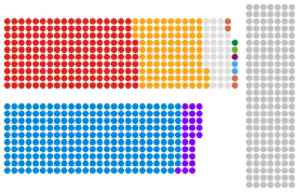 The House of Lords, also known as the House of Peers and domestically usually referred to simply as the Lords, is the upper house of the Parliament of the United Kingdom. Membership is granted by appointment or by heredity or official function. Like the House of Commons, it meets in the Palace of Westminster.


Health minister swears in Lords debate

Health minister Lord Bethell could be heard swearing during a debate in the House of Lords after suffering technical issues as he gave a statement to the House. Lords took a short recess to allow Lord..
Credit: ODN Duration: 01:29
Published
Peer heard swearing during coronavirus debate

Lord Bethell is heard swearing in the House of Lords after sufferingtechnology problems during a Covid-19 debate. He mumbled "oh for f***'s sake"when his second attempt to deliver a speech on..
Credit: PA - Press Association STUDIO Duration: 00:41
Published
Activists mark third of 10 days of disruption in the capital

Climate change protesters have glued themselves to the ground aroundParliament during a third day of disruption in central London. Some ExtinctionRebellion (XR) supporters said they "jumped the..
Credit: PA - Press Association STUDIO Duration: 01:16
Published
Lords peer struggles with mask while on train

Conservative former minister Lord Duncan of Springbank held his mask in frontof his face as he asked a minister a question, which is likely to raisequestions over whether this was in line with the..
Credit: PA - Press Association STUDIO Duration: 00:35
Published
You Might Like
Search this site and the web: