Miami Marlins
Baseball team and Major League Baseball franchise in Miami, Florida, United States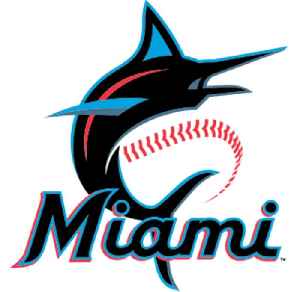 The Miami Marlins are an American professional baseball team based in Miami, Florida. They compete in Major League Baseball (MLB) as a member club of the National League (NL) East division. Their home park is Marlins Park. Though one of only two MLB franchises to have never won a division title, the Marlins have won two World Series championships as a wild card team.


Noah Syndergaard on Mets manager speculation: 'It's (expletive)'
The Mets lost to the Marlins and became the first team to be swept by Miami this season. Noah Syndergaard defended his manager
USATODAY.com - Published
Alcantara pitches 2-hitter, Miami beats reeling Mets 3-0
Sandy Alcantara pitched a two-hitter in a pitching duel with Noah Syndergaard, and the Miami Marlins beat the reeling New York Mets 3-0 to complete a three-game sweep
USATODAY.com - Published
What Is Derek Jeter Angry About?
It would be safe to assume that anyone with even the faintest clue of what has been going on this season in MLB understands that the Marlins have looked like a pile of crap that ate a second pile of..
Credit: Wochit News Duration: 00:41Published
Lopez, Marlins team on 1-hitter, hand Mets 4th loss in row
Miami starter Pablo Lopez gave up a double on his first pitch, then combined with the Marlins' bullpen to hold the New York Mets hitless the rest of the way in a 2-0 win
USATODAY.com - Published
Marlins beat deGrom and Mets 8-6 to end 7-game skid
The Miami Marlins scored for the first time in 27 innings, went on to pound Jacob deGrom for seven runs and snapped a seven-game losing streak by beating the New York Mets 8-6
USATODAY.com - Published
LEADING OFF: Snell's 2nd chance vs Yanks, Astros on roll
LEADING OFF: Blake Snell gets second chance vs Yanks, Astros seek 10th straight win, Justin Turner banged up, Marlins find stroke vs Mets, Giolito turning things around
USATODAY.com - Published
7 Rays pitchers combine to hand Miami 7th straight loss, 1-0
Seven pitchers combined on a seven-hitter for the Tampa Bay Rays, who shut out the Miami Marlins for the second night in a row Wednesday, 1-0
USATODAY.com - Published
Morton, Garcia lead Rays to 4-0 win over Marlins
Charlie Morton pitched six strong innings, Avisail Garcia homered and drove in three runs, and the Tampa Bay Rays beat the Miami Marlins 4-0
USATODAY.com - Published
Rain postpones Marlins-Mets game; Aug. 5 doubleheader set
Miami Marlins' game at New York Mets postponed because of rain; teams will make it up as part of doubleheader on Aug. 5.
USATODAY.com - Published
DeGrom ends 5-start winless streak, Mets beat Marlins 4-1
Jacob deGrom ended a five-start winless streak, allowing one run over seven innings to win for the first time since April 3 and lead the New York Mets over the Miami Marlins 4-1
USATODAY.com - Published
You Might Like