Santa Clara, California
City in California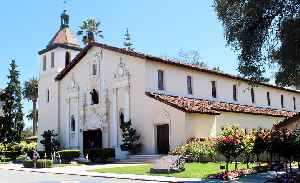 Santa Clara is a city in Santa Clara County, California. The city's population was 116,468 as of the 2010 United States Census, making it the ninth-most populous city in the San Francisco Bay Area. Located on the southern coast of San Francisco Bay immediately west of San Jose and 45 miles (72 km) southeast of San Francisco, the city was founded in 1777 with the establishment of Mission Santa Clara de Asís, the eighth of 21 California missions. The city was later incorporated in 1852. The mission, the city, and the county are all named for Saint Clare of Assisi.


Benfica wins 5th Portuguese league title in 6 seasons
Benfica has won its fifth Portuguese league title in six seasons with a 4-1 rout of Santa Clara
USATODAY.com - Published
Wright scores 23 to lead San Diego past Santa Clara 62-45
Isaiah Wright had 23 points as San Diego topped Santa Clara 62-45 in the West Coast Conference Tourney second round
USATODAY.com - Published
Eaddy scores 26 to lead Santa Clara over Portland 78-62
Tahj Eaddy scores 26 points as Santa Clara tops Portland, 78-62
USATODAY.com - Published
LMU erases 20 point deficit, tops Santa Clara 72-70
James Batemon scored 17 of his 23 points in the second half and Loyola Marymount overcame a 20-point deficit to defeat Santa Clara 72-70
USATODAY.com - Published
Vrankic leads Santa Clara over San Francisco 68-65
Josip Vrankic had 20 points as Santa Clara narrowly defeated San Francisco 68-65
USATODAY.com - Published
Santa Clara holds off 2nd half Pacific rally, 64-59
Tahj Eaddy hit three of four free throws in the final half minute and Santa Clara held off a furious second-half rally from Pacific for a 64-59 win in a West Coast Conference battle
USATODAY.com - Published
Ford carries Saint Mary's (Cal) over Santa Clara 66-55
Jordan Ford scores 23 points as Saint Mary's defeats Santa Clara, 66-55
USATODAY.com - Published
Lull leads San Francisco past Santa Clara 78-72
Jimbo Lull posted 16 points and nine rebounds as San Francisco topped Santa Clara 78-72
USATODAY.com - Published
Vrankic and Caruso lead Santa Clara over Pepperdine 79-71
Josip Vrankic scored 26 points, Guglielmo Caruso added 18, both career highs, and Santa Clara swept the season series with a 79-71 win over Pepperdine
USATODAY.com - Published
Batemon, Douglas help Loyola Marymount beat Santa Clara
James Batemon hit four 3-pointers and finished with 20 points, freshman Dameane Douglas had his third double-double of the season, and Loyola Marymount rallied from a 14-point deficit to beat Santa..
USATODAY.com - Published
Townsend helps No. 18 Gonzaga women top Santa Clara 78-61
Jill Townsend scored 14 points on 4-of-6 shooting from 3-point range and Chandler Smith had a double-double to help No. 18 Gonzaga pull away from Santa Clara for a 78-61 win
USATODAY.com - Published
You Might Like