Bradley Cooper
American actor and filmmaker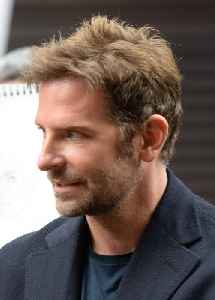 Bradley Charles Cooper
is an American actor and filmmaker. He has been nominated for many awards, including eight Academy Awards and a Tony Award, and has won two Grammy Awards and a BAFTA Award. Cooper appeared in
Forbes Celebrity 100
on three occasions and
Time
's
list of 100 most influential people in the world in 2015. His films have grossed $11 billion worldwide and he was named one of the world's highest-paid actors for four years.
You Might Like
What is 'Shallow'? Final Jeopardy! clue seems easy ... but two contestants miss it
Bradley Cooper and Lady Gaga's Oscar winning song from "A Star Is Born" made its way into Final Jeopardy and "Shallow" fans are unimpressed.
USATODAY.com - Published
Irina Shayk speaks out on Bradley Cooper split: 'Two great people don't have to make a good couple'
Irina Shayk is giving a rare glimpse into her breakup with Bradley Cooper and what it's been like to be a single working mom.
USATODAY.com - Published
Bradley Cooper's mustache makes him a dead ringer for Jeff Foxworthy, fans say
Does Bradley Cooper's new mustache make him look like former "Are You Smarter than a 5th Grader?" host Jeff Foxworthy? Twitter thinks so.
USATODAY.com - Published
Taffy Brodesser-Akner, Profile Writer, on Getting Inside Subjects' Heads
She has profiled Gwyneth Paltrow, Bradley Cooper and Tonya Harding. The Times staff writer on what makes for a killer profile.
NYTimes.com - Published
Irina Shayk ditches ring in Iceland trip photos amid rumored breakup with Bradley Cooper
Bradley Cooper and longtime girlfriend Irina Shayk have reportedly called it quits. Now she's sharing vacation photos and still isn't wearing a ring.
USATODAY.com - Published
Irina Shayk sparks Bradley Cooper breakup rumors, steps out without ring
Irina Shayk is sparking rumors she and Bradley Cooper have broken up after stepping out without a ring thought to be from longtime boyfriend Bradley Cooper.
USATODAY.com - Published
MOVIE REVIEW: Avengers: Endgame
by Graham Pierrepoint - AVENGERS: ENDGAME IMDb Dir: Anthony Russo and Joe Russo Starring Robert Downey Jr, Chris Evans, Mark Ruffalo, Chris Hemsworth, Scarlett Johansson, Jeremy Renner, Don..
One News Page Staff - Published
2019 Oscar Nominees Revealed
by Graham Pierrepoint - We're coming up to Academy Awards season again – and with Hollywood set to play host to the biggest cinematic winners of the year on February 24th, the runners and..
One News Page Staff - Published