Saddam Hussein
Iraqi politician and President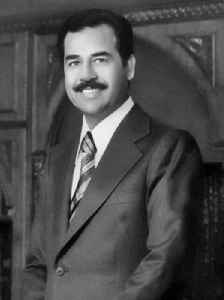 Saddam Hussein Abd al-Majid al-Tikriti was President of Iraq from 16 July 1979 until 9 April 2003. A leading member of the revolutionary Arab Socialist Ba'ath Party, and later, the Baghdad-based Ba'ath Party and its regional organization the Iraqi Ba'ath Party—which espoused Ba'athism, a mix of Arab nationalism and socialism—Saddam played a key role in the 1968 coup that brought the party to power in Iraq.


Today in History for March 17th
Highlights of Today in History: St. Patrick dies; President George W. Bush gives Saddam Hussein 48 hour ultimatum; Franklin D. Roosevelt gets married; Baseball players including Mark McGwire and Sammy..
USATODAY.com - Published
Search this site and the web:
You Might Like