Cabinet (government)
Group of high ranking officials, usually representing the executive branch of government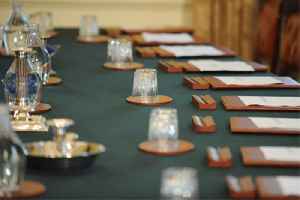 A cabinet is a body of high-ranking state officials, typically consisting of the top leaders of the executive branch. Members of a cabinet are usually called cabinet ministers or secretaries. The function of a cabinet varies: in some countries it is a collegiate decision-making body with collective responsibility, while in others it may function either as a purely advisory body or an assisting institution to a decision making head of state or head of government. Cabinets are typically the body responsible for the day-to-day management of the government and response to sudden events, whereas the legislative and judicial branches work in a measured pace, in sessions according to lengthy procedures.


Ministers gather for Cabinet meeting with Prime Minister

Prime Minister Boris Johnson and members of his cabinet including Priti Patel,Baroness Evans, Michael Gove, Robert Buckland, Amanda Milling and Lord Frostarrive for a meeting in the Foreign and..
Credit: PA - Press Association STUDIO Duration: 00:25
Published
Boris Johnson holds Cabinet meeting on return to Westminster

Boris Johnson is facing fresh pressure from his backbenches for clarity ontaxes, education and coronavirus policy as MPs return to Westminster after thesummer recess.
Credit: PA - Press Association STUDIO Duration: 00:55
Published
PM faces pressure from backbenchers over Government U-turns

The Prime Minister will chair a meeting of his Cabinet today, ahead of theresumption of Parliament. It comes as the Government continues to facepressure from backbench MPs over U-turns on policy..
Credit: PA - Press Association STUDIO Duration: 00:53
Published
Rajasthan crisis: CM Gehlot camp sends proposal again for assembly session

Rajasthan Minister, Pratap Khachariyawas informed that Cabinet has again sent a proposal to Governor Kalraj Mishra seeking to convene assembly session. "We have again sent a proposal to Governor Kalraj..
Credit: ANI Duration: 01:19
Published
Cabinet approves National Education Policy 2020

Information and Broadcasting Minister Prakash Javadekar on July 29 in a cabinet briefing announced that Prime Minister Narendra Modi has given approval to a new education policy for 21st century. He..
Credit: ANI Duration: 01:12
Published
You Might Like