Nebraska
State of the United States of America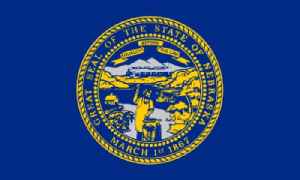 Nebraska is a state that lies in both the Great Plains and the Midwestern United States. It is bordered by South Dakota to the north; Iowa to the east and Missouri to the southeast, both across the Missouri River; Kansas to the south; Colorado to the southwest; and Wyoming to the west. It is the only triply landlocked U.S. state.


Tornados, severe weather hit the western part of the country
From Arkansas to Nebraska, people experiencing severe weather including tornados and dust storms.
USATODAY.com - Published
Storm chaser tracks down amazing Nebraska tornado
A storm chaser got a close look at a tornado in McCook, Nebraska.
USATODAY.com - Published
Farmer Amputates His Leg To Live
CNN.com recently wrote, "A farmer in Nebraska was just trying to transfer some corn from one place to another when he accidentally stepped into a hole, the hole happened to be a grain auger. Kurtis..
Credit: Wochit News Duration: 00:52Published
Amir Khan says he cannot make any mistakes in Crawford fight
Britain's Khan looking to silence doubters in what he calls the most important fight of his career.
Credit: Reuters - Sports Duration: 00:31Published
Midwest Floods Could Be A Preview Of The Region's Future
The warming climate has lead to more annual global precipitation. In the Midwest, the recent historic floods could become more common.
Credit: Newsy Studio Duration: 01:30Published
At a Flooded Air Force Base, Recovery Will Take Months
Recovery could take months or years at an Air Force Base hit by March's flooding. This, as another bomb cyclone is predicted to hit the Midwest.
Credit: Newsy Studio Duration: 03:24Published
Nebraska's Devastating Floods Will Force Workers To Leave The Midwest In Droves
Midwestern cities not only saw hiring decrease in March due to natural disaster, workers are also expected to migrate out of the area at high rates. According to LinkedIn's Workforce Report for April..
Credit: Wochit News Duration: 00:54Published
Grandmother says carrying her son's baby was a 'gift'
Sixty-one year-old Omaha resident Cecile Eledge says giving birth to her gay son's child was a 'gift' to help in the couple's future endeavors. Jillian Kitchener reports.
Credit: Reuters Studio Duration: 01:39Published
Midwest Flooding Could Impact This Season's Crop Yields
Flooded farms in Nebraska and elsewhere in the midwest will have to dry out before they're ready to grow the season's crops.
Credit: Newsy Studio Duration: 04:04Published
Floods ruin more than 1 million acres of U.S. crop land
At least 1 million acres of U.S. farmland were flooded after the "bomb cyclone" storm hit the Midwest, satellite data analyzed by crop forecaster Gro Intelligence for Reuters showed. Jillian Kitchener..
Credit: Reuters Studio Duration: 01:37Published
Midwest farmers struggle amid floods, trade war
Frustration and fear are building across the flood-hit U.S. farm country, as many farmers are forced to deal with devastated land, crops, equipment and livestock as they struggle with the financial..
Credit: Reuters Studio Duration: 01:21Published
A Nebraska farmer couldn't call for help with his leg stuck in machinery. He reached for his pocket knife
Kurt Kaser was unloading corn last month when he got out of his truck and accidentally stepped on the grain hopper opening.
USATODAY.com - Published
Nebraska adds former Tennessee forward Derrick Walker
Former Tennessee reserve forward Derrick Walker transferring to Nebraska
USATODAY.com - Published
Farmer amputates own leg to escape machine
A Nebraska farmer is recovering after cutting off his own leg with a pocket knife to save himself from a piece of farm equipment he was caught in. (May 15)
USATODAY.com - Published
Nebraska farmer amputates his leg with pocket knife to save himself
"I can remember telling myself, 'This ain't good. This is not good at all,'" Kurt Kaser said
CBS News - Published
You Might Like