North Dakota
State in the United States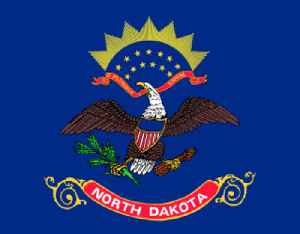 North Dakota is a U.S. state in the midwestern and northern regions of the United States. It is the nineteenth largest in area, the fourth smallest by population, and the fourth most sparsely populated of the 50 states. North Dakota was admitted to the Union on November 2, 1889, along with its neighboring state, South Dakota. It was either the 39th or 40th state admitted to the union. Before signing the statehood papers, President Benjamin Harrison shuffled the papers so that no one could tell which became a state first. Its capital is Bismarck, and its largest city is Fargo.


U.S. court orders shutdown of Dakota Access pipeline

A U.S. District Court on Monday ordered Energy Transfer LP to shut and empty the largest pipeline from the North Dakota shale oil fields within 30 days, in a big win for the Native American tribes who..
Credit: Reuters Studio Duration: 01:21
Published
North Dakota's GOP Governor On Wearing Masks: 'Dial Up Your Empathy'

Business Insider reports North Dakota Gov. Doug Burgum got emotional at a press conference on Friday, over the issue of face masks. Burgum, a Republican, called the political debate over to wear masks..
Credit: Wochit News Duration: 00:40
Published
You Might Like



Oil advocate: Shocked by ruling on Dakota pipeline

A judge has ordered the Dakota Access pipeline shut down for additional environmental review more than three years after it began pumping oil. A North Dakota oil advocate says he is shocked by ruling..




USATODAY.com - Published





Can Jon Ossoff Win in Georgia? What to Watch as 5 States Vote Today

Seven candidates are facing off in a Democratic primary for a Georgia Senate seat. Nevada, North Dakota, South Carolina and West Virginia are also holding primaries.




NYTimes.com - Published





Live Coronavirus News Updates and Full Analysis

The Trump administration is reviewing an order to extend its coronavirus border restrictions indefinitely. President Trump will meet with the governors of Colorado and North Dakota. The virus "may..




NYTimes.com - Published





North Dakota coronavirus cases spike with outbreak at GE wind power plant

North Dakota reported a spike in novel coronavirus cases on Saturday after more people tested positive at a wind power factory run by a unit of General Electric, posing a challenge to the state's plan..




Reuters - Published





North Dakota governor issues guidelines to reopen state May 1: statement

North Dakota Governor Doug Burgum issued guidelines for reopening the state as soon as May 1 in a statement issued late Wednesday, according to a statement from his office.




Reuters - Published





U.S. forecasters see widespread spring flooding but less than 2019

U.S. government forecasters predict widespread flooding this spring in 23 states from the Northern Plains to the Gulf Coast, particularly in parts of North Dakota, South Dakota and Minnesota, but not..




Reuters - Published





Joe Biden wins statewide vote in Washington state

Biden's victory means he won five of the six states that voted last Tuesday: Washington, Michigan, Missouri, Mississippi and Idaho. Sanders won North Dakota's caucuses.




USATODAY.com - Published





Sanders captures North Dakota, but Biden still carries day with big election wins

Bernie Sanders scored his first victory in Tuesday's Democratic U.S. presidential nominating contests when North Dakota was called in his favor, but the lone win was unlikely to blunt rival Joe Biden's..




Reuters - Published





Sinking a ferry, lifting a yoga ban, limiting cash bail: News from around our 50 states

Section of Route 66 sees high pedestrian deaths in New Mexico, city-hosted sweat lodge runs into trouble in North Dakota, and more




USATODAY.com - Published





Cancer patient aboard coronavirus-stalled cruise faces possible chemotherapy delay

Among the 2,400 passengers stranded off the California coast on a cruise ship carrying at least 21 people infected with coronavirus, few people aboard likely have more to lose than Kari Kolstoe, a..




Reuters - Published





Golden Gate bison, prisoner paintings, dining with dogs: News from around our 50 states

Florida lawmakers worry about 'phony baloney' support animals, wine named for official with drunken driving arrest in North Dakota, and more




USATODAY.com - Published





North Dakota OKs expanding Dakota Access Pipeline, setting up legal fight with Standing Rock

North Dakota regulators approved expanding the Dakota Access pipeline, despite concerns that the plan makes a dangerous oil spill more likely.  




USATODAY.com - Published





North Dakota Tribes Score Key Voting Rights Victory

In a win for voting rights advocates, North Dakota agreed to a binding consent decree to ensure that Native Americans can vote without an ID that shows a residential addresses.




NYTimes.com - Published





Blizzard closes North Dakota roads and schools

Snow, strong winds and plunging temperatures moved into the eastern Dakotas and western Minnesota on Wednesday, creating difficult travel conditions and cancelling classes for a large number of..




USATODAY.com - Published





Feral Pigs Roam the South. Now Even Northern States Aren't Safe.

The swine have established themselves in Canada and are encroaching border states like Montana and North Dakota.




NYTimes.com - Published





Pentagon Investigator to Examine Border Wall Contract Awarded to G.O.P. Donor

The Defense Department's inspector general will look at a $400 million contract awarded to a North Dakota company embraced by President Trump.




NYTimes.com - Published





Frozen harvest leaves bitter taste for U.S. sugar beet farmers

Weather during harvest season in the U.S. Red River Valley, a fertile sugar beet region in Minnesota and North Dakota, has to farmers felt like a series of plagues.




Reuters - Published





North Dakota slammed with more than 2 feet of snow, causing whiteouts

From fire to snow and ice, an autumn storm slammed the region from North Dakota to Wisconsin. The Dakotas are getting the worst of it, though. Some places are experiencing blizzard conditions with poor..




CBS News - Published




Keystone pipeline spill hardens landowner opposition to proposed expansion

A big oil spill from the Keystone Pipeline in North Dakota last week has hardened opposition to the controversial Keystone XL expansion among landowners along its route, who say they hope to use the..




Reuters - Published





Portion of Keystone Pipeline shut down after 380,000-gallon oil leak in North Dakota

The leakage of 380,000 gallons of oil in North Dakota comes amid debate over the construction of the Keystone XL pipeline




USATODAY.com - Published

Also reported by •Reuters •NYTimes.com


Keystone Pipeline mired in environmental controversy

The Keystone pipeline has leaked an estimated 383,000 gallons of oil in North Dakota fueling opposition to plans for the pipeline network's extension.  




USATODAY.com - Published





Why Sen. Heidi Heitkamp voted "no" on Brett Kavanaugh

After watching his combative testimony, the senator from North Dakota says she thought, "that's not someone I want sitting on the bench."




CBS News - Published





Keystone pipeline leaks unknown amount of oil in North Dakota

State regulators were on the scene Wednesday afternoon, and they estimated that the area of the spill was 1,500 feet long by 15 feet wide




CBS News - Published





Rare yellow cardinal sighted, escaped goat caught, fossilized bear skull found: News from around our 50 states

Kentucky 10-year-old gets 2,000 birthday cards, North Dakota oil drilling sets August record, and more




USATODAY.com - Published





The China Connection: How One D.E.A. Agent Cracked a Global Fentanyl Ring

Fentanyl is quickly becoming America's deadliest drug. But law enforcement couldn't trace it to its source — until one teenager overdosed in North Dakota.




NYTimes.com - Published





Storm Bringing 'Historic' Snowfall to Northern Plains

Blizzard conditions shuttered roads and schools in parts of North Dakota on Friday, as temperatures plummeted across the region.




NYTimes.com - Published





North Dakota man threatened to shoot as many as 20 people in lover's spat, records say

Authorities arrested a North Dakota man for threatening to shoot up to 20 people at his wife's office, according to a complaint filed Monday.




USATODAY.com - Published




Medication abortion reversal "misleading and inaccurate," judge says

Doctors in North Dakota won't need to tell patients that "it may be possible to reverse the effects of an abortion-inducing drug"




CBS News - Published





On the front lines: Trade war sinks North Dakota soybean farmers

North Dakota bet bigger on Chinese soybean demand than any other U.S. state.




Reuters - Published





American Wonders: North Dakota's "Enchanted Highway"

Along one stretch of road in North Dakota sits what you might call an outdoor folk art gallery. But the incredible sculptures and works of art were created by just one man. Jamie Wax reports.




CBS News - Published





17-year-old girl gored by bison in North Dakota

The bison were on either side of the trail when the 17-year-old walked between them, park officials say




CBS News - Published





Triceratops Skull, 65 Million Years Old, Unearthed by College Student, 23

Passed over for an air-conditioned summer internship, Harrison Duran instead braved rattlesnakes in a remote area of North Dakota to help make a thrilling discovery.




NYTimes.com - Published





College student finds 65-million-year-old Triceratops skull in North Dakota

Harrison Duran, a biology student University of California, Merced, unearthed the dinosaur skull while on a paleontology dig in the North Dakota Badlands. "CBS This Morning" has details.




CBS News - Published





California college student Harrison Duran has long been 'obsessed' with dinosaurs. He just found a real one

Harrison Duran, a fifth-year biology student from the University of California, Merced, found the 65-million-year-old fossil in North Dakota.  




USATODAY.com - Published





42 ton big rig collapses historic bridge

A 42 ton Big Rig collapsed an over 110 year old historic bridge in North Dakota. Veuer's Mercer Morrison has the story.




USATODAY.com - Published





42 ton big rig carrying dry beans collapses 110 year-old bridge

A 42 ton Big Rig collapsed an over 110 year old historic bridge in North Dakota. Veuer's Mercer Morrison has the story.  




USATODAY.com - Published





After 110 years, a North Dakota bridge yields to a load of beans

After more than 110 years, a historic bridge in rural North Dakota has given way to a load of beans.




Reuters - Published





American Medical Association sues North Dakota, takes rare stance in Trump-era abortion debate

The American Medical Association has filed a lawsuit to block North Dakota rules that would require physicians to give patients false information.




USATODAY.com - Published




AMA sues North Dakota over abortion laws

The AMA is suing the state of North Dakota for what they consider to be medical practices that directly "contradict reality and science"




CBS News - Published