Coachella Valley Music and Arts Festival
Annual music and arts festival held at the Empire Polo Club in Indio, California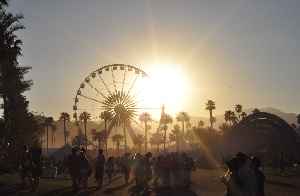 The Coachella Valley Music and Arts Festival is an annual music and arts festival held at the Empire Polo Club in Indio, California, in the Inland Empire's Coachella Valley in the Colorado Desert. It was co-founded by Paul Tollett and Rick Van Santen in 1999, and is organized by Goldenvoice, a subsidiary of AEG Live. The event features musical artists from many genres of music, including rock, pop, indie, hip hop, and electronic dance music, as well as art installations and sculptures. Across the grounds, several stages continuously host live music. The main stages are the Coachella Stage, Outdoor Theatre, Gobi Tent, Mojave Tent, and Sahara Tent; a smaller Oasis Dome was used in 2006 and 2011, while a new Yuma stage was introduced in 2013 and a Sonora stage in 2017.


Woman tossed puppies into Coachella dumpster, authorities say
The footage shows the woman getting out of her car and walking over towards the dumpster and she appears to be looking for a spot to leave them
CBS News - Published
The fresh prince arrives: Will Smith joins son Jaden to perform 'Icon' at Coachella
The father-son duo performed "Icon."
USATODAY.com - Published
Beyonce's Netflix deal reportedly worth $60 million
Netflix struck a three-project deal with Beyonce worth $60 million, according to Variety. Yahaira Jacquez reports.
Credit: Reuters Studio Duration: 01:06Published
Beyoncé Drops 'Homecoming' Doc, New Surprise Album And Fans Are Freaking Out
The Beyhive swarmed to social media reacting to Beyoncé's latest surprise drop. "Homecoming: The Live Album" features a 40-song set list included on a newly released Netflix documentary of the same..
Credit: Newsweek Duration: 01:15Published
How to Prepare for Coachella
Coachella is one of the world's most popular music festivals. Here's what you should know before attending.
Credit: Wochit News Duration: 01:01Published
Small fire at Coachella caught on camera
Video posted to social media accounts showed a small fire reportedly at a mobile shower unit at the Empire Polo Club grounds on the first night of the Coachella music festival in California. Rough Cut..
Credit: Reuters Studio Duration: 00:35Published
Fire Breaks Out At Coachella, No Injuries Reported
Coachella, the annual music festival in Indio, California, began on Friday. Business Insider reports police responded Saturday early morning to a fire that broke out on the campgrounds. Firefighters..
Credit: Wochit News Duration: 00:37Published
First look at 'Homecoming: A Film by Beyonce'
Netflix drops a trailer for the music superstar's upcoming 2018 Coachella documentary. Rough cut (no reporter narration).
Credit: Reuters Studio Duration: 01:31Published
Netflix to release documentary based on Beyonce's 2018 Coachella performance
Homecoming will detail Beyonce's 2018 show at the Californian festival which featured appearances from her sister Solange, her husband Jay-Z and her former group Destiny's Child. Available on Netflix..
Credit: PA - Press Association STUDIO Duration: 01:26Published
Solange Knowles cancels Coachella performance - Twitter
Singer and sister to Beyonce pulls out of the Californian music and arts festival due to "major production delays", according to the festival's Twitter account. Rough cut (no reporter narration).
Credit: Reuters Studio Duration: 00:49Published
Coachella 2019: Over-the-top festival fashion
When one thinks of music festival fashion, Coachella is often the first word that comes to mind. Click forward to see some of this year's most over-the-top looks from the California desert.
USATODAY.com - Published
Will Beyoncé's 'Beychella diet' work for you?
To get in shape for her Coachella performance, Beyoncé went on a no bread, no carbs, no sugar, no dairy, no meat, no fish and no alcohol diet.
USATODAY.com - Published
YG pays tribute to slain friend Nipsey Hussle at Coachella
The Grammy-nominated Hussle was shot and killed outside his clothing store in South Los Angeles on March 31
CBS News - Published
Ariana and 'NSYNC surprise Coachella crowd with 'Tearin' Up My Heart'
Ariana Grande made 90s babies go crazy with a surprise performance with *NSYNC at Coachella
USATODAY.com - Published
After 40-minute delay, Billie Eilish opens Coachella set with crowd-pleasers off new album
Despite the delay, the crowd was one of the largest in recent memory at the festival's Outdoor Theatre.
USATODAY.com - Published
Childish Gambino says at Coachella: "Put your phones down"
"If you came here to just take Instagram pictures and s***, you should go in the back and move right now," he said
CBS News - Published
Fire breaks out at the Coachella music festival
Fire officials responded to the festival campgrounds around 2:06 a.m. Saturday
CBS News - Published
Selena Gomez made surprise appearance at Coachella with Cardi B, DJ Snake to perform 'Taki Taki'
The French producer a few surprises up his sleeve Friday night.
USATODAY.com - Published
Coachella 2019: Photos from the music festival
The 2019 Coachella Valley Music And Arts Festival is underway! We've rounded up the best photo from the weekend of music, sun and fun.
USATODAY.com - Published
I watched Donald Glover's 'Guava Island' at Coachella. Here's what you should know
The hour-long film follows Deni, an island musician played by Childish Gambino, and Kofi, his love interest, played by Rihanna.
USATODAY.com - Published
You Might Like