Apple Inc.
American technology company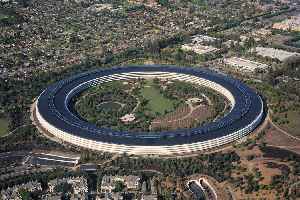 Apple Inc. is an American multinational technology company headquartered in Cupertino, California, that designs, develops and sells consumer electronics, computer software, and online services. It is considered one of the Big Tech technology companies, alongside Amazon, Google, Microsoft, and Facebook.


Meet Honda City 5th gen, an Alexa-powered connected car

Cars are becoming smarter, aren't they? Connectivity on-board allows you to perform several tasks remotely. Thanks to Apple CarPlay and Android Auto, we have so many new things on our in-car display...
Credit: HT Digital Content Duration: 03:14
Published
Apple Music launches TV channel for music videos

Tech giant Apple has recently launched the channel Apple Music TV which is exclusively for music videos. According to The Verge, Apple Music TV is a free, curated, 24-hour live stream of popular music..
Credit: ANI Duration: 01:10
Published
Stocks that'll gain off the iPhone 12: fund manager

Jackson Square Capital's Andrew Graham identifies the stocks of Apple suppliers that could benefit the most from sales of the newly released 5G iPhone. He also tells Reuters' Fred Katayama which ones..
Credit: Reuters Studio Duration: 05:18
Published
Apple Unveils 5G-Capable iPhone 12 Models

On Tuesday during their "Hi, Speed" live-streaming event, Apple launched the long-awaited iPhone 12 lineup.
Credit: Cover Video STUDIO Duration: 01:14
Published
Apple enters 5G race with new iPhone 12s

Apple on Tuesday launched four versions of its new flagship iPhone 12 with faster 5G connectivity in hopes of sparking an upgrade cycle that will keep sales booming through the end of the year. Conway..
Credit: Reuters - Politics Duration: 02:18
Published
Hold off on buying Apple: CIO

Apple stock has spiked sharply in anticipation of the unveiling of its 5G iPhone Tuesday. O'Neil Global Advisors' Randy Watts tells Reuters' Fred Katayama investors should resist buying Apple shares at..
Credit: Reuters Studio Duration: 04:32
Published
Apple and Amazon drive Wall Street rally

Stocks jumped on Monday led by high-flying tech names Apple and Amazon. Investors were also upbeat on vaccine progress and stimulus talks. Conway G. Gittens has the action.
Credit: Reuters Studio Duration: 01:59
Published
Apple's new 'iPhone 12' has a 5G problem

5G will finally get its U.S. closeup with the expected debut of Apple Inc's next iPhone on Tuesday. But the blazing speeds promised will not materialize for most Americans. Conway G. Gittens has more.
Credit: Reuters Studio Duration: 01:42
Published
Apple Shipping Devices From Store

Apple Shipping Devices From Store
Credit: Wochit News Duration: 00:26
Published
Apple Renews 'Dickinson' for Third Season | THR News

The second season of Apple's comedy series 'Dickinson' is three months away, but the tech giant is getting a jump on the show's future.
Credit: The Hollywood Reporter Duration: 01:07
Published
Watch: Manish Sisodia quotes Steve Jobs on why schools must teach coding

Delhi Deputy Chief Minister Manish Sisodia presided over an event aimed at showcasing the government's initiative to inculcate coding and computer science skills among girl students of govt schools...
Credit: HT Digital Content Duration: 04:47
Published
House panel issues scathing Big Tech complaint

The U.S. House of Representatives antitrust subcommittee's findings on abuse of market power by four large tech companies took Amazon, Apple, Facebook and Alphabet's Google to task in a scathing..
Credit: Reuters - Politics Duration: 01:58
Published
Goldman Sachs Lands GM's $2.5 Billion Business

Ramin Talaie/Corbis/Getty Images Goldman Sachs won the bid for General Motors' credit-card business for roughly $2.5 billion, The Wall Street Journal reported Thursday. The Wall Street giant beat out..
Credit: Wochit News Duration: 00:34
Published
Judge Calls Epic Games 'Not Honest' for Bypassing Apple's 'Fortnite' Payment System

Epic is currently seeking a temporary court order that would force Apple to unblock 'Fortnite' from its App Store.
Credit: Cover Video STUDIO Duration: 01:01
Published
Apple critics unite to challenge App Store fees

A group of Apple's critics - including Spotify Technology, Match Group and "Fortnite" creator Epic Games - have joined a nonprofit group that plans to advocate for legal and regulatory action to..
Credit: Reuters Studio Duration: 01:10
Published
You Might Like



DOJ files antitrust lawsuit against Google, alleging it maintains a search monopoly

The Department of Justice filed suit against Google for allegedly violating antitrust regulations. The DOJ alleges that Google, which is a division of Alphabet, paid billions of dollars to Apple and..




CBS News - Published





Department of Justice to sue Google for antitrust violation

Department of Justice expected to allege that search giant paid billions to Apple and others to maintain its dominance.




CBS News - Published





Apple iPhone 12 and 12 Pro preorders begin at 5 a.m. PT Friday. Here's when the new iPhones will be delivered

Apple pre orders for the new iPhone 12 and 12 Pro start Friday, Oct. 16. Order early if you want the latest smartphone delivered on Friday, Oct. 23.




USATODAY.com - Published





What Apple didn't tell you about the new iPhones

Verizon added nationwide 5G service to help kick off Apple's new iPhone 12 phones, but service won't be as fast as T-Mobile and AT&T




USATODAY.com - Published





Apple unveils new iPhones supporting 5G networks

Apple has unveiled four new iPhones equipped with technology for use with faster new 5G wireless networks. 5G is supposed to mean much faster speeds, making it quicker to download content, such as..




USATODAY.com - Published





Manhattan Emptied Out During the Pandemic. But Big Tech Is Moving In.

The four companies known as Big Tech — Amazon, Apple, Facebook and Google — now have more than 22,000 employees in the city, with thousands added just this year.




NYTimes.com - Published





Apple unveils new iPhone 12 that is 5G capable

Apple introduced four new iPhone models and an updated version of its smart speaker as it seeks to kick off holiday shopping season during an economic recession. CBS Los Angeles reports.




CBS News - Published





Apple unveils its latest iPhone: Follow live for updates

On Tuesday, Apple will host an event during which it's widely expected to announce the iPhone 12, the latest version of its popular smartphone.




USATODAY.com - Published





Apple's new masked emoji smiling behind face covering

A subtle change in line with guidance that everyone, not just those who are sick, should wear masks during pandemic.




CBS News - Published





Apple is making the mask Emoji look happier during the pandemic

Apple's move to alter the symbol follows Samsung, which gave its users a happier face mask emoji in March.




USATODAY.com - Published





Facebook, Amazon, Google and Apple refute House Judiciary report suggesting Big Tech restraints

Tech giants Apple and Facebook are pushing back against a House Judiciary report issued by Democrats suggesting Big Tech companies be reined in.




USATODAY.com - Published





House Democrats say Big Tech must be reined in

Lawmakers urge restrictions on Amazon, Apple, Facebook and Google, comparing them to oil barons and railroad tycoons,




CBS News - Published





House Lawmakers Condemn Big Tech's 'Monopoly Power'

In a report led by Democrats, lawmakers said Apple, Amazon, Google and Facebook needed to be checked and recommended reforming antitrust laws.




NYTimes.com - Published





Smartwatch upgrade: How Apple, Samsung, Fitbit, Garmin's latest devices compare on health features

Don't have $400 for a new wearable? There's a smartwatch for that. Here are the latest devices from Apple, Samsung, Garmin and Fitbit.




USATODAY.com - Published





Gwyneth Paltrow poses for Instagram photo in 'nothing but my birthday suit' to celebrate turning 48

Gwyneth Paltrow celebrated her 48th by posing in her birthday suit for an Instagram photo. Daughter Apple and Courteney Cox responded to the post.




USATODAY.com - Published





Apple temporarily drops App Store fee for online events

Tech giant suspends its 30% charge for businesses that use the company's app platform to sell online events.




CBS News - Published





Apple Watch Series 6: Is it worth it to upgrade?

At the core of the model upgrade is a blood oxygen sensor, which Apple stresses isn't a medical tool. We tried it out.




USATODAY.com - Published





Current state of technology and social media in the U.S.

Facebook announced the removal of hundreds of Russian-linked accounts, pages and groups. The Justice Department is trying to force big tech to take responsibility for content on their platforms, while..




CBS News - Published





Getting a new Apple or Samsung watch? Here's what you can get for your old one

Websites DeCluttr and Trademore buy older watches outright, at about 40% of the original price, while Apple and Best Buy offer trade-in value.




USATODAY.com - Published





Best deals on day 2 of Amazon Prime Day

Hottest Prime Day deals include sales on video subscriptions, Amazon and Apple devices, the Instant Pot and more




CBS News - Published





Apple unveils new iOS14 features for your iPhone and iPad

Apple unveils iOS14 with new features for both new and older models of iPhones and iPads.




USATODAY.com - Published





Apple unveils cheaper watch, new iPad and fitness service

A cheaper smart watch, updated iPad and a fitness subscription are among the new offerings for pandemic times.




CBS News - Published





Apple announces two new Apple Watches, iPad and subscription services

Apple's best-selling product, the iPhone, is delayed until October, when it is expected to launch 4 new models, and they're expected to connect to 5G.




USATODAY.com - Published





Hurricane Sally's movement, Woodward's new Book, an Apple event: 5 things to know Tuesday

Hurricane Sally weakens slightly, will re-strengthen later Tuesday, Bob Woodward's new Trump book titled 'Rage,' is out and more news to know Tuesday.




USATODAY.com - Published





Apple iOS14: 5 features I really like – and one I'm not so crazy about

Apple traditionally updates its iOS every fall, with new features for both new iPhones and iPads and older models as well.




USATODAY.com - Published





What to expect from Apple event Tuesday: Will we see more than iPad and Watch updates?

Apple is expected to announce iPhone and Mac computer updates at an event in October. The focus of Apple's September event is iPad and Apple Watch.




USATODAY.com - Published





Apple event on Sept. 15: Don't look for new iPhones just yet, analysts say

Apple historically reveals the new devices just after Labor Day, and this year is no exception. But this time it's virtual.




USATODAY.com - Published





Apple omits anti-tracking feature from latest software update

The much-anticipated privacy feature would have made it more difficult for app makers to sell ads.




CBS News - Published





Dow tumbles 800 points on tech and economy woes

Apple loses more than $100 billion in value amid reports it will delay release of new operating system.




CBS News - Published





Apple and Google Make It Easier to Opt In to Virus Tracing

The tech giants said that states can now send notices directly to smartphones asking people to opt in to the technology, which helps trace the coronavirus.




NYTimes.com - Published





Forget $1,000 smartphones — here's three great ones for under $400 from Apple, Google and Samsung

Samsung has the largest phone, the Galaxy A71 – the same size screen as the iPhone 11 Pro Max. Google's $350 Pixel 4A is the lowest priced phone.




USATODAY.com - Published





Apple and Google remove Fortnite from app stores

The maker of the popular online game Fortnite is suing tech giants Apple and Google after they removed the game from their app stores. CNET senior producer Dan Patterson joins CBSN to explain the..




CBS News - Published

Also reported by •NYTimes.com


Facebook says Apple's privacy features will mess up its ad service

A software update for iPhones and iPads is likely to affect companies' ability to use Facebook's targeted ads.




CBS News - Published





Apple App Store will remain Fortnite-free, for now

District judge rules Apple does not have to make the game available in its app store while a case against it proceeds.




CBS News - Published





Apple and Tesla announce stock splits to lower prices

Apple and Tesla are both splitting their stocks to make them more affordable for small investors who can't afford to buy individual shares at their current prices. Akiko Fujita, an anchor and reporter..




CBS News - Published





AP Top Stories August 19 P

Here's the latest for Wednesday August 19th: Kamala Harris prepares to make history; About 30 large fires burning in California; Israel army hits Hamas targets in Gaza Strip; Apple becomes 1st US..




USATODAY.com - Published





Apple becomes first U.S. public company worth $2 trillion

Apple Inc. has become the first publicly traded U.S. company in history to be worth $2 trillion. The iPhone maker's shares reached that milestone on Wednesday, when its stock neared $468 for the first..




CBS News - Published




Apple Is Worth $2 Trillion, Punctuating Big Tech's Grip

Apple is the first U.S. company to reach $2 trillion in value, capping a staggering ascent that began in the pandemic.




NYTimes.com - Published





5G networks are not shining. But with new phones from Samsung and Apple, could this be 5G's year?

5G is available nationally, but it's still spotty and not everywhere. Verizon has what it says is the fastest service, but only in sections of town.




USATODAY.com - Published





An Epic showdown: 'Fortnite' publisher's suits vs. Apple, Google and what it means for you

What's at stake for consumers and video game players in the clash between Fortnite publisher Epic Games, and Apple and Google?




USATODAY.com - Published





How Apple's 30% App Store Cut Became a Boon and a Headache

App makers like the game company Epic and the music service Spotify are challenging Apple's right to a large cut of their sales. Regulators have taken notice.




NYTimes.com - Published





Facebook says Apple's app store fees hurt small businesses

The social-networking giant wants to offer small businesses the ability to do online events without Apple taking a cut.




CBS News - Published





'Fortnite' pulled from Apple App store, Google Play store over mobile payment service; Epic Games sues Apple

Video game Fortnite is no longer downloadable via Apple's App Store or Google Play Store after its publisher introduced a direct payment system.




USATODAY.com - Published





Fortnite maker sues Apple after being booted from App store

Video game giant accuses Apple of "seeking to control markets, block competition and stifle innovation."




CBS News - Published





MTA asks Apple to speed up tech solutions to protect passengers

Agency wants better way for iPhone users to unlock their phones without taking off their mask.




CBS News - Published





Apple denies interest in acquiring TikTok, report says

Apple might not want the ByteDance-owned company, but Microsoft might. And Facebook has previously expressed interest.




USATODAY.com - Published





California's Apple fire scorches 20,500 acres and is 5% contained; smoke seen as far as Arizona

About 1,360 firefighters and multiple aircraft were battling the blaze in Southern California.




USATODAY.com - Published




Congress and technology: Do lawmakers understand Google and Facebook enough to regulate them?

The CEOs of Amazon, Apple, Facebook and Google were grilled by a House subcommittee. Should we be concerned that lawmakers don't understand big tech?




USATODAY.com - Published





You'll have to wait a little longer for a new phone, Apple's next iPhones to be delayed for 'several weeks'

Apple had a record June quarter, as work at home crowd bought more Macs, iPhones, iPads and Watches, and viewed more iTunes movies than usual




USATODAY.com - Published





Lawmakers, United in Their Ire, Lash Out at Big Tech's Leaders

The chiefs of Amazon, Apple, Google and Facebook faced withering questions from Democrats about anti-competitive practices and from Republicans about anti-conservative bias.




NYTimes.com - Published