Angelina Jolie
American actress, film director and screenwriter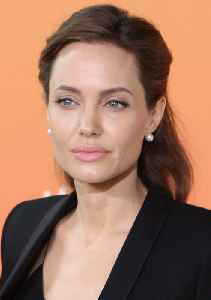 Angelina Jolie is an American actress, filmmaker, and humanitarian. She has received an Academy Award, two Screen Actors Guild Awards, and three Golden Globe Awards, and has been cited as Hollywood's highest-paid actress. Jolie made her screen debut as a child alongside her father, Jon Voight, in Lookin' to Get Out (1982). Her film career began in earnest a decade later with the low-budget production Cyborg 2 (1993), followed by her first leading role in a major film, Hackers (1995). She starred in the critically acclaimed biographical cable films George Wallace (1997) and Gia (1998), and won an Academy Award for Best Supporting Actress for her performance in the drama Girl, Interrupted (1999).


ShowBiz Minute: Spector, Jolie, Chance the Rapper
Mansion where Phil Spector killed actress is for sale; Angelina Jolie brings four of her children to the L.A. premiere of Disney's "Dumbo"; Chance the Rapper marries longtime girlfriend. (March 12)
USATODAY.com - Published
Jolie takes kids to 'Dumbo' premiere
Angelina Jolie makes a rare public appearance with four of her children at the Los Angeles premiere of "Dumbo," with stars Colin Farrell, Danny DeVito, and Michael Keaton also in attendance. (March..
USATODAY.com - Published
Angelina Jolie and her children turn up for "Dumbo" premiere in Los Angeles
Angelina Jolie and her kids steal the show at the world premire of Disney's new movie, "Dumbo." Rough Cut (no reporter narration).
Credit: Reuters Studio Duration: 02:06Published
Angelina Jolie visits Rohingya camps, calls plight of refugees "deeply upsetting"
U.N. refugee agency special envoy Angelina Jolie visited camps in Bangladesh for Muslim Rohingya refugees from Myanmar this week. Rough cut (no reporter narration).
Credit: Reuters Studio Duration: 00:46Published
Angelina Jolie stuns at 'Dumbo' world premiere, brings the kids to Hollywood circus
Angelina Jolie was the surprise guest at the world premiere of "Dumbo," bringing four of the kids out to the circus party Monday night.
USATODAY.com - Published
Search this site and the web:
You Might Like