Baseball
Team sport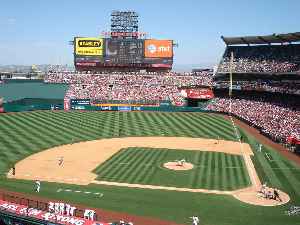 Baseball is a bat-and-ball game played between two opposing teams who take turns batting and fielding. The game proceeds when a player on the fielding team, called the pitcher, throws a ball which a player on the batting team tries to hit with a bat. The objective of the offensive team is to hit the ball into the field of play, allowing its players to run the bases, having them advance counter-clockwise around four bases to score what are called "runs". The objective of the defensive team is to prevent batters from becoming runners, and to prevent runners' advance around the bases. A run is scored when a runner legally advances around the bases in order and touches home plate. The team that scores the most runs by the end of the game is the winner.


You Might Like
Today in History for October 5th
Highlights of this day in history: First victim dies in post-Sept. 11th anthrax scare; VP candidates spar over JFK; The Beatles release 'Love Me Do'; 'Monty Python' premieres; Baseball's Barry Bonds..
USATODAY.com - Published
AMA president: Baseball's Covid-19 outbreak is a sign we still have hard work to do
Resuming our pre-pandemic lifestyle without concern for COVID-19 transmission will continue to yield more infections, hospitalizations and deaths.
USATODAY.com - Published
10 days to Opening Day: Astros and MLB hope COVID-related 'fire drills' come to an end
Baseball's season begins on July 23, but July's ML B training camps have hardly gone smoothly.
USATODAY.com - Published
MLB players make a 70-game offer and the owners aren't happy about it
Baseball's players association made a new offer on Thursday, asking for a 70-game season rather than the 60 suggest by the league in its previous offer.
USATODAY.com - Published
MLB players push back on idea to leave families behind for baseball season in Arizona
Baseball's proposed idea to bring all 30 teams to Arizona to play in empty spring training stadiums was greeted with skepticism.
USATODAY.com - Published
Who's left on the market? Top 10 remaining MLB free agents
Baseball's top free agents signed early in the offseason, but there's still talent available for teams looking to improve before spring training.
USATODAY.com - Published
Was Derek Jeter MLB's last celebrity? Hall of Fame induction shines spotlight on baseball's withering relevance
The Yankees legend, perhaps the last MLB player to truly be an A-list celebrity, will be elected to Baseball's Hall of Fame in a landslide.
USATODAY.com - Published
Twins' Rocco Baldelli, Cardinals' Mike Shildt win MLB Manager of the Year awards
Baseball's top managers were announced Tuesday night, with Rocco Baldelli of the Minnesota Twins and St. Louis Cardinals skipper Mike Shildt earning the awards for the 2019 season.
USATODAY.com - Published
MLB power rankings: Baseball's final two weeks should be wild
With just two weeks left in the regular season, plenty of races look like they'll go down to the wire.
USATODAY.com - Published
Baseball's future: Declining attendance – and shrinking stadiums to match
As attendance dips around baseball, teams are compensating by shrinking their stadiums and finding ways to attract the new generation of fans.
USATODAY.com - Published
British baseball has never taken off despite proud history
Baseball has never been as big as soccer or cricket in Britain, but it has deep roots
USATODAY.com - Published
1969 Miracle Mets: Baseball's greatest underdog story in photos
Fifty years ago, the New York Mets shocked the country.
USATODAY.com - Published