MOVIE REVIEW: Moonlight

Friday, 17 February 2017
by 👨‍💻 Graham Pierrepoint


MOONLIGHT

Dir: Barry Jenkins

Starring Trevante Rhodes, Ashton Sanders, Alex Hubert, Andre Holland, Jharrel Jerome, Jayden Piner, Naomie Harris, Mahershala Ali, Janelle Monae, Patrick Decile





4.5 STARS (out of 5)
Despite Damien Chazelle's La La Land largely taking much of the attention in terms of awards nominations and plaudits in recent months, the Oscars season that is just around the corner is really shaping up to be one of the most hotly-contested. For one, there is an incredible line-up of movies preparing to fight for the 'Best Film' category, while we have seen incredible talent across a whole spectrum of movies this past year.
Moonlight is just one of many movies that really deserves recognition, in some form, by the Academy – as regardless of whether or not it is going up for gongs, it is a film that relates a devastating inner turmoil in a way that has rarely been seen on screen. It's a movie that disappointingly missed out on any big awards at this year's BAFTAs, though UK audiences will now be getting the chance to see Jenkins' adaptation of Tarbell Alvin McCraney's unproduced play, In Moonlight Black Boys Look Blue. As Moonlight, the story is haunting, deftly told and genuinely unique.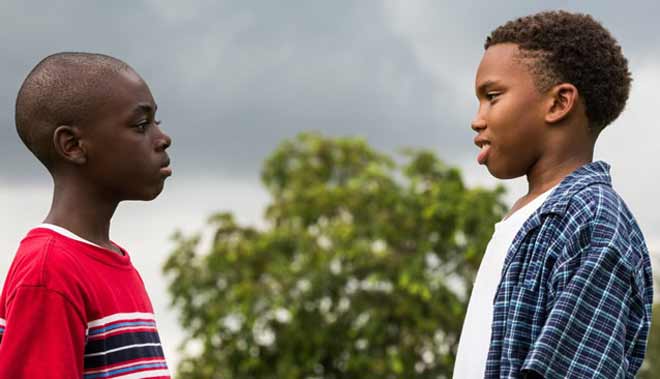 Moonlight focuses on the life of Chiron – growing up as a young black man in the heart of Miami who harbours a deep personal struggle. Over three distinct phases of his life – as a young boy, Little, to a teenager, to a man – we are shown not only how the outside world has affected Chiron, but how his inner desires and motivations have eaten away at him inside. Chiron is homosexual – and we are shown how he not only comes to realise this, but we also learn about what he does as he adapts to a harsh childhood leading towards a fractured adulthood – and how he comes to terms with who he is inside while dealing with social tension and people in his life who ultimately guide him towards his final form.
Moonlight hit cinemas in 2016 and it's safe to say that it is one of the year's most unique pictures. Jenkins has created a character study that is so intense and so focused on Chiron that it never once loses sight of where it is going. This is a story and a movie that could have fallen into the traps of stereotyping and cliché – however, it propels the story forward through characters that are remarkably well-realised. From Chiron's abusive mother to the kids that bullied him in the street, all the people in this world feel genuine – they have motivations, they have inner turmoil – and no more so than Chiron, who no matter which phase we view him in, we are shown every last facet of his emotions and internal struggles.
Moonlight is adept at showing us what Chiron is going through in a dreamy, almost lyrical fashion, preferring not to stick to Hollywood tropes of old by painting a picture that is both intense and gently-paced simultaneously. It's actually quite remarkable – character-driven stories can run the risk of falling headfirst into cliché, or can fall back on pointless exposition – the characters in Moonlight never do this. This is a slice of life which, while not told conventionally, feels raw, real, and therefore delivers a huge message.
Moonlight - Official Trailer (A24)
Moonlight challenges perceptions in the audience as it presents to us a young black man who is struggling with his own feelings related to burgeoning sexuality – alongside social difficulties and expectations of him. It challenges viewers as it encourages us to really get into Chiron's soul – we're not in his head – we are made to feel, to experience, and to, perhaps, understand. It's a bittersweet tale, one that is not only beautiful in its visual qualities but also in its approach to character and story – movies should never hold your hand. Moonlight, thankfully, does the opposite – and gives you an extraordinary inroad into a character without being overbearing or stocking up on cliché.
Moonlight may be a film that will escape some people's attentions, and this is fairly disappointing – it's largely been critically welcomed, with a phenomenal 98% approval rating on Rotten Tomatoes and having sat at the top of Metacritic's best-reviewed movies for much of the year. It's hardly surprising, as anyone with even a slight interest in cinema will be able to see that Jenkins has crafted an extraordinary introspective and affecting film. However, it will ultimately succeed with a mass market dependent entirely upon taste. For me, personally, it performs above and beyond in all categories – but the only sticking point will be its replay value. It almost feels sacrilegious to not give a movie a five-star rating for all the praise I have given it – however, I have a strict internal ruling for five-star movies – meaning that I will certainly hand them out if I ever feel I find a 'perfect' movie. Moonlight is superb – is it perfect? I'm not sure – but it is hugely effective, and affecting. This is a movie that you may only ever want to see once for some time – if only to dip in to some of the more expertly-shot moments – but it will likely be destined to remain as one of cinema history's most important, most engaging and most challenging artefacts. Does it deserve to win awards at the Oscars? Yes – but it really is so hard for me to call who is going to take away Best Picture.