Roma (2018 film)
2018 film directed by Alfonso Cuarón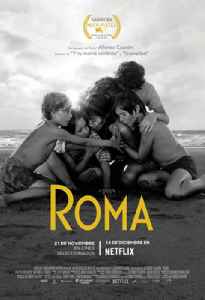 Roma is a 2018 drama film written and directed by Alfonso Cuarón, who also produced, shot, and co-edited it. Set in 1970 and 1971, Roma follows the life of a live-in housekeeper of a middle-class family, as a semi-autobiographical take on Cuarón's upbringing in the Colonia Roma neighborhood of Mexico City. The film stars Yalitza Aparicio and Marina de Tavira.


You Might Like
Why Is Green Book's Oscars Triumph Causing Controversy?
by Graham Pierrepoint - Many viewers lauded the recent 2019 Academy Awards to be the best ceremony there had been in many years. Thanks to an increase in the diversity of winners and in the removal..
One News Page Staff - Published
Oscars 2019: Who Won the Big Awards?
by Graham Pierrepoint - We've just seen the biggest event in the Hollywood calendar come to pass, and as always, there were a number of upsets and surprises. The Academy Awards, otherwise known..
One News Page Staff - Published
2019 Oscar Nominees Revealed
by Graham Pierrepoint - We're coming up to Academy Awards season again – and with Hollywood set to play host to the biggest cinematic winners of the year on February 24th, the runners and..
One News Page Staff - Published
Search this site and the web: