Vancouver
City in British Columbia, Canada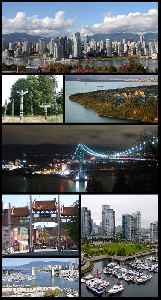 Vancouver is a coastal seaport city in western Canada, located in the Lower Mainland region of British Columbia. As the most populous city in the province, the 2016 census recorded 631,486 people in the city, up from 603,502 in 2011. The Greater Vancouver area had a population of 2,463,431 in 2016, making it the third-largest metropolitan area in Canada. Vancouver has the highest population density in Canada with over 5,400 people per square kilometre, which makes it the fifth-most densely populated city with over 250,000 residents in North America behind New York City, Guadalajara, San Francisco, and Mexico City according to the 2011 census. Vancouver is one of the most ethnically and linguistically diverse cities in Canada according to that census; 52% of its residents have a first language other than English. 48.9% have neither English nor French as their first language. Roughly 30% of the city's inhabitants are of Chinese heritage.


10 Cheap Labor Day weekend getaways: Chicago, Denver, Vancouver, St. Lucia and more
We have one more summer holiday weekend ahead of us. Do know where you're going to spend Labor Day? SmarterTravel.com has ideas, from islands to urban.
USATODAY.com - Published
2019 NHL draft: First-round selections
Take a look at the first-round selections from the 2019 NHL draft, which was held in Vancouver.
USATODAY.com - Published
Nearly 30 Cable Cars Crash Down In Canada
Cable cars plummeted to the ground near Vancouver's Howe Sound after a cable was cut early Saturday. The Royal Canadian Mounted Police say they believe it was an act of vandalism on the Sea to Sky..
Credit: Wochit News Duration: 00:35Published
Return to sender: 69 containers carrying mislabeled waste returned to Canada from the Philippines
Rubbish, labeled as plastic recyclables, was stranded in the Philippines for years. The 69 containers arrived in Vancouver to be incinerated this week. The move ends a dispute which started in 2013..
Credit: euronews (in English) Duration: 00:40Published
Vancouver signs defenseman Alex Edler to 2-year extension
Alex Edler, 'cornerstone' of Vancouver defense, signs 2-year extension
USATODAY.com - Published
Montero scores on penalty kick, Whitecaps tie Red Bulls 2-2
Fredy Montero tied it for Vancouver with a penalty kick in the 61st minute and the Whitecaps held on for a 2-2 draw with the New York Red Bulls
USATODAY.com - Published
Huawei CFO house arrest contrasts with Canadians detained in China
Huawei Chief Financial Officer Meng Wanzhou described her house arrest in Vancouver as "restricted to a limited space" even as she spent her past six months in a six-bedroom, multi-million dollar..
Reuters - Published
Martinez scores to lead Atlanta United past Vancouver 1-0
Josef Martinez scored in the 29th minute and Atlanta United won its fifth straight game by shutout, beating the Vancouver Whitecaps 1-0 Wednesday night
USATODAY.com - Published
Holland America cruise ships collide at Vancouver port
Two Holland America cruise ships collided when one tried to dock at a port in Vancouver.
USATODAY.com - Published
Idris Elba marries model Sabrina Dhowre -- see the wedding photos
Images featured by British Vogue on Instagram showed the star of "Luther" sharing an embrace with Dhowre, a former Miss Vancouver
CBS News - Published
Explore Western Canada—from Vancouver to Banff, Lake Louise and Jasper
From cosmopolitan cities to wild landscapes, this trip gives you everything
USATODAY.com - Published
Transgender teenager from Brunei seeks asylum in Canada
Zoella Zayce displays no photos of her family in her basement apartment in Vancouver, thousands of miles from where she left them in Brunei. The 19-year-old refugee claimant is a transgender woman,..
Reuters - Published
Bobrovsky earns 7th shutout, Columbus beats Vancouver 5-0
Pierre-Luc Dubois had a goal and an assist and goaltender Sergei Bobrovsky returned from injury to stop 21 shots as the Columbus Blue Jackets beat the Vancouver Canucks 5-0 Sunday night
USATODAY.com - Published
Closure of Pakistan air space snarls flights across Asia
A United flight from Newark to New Delhi was rerouted through London and later canceled. Air Canada canceled India flights from Toronto and Vancouver.
USATODAY.com - Published
Penguins add defensemen Wideman, Gudbranson at deadline
The Pittsburgh Penguins gave their beat-up blue line a needed shot of depth at the trade deadline, acquiring Chris Wideman from Florida and Erik Gudbranson from Vancouver
USATODAY.com - Published
You Might Like