Vancouver
City in British Columbia, Canada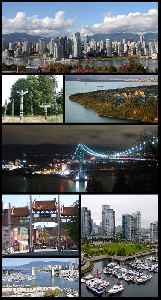 Vancouver is a major city in western Canada, located in the Lower Mainland region of British Columbia. As the most populous city in the province, the 2016 census recorded 631,486 people in the city, up from 603,502 in 2011. The Greater Vancouver area had a population of 2,463,431 in 2016, making it the third-largest metropolitan area in Canada. Vancouver has the highest population density in Canada, with over 5,400 people per square kilometre, which makes it the fifth-most densely populated city with over 250,000 residents in North America, behind New York City, Guadalajara, San Francisco, and Mexico City. Vancouver is one of the most ethnically and linguistically diverse cities in Canada: 52% of its residents are not native English speakers, 48.9% are native speakers of neither English nor French, and 50.6% of residents belong to visible minority groups.


You Might Like
U.S. is 'trouble maker' in China-Canada relationship, Chinese envoy to Canada says
The United States is using the case of a senior Chinese telecoms executive who was arrested in Vancouver on a U.S. warrant 18 months ago to create friction between China and Canada, China's envoy to..
Reuters - Published
Huawei CFO's lawyers argue U.S. extradition charges not a crime in Canada
Huawei Chief Financial Officer Meng Wanzhou returned to a Vancouver court on Tuesday, where her lawyers argued for a second straight day that Meng violated no Canadian laws and should not be extradited..
Reuters - Published
Canada denies sharing Huawei CFO Meng's devices details with FBI: court documents
The Canadian attorney general has filed affidavits asserting that information identifying Huawei Chief Financial Officer Meng Wanzhou's electronic devices was not shared with the United States Federal..
Reuters - Published
AAA's top 10 international travel destinations, from Rome to Cancun to Vancouver
These are the top international travel destinations, based on AAA Travel bookings for trips over the next 18 months.
USATODAY.com - Published
Huawei executive appears at Canadian hearing
Meng Wanzhou, chief financial officer for Chinese tech giant Huawei, appeared at a Vancouver, British Columbia court Monday for a preliminary hearing. The US government is seeking to extradite her on..
USATODAY.com - Published
As unrest deepens, Hong Kongers eye exits from Vancouver to Melbourne
As protests in Hong Kong stretch from summer into autumn with little sign of resolution, a surge in migration applications suggests more locals are making plans to leave the special administrative..
Reuters - Published
10 Cheap Labor Day weekend getaways: Chicago, Denver, Vancouver, St. Lucia and more
We have one more summer holiday weekend ahead of us. Do know where you're going to spend Labor Day? SmarterTravel.com has ideas, from islands to urban.
USATODAY.com - Published
2019 NHL draft: First-round selections
Take a look at the first-round selections from the 2019 NHL draft, which was held in Vancouver.
USATODAY.com - Published
Vancouver signs defenseman Alex Edler to 2-year extension
Alex Edler, 'cornerstone' of Vancouver defense, signs 2-year extension
USATODAY.com - Published