21st Century Fox
Former American multinational mass media corporation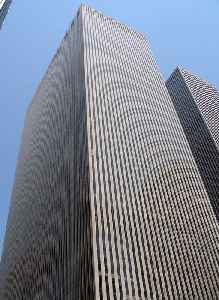 Twenty-First Century Fox, Inc., doing business as 21st Century Fox (21CF), was an American multinational mass media corporation that was based in Midtown Manhattan, New York City. It was one of the two companies formed from the 2013 spin-off of the publishing assets of News Corporation, as founded by Rupert Murdoch in 1980.


Disney's Buyout of 21st Century Fox Completes - At $71 Billion
by Graham Pierrepoint - It's been widely regarded as one of the biggest entertainment acquisitions and mergers of recent years, and following months of hype and speculation, The Walt Disney..
One News Page Staff - Published
With Fox, Disney has 'fuel' to take on Netflix
With the close of Disney's $71 billion acquisition of Fox's entertainment assets one analyst believes Disney now has the 'fuel in the engine' to take on Netfilx once it starts its streaming service..
USATODAY.com - Published
Hope Hicks To Cooperate With House Obstruction Of Justice Probe
President Donald Trump's former communications director Hope Hicks has been busy since leaving the White House. She's now working as executive VP and chief communications officer at "New Fox," which..
Credit: Wochit News Duration: 00:43Published
Disney's $71.3B Acquisition of 21st Century Fox Is Complete
Under the terms of the deal, The Walt Disney Co. now owns Fox's film and television studios.
Credit: Newsy Studio Duration: 01:10Published
Disney's Acquisition Of Fox Expected To Be Official Next Week
According to a report by SFGate.com, next Wednesday, the media world's latest mega-deal, Disney's official takeover of most of 21st Century Fox's assets, is expected to be made official. Disney said in..
Credit: Wochit News Duration: 00:34Published
Disney's Acquisition Of Fox Expected To Close Next Week
According to a report by Comicbook.com, the Walt Disney Company's acquisition of 21st Century Fox is nearing completion, with with merger expected to be official in just a matter of days. On Tuesday..
Credit: Wochit News Duration: 00:32Published
Makers of mega budget 'Alita: Battle Angel' are happy with the results
The makers of big budget sci-fi epic 'Alita: Battle Angel' discuss the difficulties and risks they made bringing the manga comic to life. Rough Cut - no reporter narration.
Credit: Reuters Studio Duration: 01:51Published
As Disney-Fox merger officially closes, both media giants move toward new futures
With the curtain down on Disney's $71.3 billion deal for the Fox movie and TV studios and Fox's 30 percent stake in Hulu, what could happen next?
USATODAY.com - Published
Search this site and the web:
You Might Like