McDonald's
American fast food restaurant chain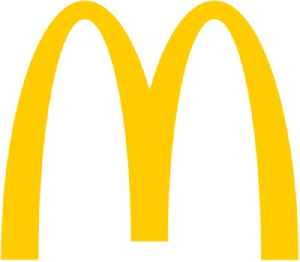 McDonald's is an American fast food company, founded in 1940 as a restaurant operated by Richard and Maurice McDonald, in San Bernardino, California, United States. They rechristened their business as a hamburger stand, and later turned the company into a franchise, with the Golden Arches logo being introduced in 1953 at a location in Phoenix, Arizona. In 1955, Ray Kroc, a businessman, joined the company as a franchise agent and proceeded to purchase the chain from the McDonald brothers. McDonald's had its original headquarters in Oak Brook, Illinois, but moved its global headquarters to Chicago in early 2018.


McDonald's says Quarter Pounder sales up 30% since swap from frozen to fresh beef
Where's the beef? McDonald's says it has been selling more Quarter Pounder burgers in the last year since it switched from frozen to fresh beef.
USATODAY.com - Published
Democratic candidates find an easy target in McDonald's pay
Demands for a $15 federal minimum wage and the right to organize are now popular among the party's White House hopefuls
CBS News - Published
The World's Smallest McDonald's Is A Beehive
In Sweden, the world's smallest McDonald's has opened. It's called the McHive. It doesn't serve burgers and fries, but rather a fully functioning beehive for thousands of bees. It has sleek wood..
Credit: Wochit News Duration: 00:33Published
Sanders Backs McDonald's Workers Dispute
WASHINGTON (Reuters) - As a part of a push to increase the minimum wage for American workers, Bernie Sanders, a U.S. senator and Democratic presidential candidate, on Thursday waded into a dispute..
Credit: Wochit News Duration: 00:59Published
McDonald's Faces 25 More Sexual Harassment Allegations
Business Insider reports that McDonald's is facing more charges as 25 employees step forward to bring sexual harassment claims against the fast-food giant. The complaints include allegations of..
Credit: Wochit News Duration: 00:37Published
McDonald's Slapped With 25 New Sexual Harassment Allegations
Reuters reports that McDonald's faces 25 new legal actions of condoning sexual harassment in the workplace. The new allegations point to reported misconduct at McDonald's locations in 20 U.S...
Credit: Wochit News Duration: 00:40Published
McDonald's Faces 25 New Sexual Harassment Complaints From Workers
According to Reuters, McDonald's was accused on Tuesday in 25 new lawsuits and regulatory charges of condoning sexual harassment in the workplace and retaliating against employees who speak up...
Credit: Wochit News Duration: 00:38Published
LA Woman Arrested In Connection To Attempted Kidnapping Of 4-Year-Old At A McDonald's
33-year-old Maralyn Ramos has been arrested by police in connection to the attempted kidnapping of a 4-year-old boy at a Los Angeles McDonald's. In a surveillance video of the incident released by the..
Credit: Wochit News Duration: 00:42Published
Shift to value stocks in a late stage bull market, says Victoria Fernandez
Crossmark Global Investments chief market strategist Victoria Fernandez added to positions in McDonald's and Palo Alto Networks amid last week's sell-off. She explains to Reuters' Fred Katayama why she..
Credit: Reuters Studio Duration: 04:31Published
US Citizens Abroad Can Now Get Help At McDonald's?!
According to CNN, US citizens in Austria can now get help at... McDonald's Under the terms of a new partnership between McDonald's Austria and the US Embassy in Vienna, staff at the fast food..
Credit: Wochit News Duration: 00:37Published
How Bad Is Venezuela's Inflation?
Business Insider is repotting that the political and humanitarian situation in Venezuela continues to deteriorate. The country is now experiencing hyper inflation. A McDonald's Happy Meal now costs..
Credit: Wochit News Duration: 00:37Published
Bacon fattens the top line at Wendy's, McDonald's
Wendy's and McDonald's lured diners to their restaurants in the latest quarter by giving away bacon items. As Fred Katayama reports, that helped fatten sales.
Credit: Reuters Studio Duration: 01:16Published
Burger King grills "unhappy" meals
Burger King launched what it calls "Real Meals" - burgers that come in boxes to capture diners' downbeat moods at the moment. As Fred Katayama reports, the campaign is also dig at rival McDonald's.
Credit: Reuters Studio Duration: 01:03Published
Real-Life Hamburglars May Be Using The McDonald's App To Steal Food
Officials are unsure if there is a real-life Hamburglar or multiple hungry hackers. For months, users of the Canadian McDonald's app, "My McD's," have claimed someone is hacking into their..
Credit: Wochit News Duration: 00:49Published
Rachel McAdams worked at McDonald's, and more jobs celebrities had before they were famous
What did celebrities do before they became the stars we know and love? We rounded up some of the jobs celebs had before fame.
USATODAY.com - Published
Son charged in mob father's slaying, failed attack on brother
Son of a reputed Bonanno associate gunned down at a McDonald's drive-thru in the Bronx was behind his father's hit, and an earlier failed attack on his own brother
CBS News - Published
Search this site and the web:
You Might Like