Reese Witherspoon
American film actress and producer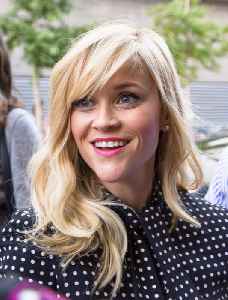 Laura Jeanne Reese Witherspoon is an American actress, producer, and entrepreneur. The recipient of several accolades, including an Academy Award and a Primetime Emmy Award, she has featured multiple times among the highest-paid actresses in the world in the 2000s. Time magazine named her one of the 100 most influential people in the world in 2006 and 2015.


Chris Evans, Reese Witherspoon, more stars react to U.S. mass shootings: 'Honestly, what will it take?'
Hollywood is calling on Washington, D.C., to make changes after two U.S. mass shootings in less than 24 hours left at least 29 dead and 52 injured.
USATODAY.com - Published
Reese Witherspoon, doppelganger daughter Ava steal the show at 'Big Little Lies' premiere
Seeing double? Mother-daughter duo Reese Witherspoon and Ava Phillippe walked the blue carpet together at Wednesday's "Big Little Lies" premiere.
USATODAY.com - Published
'Big Little Lies' stars' understated fashion
At the season two premiere of "Big Little Lies," stars Reese Witherspoon, Nicole Kidman and Laura Dern opted for muted hues and suits. (May 30)
USATODAY.com - Published
Apple Reveals Credit Card and TV Streaming Service
by Simon Baxendale - While Apple has partially led the way up till now in terms of modern technology, there has been one major market they haven't tapped into – video streaming. However,..
One News Page Staff - Published
ShowBiz Minute: Smollett, Time's Up, Witherspoon
No plan for Jussie Smollett to do follow-up police interview; Lisa Borders steps down as head of Time's Up organization; Reese Witherspoon and husband dance center court with Harlem Globetrotters...
USATODAY.com - Published
How 'Big Little Lies' scored a second season — and Meryl Streep, too
"Big Little Lies" was meant to be a limited series for HBO, but stars and producers Nicole Kidman and Reese Witherspoon explain why they brought it back, and new cast member Meryl Streep reveals why..
USATODAY.com - Published
You Might Like