Trump Tower
Skyscraper in Manhattan, New York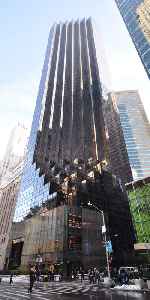 Trump Tower is a 58-floor, 664-foot-tall (202 m) mixed-use skyscraper at 721–725 Fifth Avenue, between 56th and 57th Streets, in Midtown Manhattan, New York City. Trump Tower serves as the headquarters for the Trump Organization. Additionally, it houses the penthouse condominium residence of the building's namesake and developer, U.S. president Donald Trump, who is also a businessman and real estate developer. Several members of the Trump family also live, or have resided, in the building. The tower stands on a plot where the flagship store of department-store chain Bonwit Teller was formerly located.


You Might Like
R. Kelly's girlfriends get into heated exchange at Trump Tower residence; police respond
R. Kelly's girlfriends Azriel Clary and Joycelyn Savage got into a fight Wednesday afternoon at the alleged sex offender's Trump Tower condo.
USATODAY.com - Published
Trump lives in the White House. So, why is he moving to Florida?
President Trump will be shifting his residency from Trump Tower in Manhattan to his Mar-a-Lago Club in Palm Beach.
USATODAY.com - Published
Trump says he will make Florida his permanent residence
U.S. President Donald Trump said on Thursday he will be making Palm Beach, Florida, his permanent residence instead of his Trump Tower apartment in New York City.
Reuters - Published
How to watch President Donald Trump's UN General Assembly speech
After traveling from Trump Tower earlier in the morning, he will make his speech at 10:15 a.m. EDT before the United Nations General Assembly.
USATODAY.com - Published
$350,000 in jewelry reported stolen from 2 Trump Tower apartments
The summer heists are thought to have been inside jobs and police are making a list of everyone who had access to the building, the New York Post says
CBS News - Published
President Must Tape Deposition for Trial Over 2015 Protest at Trump Tower
A Bronx judge says the president must testify by videotape in a lawsuit brought by protesters who say his guards assaulted them.
NYTimes.com - Published
Petition aims to rename Trump Tower street for Obama
If successful, Trump Tower's new address would be: "725 President Barack H. Obama Avenue, New York, NY 10022"
CBS News - Published
More than 90,000 people sign petition to rename street in front of Trump Tower after Obama
The petition requests that "the stretch of Fifth Avenue between 56th and 57th Streets be renamed 'President Barack H. Obama Avenue.'"
USATODAY.com - Published
'It's kind of ridiculous to get beat up ... for wearing a hat': New York City man claims MAGA-inspired attack
Jahangir Turan, an art gallery owner, said he bought the hat at Trump Tower earlier that day.
USATODAY.com - Published
Investigators probing deadly helicopter crash into NYC skyscraper
CBS News is learning more about the pilot whose deadly helicopter crash onto the roof of a New York City skyscraper briefly stirred fears of a 9/11-style attack. Tim McCormack was the only person on..
CBS News - Published
3/6/17: Red and Blue
Aides to President Trump are defending his claim that former President Obama wiretapped Trump Tower; In an interview with CBSN's Elaine Quijano, the president of Americans for Prosperity, Tim Phillips,..
CBS News - Published
Trump to Kick Off His Re-election Campaign on June 18 in Orlando
The announcement will come a little over four years after he declared his presidential bid at Trump Tower in Manhattan.
NYTimes.com - Published