Medicare (United States)
United States single-payer national social insurance program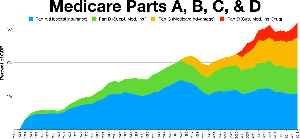 Medicare is a national health insurance program in the United States, begun in 1966 under the Social Security Administration and now administered by the Centers for Medicare and Medicaid Services (CMS). It provides health insurance for Americans aged 65 and older. It also provides health insurance to younger people with some disability status as determined by the Social Security Administration, as well as people with end stage renal disease and amyotrophic lateral sclerosis. Medicare is funded by a combination of a payroll tax, beneficiary premiums and surtaxes from beneficiaries, and general U.S. Treasury revenue.


She buys her insulin in Canada because it's too expensive in the US
Deidre Waxman buys her insulin in Canada because it's too expensive for her on Medicare
USATODAY.com - Published
Democrats support expanding Medicare, with some caveats that could matter to voters
After launching his 2020 presidential bid last week, John Hickenlooper took a different stance on establishing a "Medicare-for-all" government health insurance program than many of his Democratic..
Reuters - Published
Beto O'Rourke Supports New Healthcare Effort
Democratic presidential candidate Beto O'Rourke said he would support a health care system that allows Americans to participate in Medicare or keep their existing employer-based and private health..
Credit: Wochit News Duration: 01:01Published
Such A Deal? Home Health Care Leads To Higher Hospital Readmission Rates
UPI reports researchers say cheaper isn't always better, especially when it comes to healthcare. The launch of the Affordable Care Act reformed Medicare by incentivizing the reduction of patient..
Credit: Wochit News Duration: 00:42Published
Democrats Say Trump's Proposed Budget Cuts Are 'Malicious'
Reuters reports congressional Democrats criticized President Donald Trump's proposed social safety net changes. One senior lawmaker said the cutbacks in Trump's 2020 budget plan including those to..
Credit: Wochit News Duration: 00:56Published
Dems Suffer Liberal Growing Pains in New Congress
From the Green New Deal and Medicare for all, to U.S. relations with Israel, Democrats are split on a lot of issues. Is it just growing pains?
Credit: Newsy Studio Duration: 02:43Published
McConnell slams Green New Deal
Senate Republican Leader Mitch McConnell said on Monday left-leaning politicians like Alexandria Ocasio-Cortez are trying to control choices Americans can make by introducing legislation like the Green..
Credit: Reuters Studio Duration: 01:32Published
House Dems introduce sweeping 'Medicare for All' bill
Democrats in the U.S. House of Representatives unveiled an ambitious proposal on Tuesday to move all Americans into the government's Medicare health insurance program. Rough Cut (no reporter..
Credit: Reuters Studio Duration: 01:13Published
House Democrats Unveil 'Medicare for All' Bill
The bill has over 100 cosponsors, but some some big details — like how the program would be funded — are still unclear.
Credit: Newsy Studio Duration: 01:11Published
Bernie Sanders Faces New Hurdles in 2020
Bernie Sanders launched a new White House bid with enviable polls numbers and record-breaking fundraising. But there are several challenges ahead.
Credit: Newsy Studio Duration: 02:08Published
Bernie Sanders Announces 2020 Presidential Bid
But Sanders is joining an already-crowded and diverse field of candidates for the Democratic nomination.
Credit: Newsy Studio Duration: 01:04Published
'What The Health' Explains Medicare For All
"Medicare For All" would fundamentally change our health care system and could help decide elections in 2020. But few are saying what it means.
Credit: Newsy Studio Duration: 24:09Published
How Does Democrat Sherrod Brown Feel About Medicare And The 'Green New Deal'?
Democrat Sherrod Brown is declining to say whether he supports "Medicare for all" and "Green New Deal" ideas pushed by other members of his party. Brown is reportedly considering a run for president,..
Credit: Wochit News Duration: 00:33Published
Congress, White House remember John Dingell
The White House and members of congress remember John Dingell, the longest-serving member of Congress who died Thursday at the age of 92. Rough Cut (no reporter narration).
Credit: Reuters Studio Duration: 01:23Published
Congress Warns Against Medicaid Cuts: 'You Just Wait for the Firestorm'
The secretary of health and human services endured hours of bipartisan grilling over the president's budget for 2020, including cuts to Medicaid, Medicare and health research.
NYTimes.com - Published
Trump Lauded Farmers, Medicare and AIDS Programs. Then He Unsheathed the Budget Knife.
Several cuts proposed by the president in his budget seemed to contrast with his own words of support.
NYTimes.com - Published
Search this site and the web:
You Might Like