Richmond, Virginia
Capital of Virginia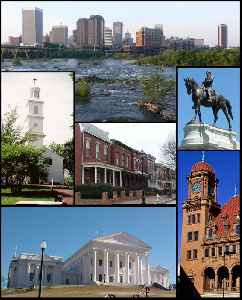 Richmond is the capital city of the Commonwealth of Virginia. It is the center of the Richmond Metropolitan Statistical Area (MSA) and the Greater Richmond Region. Richmond was incorporated in 1742 and has been an independent city since 1871. As of the 2010 census, the city's population was 204,214; in 2019, the population was estimated to be 230,436, making Richmond the fourth-most populous city in Virginia. The Richmond Metropolitan Area has a population of 1,260,029, the third-most populous metro in the state.


Richmond Mayor Orders Emergency Removal of Confederate Statues

The Democratic mayor of Richmond, Virginia, Levar Stoney, has invoked his emergency powers to remove multiple Confederate statues in the city.
Credit: Cover Video STUDIO Duration: 01:23
Published
Stonewall Jackson statue removed in Richmond

Crews removed a statue of Confederate General Stonewall Jackson with a crane and ropes on Wednesday in Richmond, Virginia, the same day a state law went into effect authorizing cities to remove..
Credit: Reuters Studio Duration: 00:52
Published
Richmond mayor says police chief has resigned

Richmond, Virginia, Mayor Levar Stoney announced on Tuesday that the city's police chief had resigned after weeks of protests in the city and across the country over the death of George Floyd.
Credit: Reuters Studio Duration: 01:42
Published
Boston removes decapitated Columbus statue

Activists across the U.S. have targeted public monuments they say glorify white supremacy, using both legal and illegal means to take the symbols down. This report produced by Zachary Goelman.
Credit: Reuters - Politics Duration: 01:26
Published
Christopher Columbus statue pulled down, draped in burning flag in VA

CONTAINS PROFANITY. Protesters in Richmond, Virginia tore down a statue of Christopher Columbus on Tuesday and dragged it along the ground before dumping it in a lake.
Credit: Reuters Studio Duration: 00:19
Published
Virginia to Remove Statue of Confederate General Robert E. Lee

Plans to remove the monument in the city of Richmond will be revealed Thursday by Governor Ralph Northam.
Credit: Cover Video STUDIO Duration: 01:28
Published
Virginia Governor To Remove Statue Of Civil War General Robert E. Lee

Virginia Governor Ralph Northam responded to widespread protests decrying racism. This is after the death of George Floyd, a black man in police custody in Minneapolis. He ordered on Thursday the..
Credit: Wochit News Duration: 00:33
Published
Northam orders removal of Robert E. Lee statue

Virginia Governor Ralph Northam on Thursday ordered the removal of the iconic statute of Confederate Gen. Robert E. Lee in Richmond, saying that statue was "wrong then and is wrong now."
Credit: Reuters Studio Duration: 01:40
Published
Spectacular implosion as Dominion Energy tower demolished in Virginia

A 21-storey building in downtown Richmond, Virginia, was demolished in a spectacular implosion. The former Dominion Energy office tower came down in just 20 seconds. The tower, completed in 1978,..
Credit: ODN Duration: 01:07
Published
You Might Like



Stonewall Jackson statue comes down along Richmond's Monument Avenue

Richmond Mayor Levar Stoney ordered the removal of the Stonewall Jackson statue and other Confederate memorials along Monument Avenue




USATODAY.com - Published




Confederate statue removed in Richmond amid cheers

A massive statue of Gen. Stonewall Jackson was removed from Richmond, Virginia's famed Monument Avenue amid cheers Wednesday afternoon, hours after the city's mayor gave the order to take down all..




USATODAY.com - Published




Arthur Ashe Statue in Virginia Vandalized With 'White Lives Matter'

The statue of Mr. Ashe, a Richmond native, was defaced with "WLM" and "White Lives Matter." The letters "BLM," for Black Lives Matter, were spray-painted over the initial graffiti.




NYTimes.com - Published





Statue of Arthur Ashe in Richmond, Virginia, defaced with 'White Lives Matter' spray paint

A statue of Arthur Ashe was spray painted with the words "White Lives Matter" and "WLM" on Wednesday in Richmond, Virginia.




USATODAY.com - Published





Richmond protesters pull down third Confederate statue

Demonstrators in Richmond tore down another Confederate statue Tuesday night, news outlets reported. It honored a Civil War artillery unit. Protesters have torn two other confederate statues and one of..




USATODAY.com - Published




AP Top Stories June 17

Here's the latest for Wednesday June 17th: Coronavirus concerns in Beijing; Coronavirus cases rising in Texas, Florida and Arizona; Republicans to introduce police reform plans; Confederate statue..




USATODAY.com - Published




Protesters topple another Confederate statue in Virginia state capital

Protesters toppled a statue of the president of the Confederacy in the Virginia state capital of Richmond late on Wednesday, the latest U.S. monument to be torn down during nationwide demonstrations..




Reuters - Published





Christopher Columbus Statues in Boston and Virginia Are Damaged

The incidents, in Boston's North End and Richmond, Va., came as protesters angered by the death of George Floyd have targeted monuments that they see as symbols of white supremacy.




NYTimes.com - Published





U.S. protesters topple Columbus statue and throw it in a lake

Anti-racism protesters in Virginia tore down a statue of Christopher Columbus on Tuesday night in Byrd park in Richmond, then draped it in a burning flag and dumped it in a lake, images of the incident..




Reuters - Published





Richmond Columbus statue toppled & thrown in lake

A statue of Christopher Columbus in Richmond, Virginia was torn down by demonstrators, set on fire and then thrown into a lake. Protesters spoke of the struggles of Native Americans, saying they began..




USATODAY.com - Published





Virginia judge blocks governor's demand to pull down Confederate statue

A judge in Richmond, Virginia, on Monday issued a 10-day injunction against Governor Ralph Northam's decision to remove a statue of Confederate General Robert E. Lee from the city, according to the..




Reuters - Published





Virginia judge blocks Gov. Ralph Northam's order to take down Robert E. Lee statue in Richmond for 10 days

A spokeswoman for Gov. Ralph Northam said a judge's temporary injunction does not hinder his authority to remove 'this divisive symbol' from Richmond.




USATODAY.com - Published




Man Who Drove Into Protesters Said He Was a K.K.K. Leader, Prosecutors Say

Harry H. Rogers drove into a group of demonstrators near Richmond, Va., on Sunday, the authorities said. The county prosecutor called him "an admitted leader of the Ku Klux Klan."




NYTimes.com - Published





Richmond is taking down Confederate statues. Is this the end for other Confederate memorials?

Gov. Ralph Northam said the statue of Robert E. Lee on Monument Avenue in Richmond would be removed. What about other Confederate monuments?




USATODAY.com - Published




Virginia governor banishes statue of Civil War General Lee

Virginia Governor Ralph Northam, responding to widespread protests decrying racism after the death of a black man in police custody in Minneapolis, ordered on Thursday the removal of a statue of..




Reuters - Published




Virginia governor Northam orders removal of iconic Robert Lee statue

Virginia's governor says a towering statue of Confederate Gen. Robert E. Lee will be removed as soon as possible from Richmond's Monument Avenue.  




USATODAY.com - Published





Robert E. Lee statue in Richmond to come down 'as soon as possible,' Va. gov says; 4 others on Monument Avenue to be removed, too

The Robert E. Lee statue and other Confederate monuments on Richmond's Monument Avenue will be removed amid protests over George Floyd's death.




USATODAY.com - Published




Virginia Governor Plans to Order Robert E. Lee Statue Removed

A statue of the Confederate general in Richmond is controlled by the state, but the city's mayor said he would propose a bill to remove additional Confederate monuments there.




NYTimes.com - Published





Appeals Court Allows Emoluments Suit Against Trump to Proceed

The Fourth Circuit Court of Appeals in Richmond rejected the president's request to dismiss a case brought by the State of Maryland and the District of Columbia regarding his Washington hotel.




NYTimes.com - Published




42 dead in coronavirus outbreak at Virginia nursing home, more expected

Forty-two residents of a Virginia nursing home near Richmond have died from the COVID-19 disease pandemic in one of the worst clusters of the new coronavirus in the United States, and officials expect..




Reuters - Published





Virginia Gov. Northam signs host of gun control bills into law months after Richmond rally

The host of gun control measures Northam signed included increased background checks, limits to handgun purchases and a so-called "red flag" law.




USATODAY.com - Published




Virginia nursing home's coronavirus death toll soars to 33

Fatalities at one nursing home near Richmond approaches number of deaths at Washington state facility that was an early epicenter of the coronavirus.  




USATODAY.com - Published





Associated Press top stories from January 20th

Here's the latest for Monday, Jan. 20th: Trump's legal team asserts he did nothing wrong; Thousands of gun-rights activists protest in Richmond  




USATODAY.com - Published





Thousands rally for gun rights in Virginia amid heavy security

Hundreds of gun rights supporters were expected to gather at Virginia's Capitol in Richmond for a rally that state leaders fear could turn violent.




USATODAY.com - Published




Virginia gun rally draws thousands in support of the Second Amendment

Thousands of gun owners, descended on Richmond on Monday amid a fierce battle over Virginia's gun laws.




USATODAY.com - Published




Virginia Gun Rally: What to Watch For

Thousands are expected at a gun-rights rally at the State Capitol in Richmond, and officials say some may be spoiling for trouble, raising fears of another Charlottesville.




NYTimes.com - Published





Virginia gun rally: What's behind the battle over gun control descending on Richmond

Thousands plan to attend a gun rights rally in Richmond, but the movement driving it has been growing for months. Here's what we know.




USATODAY.com - Published




Vows of peace, fears of violence at Virginia gun rally

The top Republican in Virginia's lower house said that any group planning to incite violence at a large gun rights rally on Monday in Richmond should stay home, while far-right leaders of militias..




Reuters - Published





What Did Virginia Learn From Charlottesville?

By banning weapons and closing entrances, state and local officials in Richmond are trying to avoid a repeat of the deadly clash in Charlottesville.




NYTimes.com - Published





Ahead of tinder box Virginia gun rally, Trump says Constitution under attack

President Donald Trump took aim at Virginia Democrats and their push to stiffen the state's gun laws, saying that the U.S. Constitution was under attack just as thousands of armed militia members began..




Reuters - Published





3 suspected neo-Nazi members arrested before Virginia gun rally

Three suspected members of neo-Nazi hate group, The Base, were arrested ahead of a pro-gun rally in Richmond, Virginia.




USATODAY.com - Published




Warning of 'serious threats' Virginia governor bans weapons at gun-rights rally

Virginia Governor Ralph Northam on Wednesday said he was temporarily banning all guns and weapons from the area around the Capitol in Richmond ahead of a major gun-rights demonstration set for next..




Reuters - Published





Virginia plans emergency gun ban at Capitol ahead of protest: AP

Virginia Governor Ralph Northam on Wednesday plans to declare a temporary emergency banning all guns and weapons from the area around the Capitol in Richmond ahead of a major gun rights demonstration..




Reuters - Published





Travelers at Chicago, Texas, Virginia airports warned about possible measles exposure

The new reports at airports in Chicago, Austin, Texas, and Richmond, Virginia, follow earlier reports in Los Angeles and Denver.




USATODAY.com - Published





How Voters Turned Virginia from Deep Red to Solid Blue

A new kind of suburbanization is sweeping through politics, from Richmond to Atlanta, Houston, Denver and elsewhere, and Democrats are starting to breach Republicans' firewalls in elections.




NYTimes.com - Published





How do Americans feel about the future of our country?

Face the Nation traveled to Richmond to talk politics with a group of Virginians one month into the new administration. We asked, how do voices outside Washington feel about President Trump?




CBS News - Published





Sen. Tim Kaine weighs in on his GOP opponent, Corey Stewart

Sen. Tim Kaine, D - Virginia, spoke with Face the Nation moderator Margaret Brennan in Richmond late last week.




CBS News - Published





Sen. Tim Kaine calls for "reasonable regulation" of social media companies

Sen. Tim Kaine, D - Virginia, spoke with Face the Nation moderator Margaret Brennan late last week in Richmond.




CBS News - Published





A blooming business

Art Chadwick, who owns Chadwick & Son Orchids, near Richmond, Virginia, will happily sell you an orchid. But he's also willing to board your plant while you're on vacation. And yes, there are people..




CBS News - Published