Bastille Day
National holiday in France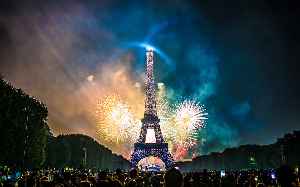 Bastille Day is the common name given in English-speaking countries to the national day of France, which is celebrated on 14 July each year. In French, it is formally called la Fête nationale and commonly and legally le 14 juillet.


Calendar: Week of July 9
From the first official royal trip abroad of the recently-married Duke and Duchess of Sussex, to France's Bastille Day, "Sunday Morning" takes a look at some notable events of the week ahead. Lee Cowan..
CBS News - Published
France celebrates Bastille Day with parade
French President Emmanuel Macron has overseen the annual Bastille Day celebrations which this year showcased European defense cooperation. (July 14)  
USATODAY.com - Published
AP Top Stories July 14 P
Here are the top stories for Sunday, July 14th: New Orleans avoids worst of storm; Dozens dead in Nepal flooding; France celebrates Bastille Day; New York interrupted by power outage.  
USATODAY.com - Published
Taste of the Tour: Stunning prizes, tasty steaks in Auvergne
Prizes at the Tour de France can vary greatly for stage winners but few come bigger than the 700-kilogram Salers cow given to Frenchman Richard Virenque for his stage win on Bastille Day 15 years ago
USATODAY.com - Published
French police fire tear gas as protests follow Bastille Day parade
French police fired tear gas to disperse protesters from Paris's Champs Elysees avenue on Sunday, a few hours after President Emmanuel Macron had reviewed the traditional Bastille Day military parade..
Reuters - Published
European leaders join Macron for Bastille Day parade
European leaders including German Chancellor Angela Merkel joined French President Emmanuel Macron on Sunday for the traditional Bastille Day military parade in Paris which this year honored European..
Reuters - Published
French President Macron announces creation of French space force
On the eve of Bastille Day celebrations, Emmanuel Macron announced the creation of a French space force command within the French air force.
USATODAY.com - Published
Trump gets tanks, flyover for July 4th celebration
President Trump has wanted a big military parade since attending France's Bastille Day in 2017. Now he will see a show of military power in Washington for the Fourth of July. Major Garrett has the..
CBS News - Published
You Might Like